Foursight Wines Part of the New Breed in Anderson Valley
In the past few years there has been a noticeable influx of young winemaking talent in California's Anderson Valley where the new breed is quickly bringing the sedate and sleepy valley to the forefront of California Pinot Noir. Ted Lemon of Littorai first set the bar high in Anderson Valley beginning in the mid-1990s when he began to institute viticultural practices there that would lead to a quantum leap in quality of Anderson Valley Pinot Noir. More recently, a new young cadre of well-trained and passionate winemakers are crafting magnificent wines, taking advantage of the many superbly located and managed Anderson Valley vineyards. Forget boontling, twitter and texting are this vanguard's new language. I can't help but get excited about the Pinot Noirs I have sampled over the last year from such young hounds as Jason Drew, the owner and winemaker at Drew on Mendocino Ridge, Phil Baxter, the winemaker at Baxter on Mendocino Ridge and Jim Ball Vineyards in the Anderson Valley, Jon Grant, the owner and winemaker of Couloir Wines and assistant winemaker at Turley Vineyards, Ginny Lambrix, the winemaker at Richard Berridge Wines, Kristen Barnhisel, the assistant winemaker at Handley Cellars, Bryan Harrington, the proprietor and winemaker at Harrington Wines, Brad Holstein, the winemaker at Husch Vineyards, Anthony Filiberti, Webster Marquez and David Low, owners and winemakers at Anthill Farms, Douglas Ian-Stewart, owner and winemaker at Breggo Cellars, Wells Guthrie, owner and winemaker at Copain Wines, David Rossi of Fulcrum Wines, Christine Griffith, winemaker at Lazy Creek Vineyards, and the subject of this feature article, Joseph Webb, winemaker at Foursight Wines.
Foursight Wines is a family owned boutique producer in the Anderson Valley launched in 2007 by longtime winegrowers Bill and Nancy Charles and daughter Kristy Charles and her spouse, Joseph Webb (they just married and are honeymooning in New Zealand as I write this). The Charles clan arrived in Anderson Valley in 1943 to join the regional lumber boom. In 1950, they bought land just east of Highway 128 in Boonville, built a sawmill, and started Charles Lumber Company. In 2001, Bill and Nancy planted the Charles Vineyard consisting of 15 acres of Pinot Noir, Sauvignon Blanc and Semillon. The grapes were initially sold to Navarro Vineyards, Handley Cellars, Papapietro Perry and Schramsberg. After college, Kristy Charles moved back to the Anderson Valley with her then fiancee, Joseph Webb. Both of them were wine enthusiasts and Joseph had received a degree in wine business at Sonoma State University. He apprenticed in winemaking at Sebastiani, Landmark Vineyards and Joseph Swan Vineyards. Kristy is the Executive Director of the Anderson Valley Winegrowers Association. Kristy (left) and Joseph Webb at the Anderson Valley Pinot Noir Festival below.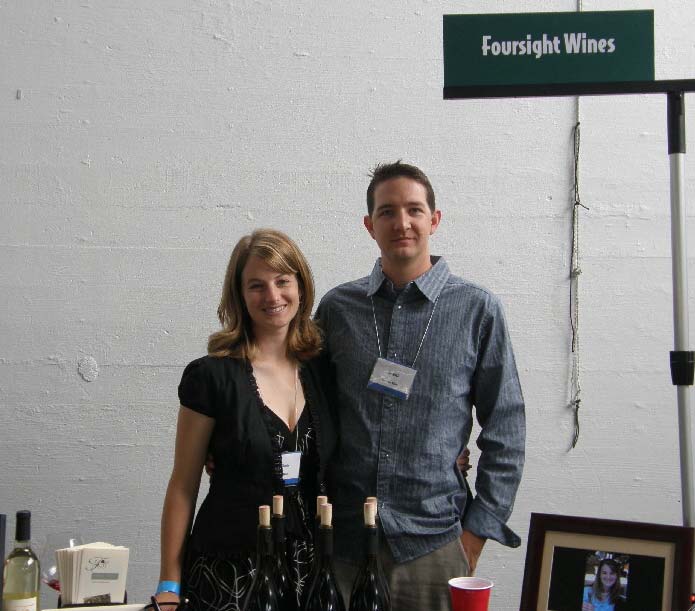 A tasting room and winery was recently completed and the grand opening was held at this year's Anderson Valley Pinot Noir Festival weekend. The structure was designed and built by Bill Charles from lumber grown, harvested and milled on the Charles family ranch.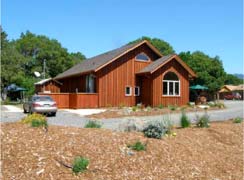 For the 2007 vintage, Foursight Wines has released three Pinot Noirs: "Zero New Oak" Charles Vineyard (all second-year and older barrels used in production), "Clone 05" Charles Vineyard (Pommard 5), and "All-In" Charles Vineyard (all-in is a poker term to describe the inclusion of all the Pinot Noir clones grown in the estate Charles Vineyard). These are all remarkable wines that will be sure to receive considerable chatter on the internet and in major wine publications. The formula for great artisan Pinot Noir is in place: warm people, stellar estate vineyard fruit, and a bright, talented young winemaker.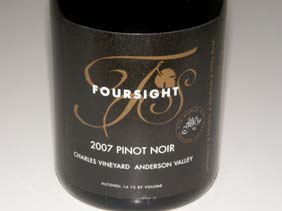 2007 Charles Vineyard All-In Anderson Valley Pinot Noir
14.1% alc., 407 cases, $46. Wild yeast fermentation, unfined and unfiltered. Includes all the clones in the estate Charles Vineyard: Dijon 114, 115, 777 and Pommard 5. 20% whole cluster. Aged in 20% new, 31% twoyear- old and 44% neutral French oak barrels. · Massively perfumed with exotic dark berries, dark mocha and spice. Discreetly concentrated and tasty dark fruit with hints of sassafras and oak. The berry fragrances and a citrus lift haunt the lengthy finish. A racy wine that is quite enjoyable now for its silky texture and impeccable balance. This one is kissed by an angel.
2007 Foursight Charles Vineyard Anderson Valley Pinot Noir
14.1% alc., $46. 100% de-stemmed and fermented with wild yeast. Aged in 33% new French oak barrels. · A redder profile starring plentiful strawberry aromas with wisps of oak, violets and lavender. Very tasty dark red fruits with some underlying earthiness and forest floor. A solid wine with a fine texture and well-integrated tannins.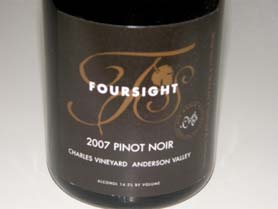 2007 Foursight Charles Vineyard Clone 05 Anderson Valley Pinot Noir
14.2% alc., 97 cases, $49. Select barrels of Pommard 5, one of 4 clones in the estate Charles Vineyard. 20% whole cluster. Wild yeast fermentations. Aged in 50% new French oak. Unfined and unfiltered. · Very sexy nose initially featuring deep berry, especially raspberry, fruit, dark chocolate and cardamon spice. A substantial wine with the most intensity and tannin in the lineup. The hedonistic core of berry and plum fruit shows a touch of grilled meat and oak smoke. Still brooding and lacking the nuances that it will develop over time, but this is a well-crafted Man's wine.
Foursight also offers a "Zero New Oak" Charles Vineyard Pinot Noir ($38), an estate Sauvignon Blanc ($20), and a Late-Harvest Sauvignon Blanc ($30). The Foursight Tasting Room is open at 14475 Highway 128, just south of Boonville, from 10:00 AM to 4:30 PM, Friday-Monday. The wines are also sold on the website at www.foursightwines.com. Wine Club members receive significant discounts. Join the mailing list for first crack at these limited production wines. 707-895-2889.