De La Montanya: So Many Choices
Dennis De La Montanya founded his namesake winery in 2003 and currently farms over 200 acres of vineyards in Sonoma and Lake County. The stylish barn-inspired tasting room and winery is located three miles from the town of Healdsburg, just off Westside Road on Foreman Lane (halfway between Armida and Twomey). The 2007 vintage is the fourth I have tasted from De La Montanya and I often taste each vintage from barrel, shortly after bottling and several months after release. De La Montanya oversees the winemaking team of Tami Collins (sister of Dennis's spouse, Tina) and consultant Michael Loykasek. For a small winery (production is 4,500 cases annually), De La Montanya produces an astonishing number of different white and red wines (at least 30) under the De La Montanya Estate, Felta Creek and Flying Rooster Red labels from the tried-and-true (Chardonnay, Fume Blanc, Pinot Noir, Zinfandel and Cabernet Sauvignon) to the unusual (Pinot Meunier,Tempranillo). There are wines at every price point. Adding spice to the lineup is a series of "Pin Up" wines featuring attractive women in pin up poses on the front label that are sold at the winery. Special charity bottlings are offered in conjunction with rock legends Journey and Eddie Money.
The Pinot Noirs are sourced primarily from three vineyards: Flying Rooster Ranch in the Petaluma area of the Sonoma Coast, Tina's Vineyard in the Russian River Valley and Christine's Vineyard in the Sonoma Coast. An ultra-premium Pinot Noir, Chanconne, is bottled under the De La Cain label and is a collaboration between De La Montanya and noted Aussie winemaker Daryl Groom. The Pinot Noirs have been consistent winners in the San Francisco Chronicle Wine Competition and the Sonoma Harvest Fair Wine Competition. At the 2009 Pig and Pinot event in Healdsburg, the 2006 De La Montanya Reserve Pinot Noir was the Pinot Cup Runner Up in a blind tasting of 50 acclaimed Pinot Noirs.
Just before Pinot Days I stopped in at De La Montanya to taste the 2007 lineup of Pinot Noirs. The style is understated and elegant with increasing fruit intensity as one progresses from Tina's Vineyard to the Reserve and Chanconne. De La Montanya describes 2007 as a challenging year but the wines are very impressive.
Dennis loves to taste me on some of his other varietal wines. The 2007 De La Montanya '1776' Dry Creek Valley Zinfandel is the most popular wine in his lineup. With 17.76% alcohol and 1% residual sugar, it offers a huge jammy drinking experience with well-spiced fruit dosed with pepper. I much preferred the 2007 De La Montanya Reserve Dry Creek Valley Zinfandel ($45) with 16.5% alcohol and 0.5% residual sugar that is better balanced, more modest in intensity and offering classic Zinfandel black grape flavors with a touch of pepper.
I recently tasted two older vintages of De La Montanya Pinot Noir from Tina's Vineyard. The wines are holding up beautifully.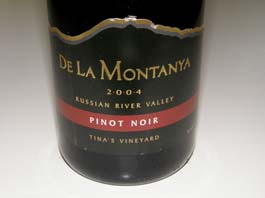 2004 De La Montanya Tina's Vineyard Russian River Valley Pinot Noir
14.0% alc.. 75% Pommard, 25% Dijon clones. Aged 11 months in French oak barrels. · Moderately light garnet color. Alluring aromas of cherries, baking spice and oak. Sweet-fruited palate of strawberries, cherries and pomegranate with bright acidity. A touch richer than the 2005 vintage with more fruit and less spice. A nice package with admirable finesse.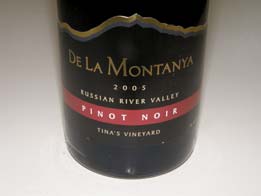 2005 De La Montanya Tina's Vineyard Russian River Valley Pinot Noir
14.4% alc., $32. · Shy perfume of red cherries and Provencal herbs. Nicely composed flavors of tart cherries, strawberries, baking spice, cookie dough and herbs. The tannins are very supple and the finish has a good lift of acidity. A demure wine with considerable charm that is aging gracefully.
The De La Montanya tasting room is open Friday-Sunday 11:00 AM to 5:00 PM and other days by appointment. The wines are sold through the tasting room, on the website, and through the winery's wine clubs which offer significant discounts. The winery is a soothing place to hang out with a bocce ball court and picnic area shaded by mature apple trees. An adjacent lodging known as the "Little Yellow Cottage," has all the comforts of home and overlooks the Felta Creek Vineyard on the property. It is only a 10 minute drive to Healdsburg and bicycling distance to many Westside Road wineries. Check the website at www.dlmwine.com to order wines and to check availability of the cottage. The De La Montanya crew below.