More Sips of 2007 California Pinot Noir
Ken Dunkley, the owner and winemaker at Seawind Wines, began making wine in 1976 as a University California Davis student studying food microbiology. Fermentation became Dunkley's passion and has been his personal and professional interest for 30 years. He started Seawind Wines in 2006 to craft premium, single-vineyard Pinot Noir and Chardonnay. He sources fruit from vineyards in cool coastal valleys and makes his wines as Crushpad in San Francisco in collaboration with recognized winemakers. His wines are available online at www.seawindwines.com.
2007 Seawind Sleepy Hollow Vineyard Santa Lucia Highlands Pinot Noir
14.0% alc., 75 cases, $44. Sourced from older vines, Martini clone. 100% de-stemmed. Fermented in small open-top fermenters with natural and inoculated yeast. Aged 10 months in 33% new French oak. · Dark ruby color. Aromas of black cherries and toasted brioche. Rich and full palate of berries and plums with an earthy undertone. Fruit-driven and linear with supple tannins and a clean finish.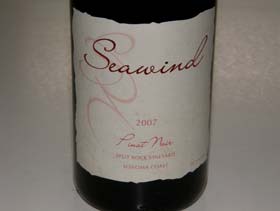 2007 Seawind Split Rock Vineyard Sonoma Coast Pinot Noir
14.1% alc., $44. · Dark ruby color. Primarily dark fruits are featured, in particular black raspberries. The bright fruit is complimented by notes of cardamon spice, oak, smoke and citrus. The tannins are corralled, the texture is quite silky and the lively acidity makes for a refreshing drink.
Black Ridge Vineyards is a boutique 1,200 case winery in the Santa Cruz Mountains just outside of Los Gatos, California specializing in Pinot Noir, Viognier and a Bordeaux-style blend. All wines are 100% estate grown from the 22 acres of vines and range from 50 case to 500 case production volumes. Winemaker Bill Brousseau crafts the wines at Testarossa Vineyards in Los Gatos.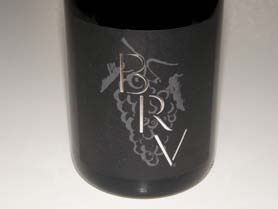 2007 Black Ridge Vineyards Santa Cruz Mountains Pinot Noir
14.7% alc., 198 cases, $39. · Very complex aromas of black cherries, kid glove, pine forest, green garden, grassland and oak char. Delicious and crunchy dark berry fruit set off by bright acidity. Deeply flavored but not weighty, with deft use of oak, and a finish that goes on and on. A Pinot lover's cup of tea.
Cima Collina is a small producer of hand-crafted, small lot wines sourcing grapes from the winery's estate vineyard at Hilltop Ranch in Carmel Valley and family owned vineyards in Monterey County. Founded in 2004, the talented winemaker since the winery's founding has been Annette Hoff who writes the award-winning Cima Collina Blog at www.cimacollina.com. The Tondre Grapefield Pinot Noir is my favorite Cima Collina wine and a star from the Santa Lucia Highlands.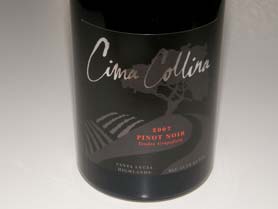 2007 Cima Collina Tondre Grapefield Santa Lucia Highlands Pinot Noir
13.1% alc., 216 cases, $48, released May 2009. Clones are a blend of onethird each Pommard, Dijon 115 and 667. Fermented in small, open-top bins that were punched down two to three times daily. Pressed off into oak barrels of which 40% were new and aged 11 months before bottling. · Very dark reddish-purple color. The nose is penetrating and intoxicating. Haunting scents of ripe black raspberries and blackberries, exotic woods and musk. Luscious dark fruits are plush and deeply flavored with a floral undertone that I find very appealing. Harmonious in every way with bright acidity, ripe, soft tannins and a vibrant and refreshing finish. A memorable wine that gets its hooks into you and won't let go.
Halleck Vineyard is a family affair, founded by Ross and Jennifer Halleck. The Hallecks planted their family estate one-acre vineyard in 1993 with the intention of setting aside profits from this vineyard for their three sons' college educations. The Hallecks also source Pinot Noir from well-farmed vineyards in the western Russian River Valley. They produce three vineyard-designate Pinot Noirs and a Pinot Noir blend from the three vineyards called Three Sons Cuvee. Rick Davis (Londer, Calstar) is the winemaker. Production is 1,500 cases per year sold primarily through a mailing list at www.halleckvineyard.com.
2007 Halleck Vineyard The Farm Vineyard Russian River Valley Pinot Noir
14.6% alc., $55. 100% destemmed, 5-day cold soak, whole berry fermentation in 5-ton fermentation tanks for 12 days, aged 9 months in 30% new French oak. Clone 777. · Interesting aromas of dark red fruits, rose bush, prickly pear, oak char and a little funk. A dark fruit-driven wine with sides of herbs and oak. There is bright acidity on the finish which falls off rapidly. This wine just doesn't do much for me and I get the impression that it has not completely come together inviting a revisit in 6 months.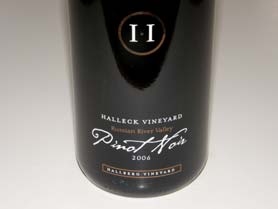 2007 Halleck Vineyard Hallberg Vineyard Russian River Valley Pinot Noir
14.9% alc., $55. 100% de-stemmed. 5-day cold soak, whole berry fermentation in 5-ton fermentation tanks. Aged 10 months in 30% new French oak. Clones 115 and 777. · Moderately light garnet color. Perfume of dark red cherries and plums accented with Provencal herbs and oak vanillin with a whiff of alcohol. Discreetly concentrated and tasty dark red Pinot fruits with accents of cola and brown spice. Velvety in the mouth with a fruity and pleasing finish.
Coho is a partnership between Brooks Painter and Gary Lipp who together have almost fifty years experience working for California wineries. The logo embodies the Coho salmon which reflects the owner's commitment to sustaining our habitats and species that share it. Founded in 2002, the 2006 and 2007 vintages were the first that I had sampled and I found the Pinot Noirs very likable and sensible priced. The website is www.cohowines.com.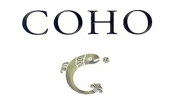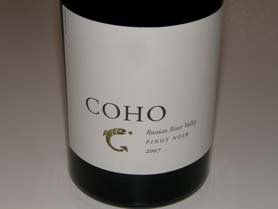 2007 Coho Russian River Valley Pinot Noir
14.0% alc., 357 cases, $33. · Confected red fruits and smoke on the nose. Moderately rich core of Bing cherries with a hint of candied sweet character. Leaf and oak flavors add complexity. Admirable elegance, smoothly textured and perfect balance with some persistence on the finish.
DuMOL was launched in 1996 by partners Michael Verlander and Kerry Murphy. The wines have been consistently stellar and include Pinot Noir, Chardonnay, Syrah and Viognier. The partners believe in blending and do not produce a vineyard-designate Pinot Noir. Most of the Pinot Noir grapes are sourced from the Green Valley appellation where DuMOL has a vineyard. Contracts are long-term and grapes are paid for by the acre, insuring that yields can be restricted. The winemaker and viticulturist since 2000 is the talented Andy Smith. The owners have kept to a low profile, preferring not to participate in Pinot Noir events and shunning publicity. A new winery was completed in 2008 in Windsor. Most of the wine is sold through a mailing list at www.dumol.com.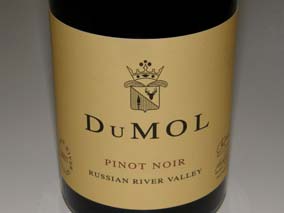 2007 DuMOL Russian River Valley Pinot Noir
14.5% alc., $65. · Slightly muted aromas of cherries, grapes and a hint of smoke. Luscious cherry berry compote displaying an appealing crispness and a flourish of baking spices and cola in the background. Discreetly rich with a smooth texture and a dry finish. An immensely satisfying wine that is tre Russian River.
Expression Wine produces multiple Pinot Noirs from different latitudes representing different "expressions" of Noir. The winegrowing regions represented include Santa Rita Hills, Sonoma Coast, Anderson Valley and Eola-Amity Hills. The goal of winemaker Richard Sowalsky is to showcase the vineyards and the terroir of each region. Sowalsky is a University California Davis graduate with experience at Handley Cellars, Havens Wine Cellars, Robert Mondavi Winery and Big Horn Cellars. The wines are crafted at the Silverado Trail Wine Studio and are sold primarily through a mailing list at www.expressionwine.com.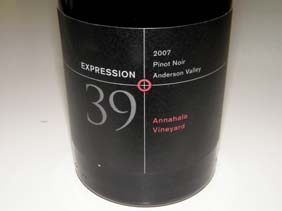 2007 Expression 39 Anahala Vineyard Anderson Valley Pinot Noir
14.5% alc., $48. · This is a delightful Pinot Noir. Scents of well-spiced cherries and berries are echoed in the fruit flavors which are delicately kissed by oak. The fruit is full of vim and vigor and well-framed by substantial ripe tannins. Still young and somewhat undeveloped, this beauty will benefit from another 6 to 12 months in the cellar.
Balletto Vineyards consists of 280 acres of vineyard land planted in western Sebastopol owned by John Balletto. 60 acres are planted to multiple clones of Pinot Noir. The inaugural vintage was 2001 and the winemaker is Dan Cederquist. Balletto and shares a tasting room on Occidental Road with Dutton-Goldfield.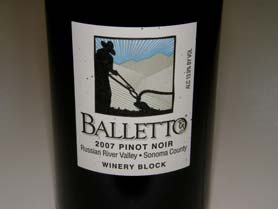 2007 Balletto Winery Block Russian River Valley Pinot Noir
13.9% alc., 300 cases, $22. Sourced from the best grapes surrounding the winery. · Very appealing aromas of black cherries and black raspberries riff with spice and lavender. A solid wine with respectable black cherry fruit intensity, remarkable for its smooth texture and impressive for its very clean finish. An incredible value.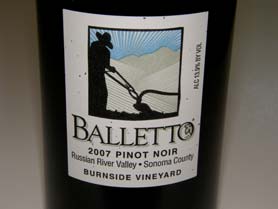 2007 Balletto Burnside Vineyard Russian River Valley Pinot Noir
13.9% alc., 300 cases, $22. · Demure aromas of dark red fruits with a faint echo of oak. Lip-smacking sweet dark red fruits with a hint of spice and anise. Full-bodied and rich with healthy ripe tannins and a tangy finish. Huge bang for the buck.
Merryvale Vineyards, a family owned Napa Valley winery known for its Chardonnays, Merlots, Cabernet Sauvignons and Profile Red Wine, is quietly making some superb Pinot Noirs in recent vintages. The winemakers are Sean Foster and Graham Wehmeier. Merryvale owns the Stanly Estate Vineyard in Carneros planted to Pinot Noir, Chardonnay and Syrah. The Merryvale lineup of wines is available online at www.merryvale.com. The winery's tasting room is housed in a historic building that was the first winery built in Napa Valley after Repeal.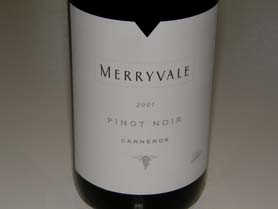 2007 Merryvale Carneros Pinot Noir
14.5% alc., $35. · The nose is a chameleon, offering scents that vary from cherries to raspberry tart, from herb garden to sweet oak. Perfectly fine cherry flavors with a sidecar of oak toast and baking spices and a baked cookie note. Beautifully balanced and refreshing to drink. Not a blockbuster, but I could be perfectly happy with this wine any night with dinner.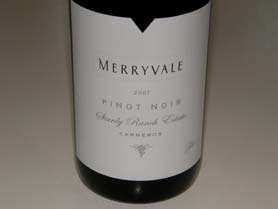 2007 Merryvale Stanly Ranch Estate Carneros Pinot Noir
14.8% alc., $45. Sourced from favorite blocks of the sustainably-farmed estate vineyard on the historic Stanly Ranch. · Fresh and vibrant aromas of summer cherries and berries with complimentary oak spice. Mediumweighted flavors of earth and mineral-dusted black cherries with an echo of oak char in the background. Very smoothly textured with dry, ripe tannins. This wine speaks of the soil and is the best wine I have had from this vineyard in recent memory.
De Loach Vineyards is dedicated to Pinot Noir and uniquely uses French open-top wood fermenters for all the winery's OFS, Vineyard-Designate and Russian River Valley Pinot Noirs. The winemakers arew Brian Mahoney and Julia Vasquez. De Loach dates to 1973 when Cecil De Loach, a firefighter from San Francisco first planted grapes in the Russian River Valley and acquired numerous old-vine Zinfandel vineyards. In 2003, De Loach Vineyards was sold to the Boisset Family from Burgundy, France. The Boisset family replanted the De Loach vineyards after the 2004 vintage and biodynamic farming was instituted. The website is www.deloachvineyards.com.
2007 DeLoach Vineyards Green Valley of Russian River Valley Pinot Noir
14.5% alc., pH 3.61, 991 cases, $45. A blend of several vineyards and clones. Grapes are de-stemmed and undergo native fermentation in open top vats with hand punch downs. Aged 9 months in 25% new French and Hungarian oak · Aromas of dark cherries, herbs, oak and mushrooms. Juicy core of black cherries and cola with an underpinning of oak and a petrol note. Soft tannins with bright citric acidity on the finish. Decent.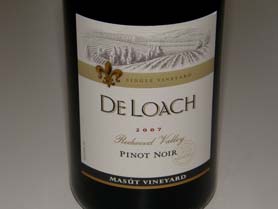 2007 DeLoach Vineyards Masut Vineyard Redwood Valley Pinot Noir
15.0% alc., 1,000 cases, $45. Clones 113 and 115 were planted in 1996 according to biodynamic principles and these vines are tended by pioneers of biodynamic farming, Jacob Fetzer and his family. · Well oaked dark fruits on the nose. Powerfully flavored earth-kissed dark raspberry fruit augmented by plum reduction sauce, spice and a hint of grapefruit peel on the dry and slightly hot finish.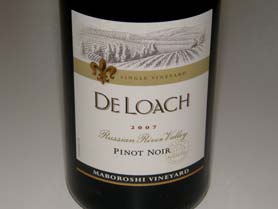 2007 DeLoach Vineyards Maboroshi Vineyard Russian River Valley Pinot Noir
15.0% alc., pH 3.53, 435 cases, $45. The vineyard name means "whimsical dream" in Japanese. Farmed by the Kisaichi family and located southwest of Sebastopol. Soils are Goldridge loam. Aged 12 months in 33% new French oak. · Intense aromas of black cherries, raspberries, herbal oak and cardamon spice. Beautifully composed and gentle in the mouth with tasty red raspberries and currants, a compelling earthiness, and a tasty riff of oak. Harmonious with impressive glass-filling presence.