Pinot Briefs —Newsletter 7.21
Gary Farrell's New Label Iconic Russian River Valley winemaker, Gary Farrell, left his namesake winery a few years back to return to his roots with a small boutique winery specializing in small lots of Pinot Noir. The name of the new label is Alysian Wines. Details are few on the website, but the first wines are scheduled to be released soon. Join the mailing list at www.alysianwines.com or e-mail inquiry@alysianwines.com.
Petaluma Gap Winegrowers Alliance Founded in 2005, PGWA is composed of over 50 winegrowers and vintners who are located in or source fruit from the Petaluma area. The Alliance recently launched a new web site at www.petalumagap.com. In addition, the Alliance has been hosting a series of weekend informal vineyard and winery tours at sites not usually open to the public. Teela Ridgeway, the President of PGWA, has been largely responsible for the drive to educate consumers about the unique sites and styles of wine produced in the Petaluma area.
Beverage Information Group Harris Poll® The results of a large online survey of United States adults in April, 2009 indicates that 3 in 10 Americans drink alcohol weekly. 25% of adults in the United States never drink alcohol. Men are more likely to drink alcohol once a week than women (40% versus 19%). One-third of Echo Boomers (aged 18-32) say they drink once a week compared to 26% of Gen Xers (those aged 33-44). One half of women drink domestic wine (56%) compared to 43% of men who tend to be big beer drinkers. According to Wine Spectator (May 18, 2009), the Global Drinks Market reports that worldwide per-capita wine consumption fell for the third consecutive year in 2008 and current world per-capita consumption is at its lowest level in at least four decades. Much of this trend is due to decreased wine consumption in countries such as France and Italy, particularly among younger drinkers. China may be the country to show the largest growth in wine consumption in the future.
Latest Recommendations on Wine Drinking and Health Arthur Klatsky, M.D., renowned researcher into the health benefits of alcohol and wine and a senior consultant in cardiology at Kaiser Permanente Medical Center in Oakland, California, spoke with Wine Spectator in a roundtable for the May 21, 2009 issue. He said, "It is certainly appropriate to advise people at a relatively high risk of heart attack - which is most middle-aged to older people - that light to moderate amounts of alcohol should be part of their healthy lifestyle, unless they have some special risk."
Chamisal Label Returns Domaine Alfred was acquired by Crimson Wine Group and has changed the name of the winery to its original name, Chamisal Vineyards. The 80-acre vineyard was largely replanted in the 1990s to Pinot Noir and Chardonnay. The current winemaker, Fintan du Fresne, continues in charge.
2009 Oregon Wine Awards Pinot Noir Double Gold award winners: $20.01-$35 - 2006 Brooks "Janus" WV, 2007 Christopher Bridge Satori Springs WV, 06 Seven of Hearts DH, 2006 Stoller JV Estate DH; Over $35.01 - 07 Reustle-Prayer Rock Reserve UV, 06 Stoller SV Estate DH, 06 Willamette Valley Vineyards Signature Cuvee WV, 06 Winderlea Inaugural Reserve DH.
Mountain Winery Summer Concerts The Mountain Winery amphitheater venue in Saratoga, California announces 55 concerts from July 3 to October 6, 2009. Food is available along with the Mountain Winery Estate wines that include the 2006 Chardonnay and Pinot Noir crafted by Mount Eden winemaker Jeffrey Patterson. Entertainers featured include Indigo Girls, Boz Scaggs, Foreigner, Sheryl Crow, James Taylor, Etta James and Tony Bennett. Tickets at www.mountainwinery.com.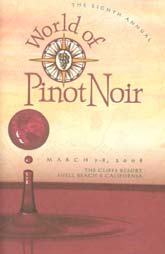 World of Pinot Noir Announces Ambitious 2010 Program
2010 marks the Tenth Anniversary of the World of Pinot Noir and a special program of events has been announced. Seminars include: A tasting of vintage old world Burgundies led by Master Sommelier Fred Dame, a 10-year retrospective of Williams-Selyem library wines led by Executive Winemaker Bob Cabral, and a vertical examination of the famed Pisoni Vineyard. Two Gala Receptions and Dinners will be presented by noted chefs Roy Yamaguchi (Roys of Hawaii) and Budi Kazali (Ballard Inn). Tickets go on sale October 1, 2009. View the schedule of 2009 events at
www.wopn.com
. See
PinotFile
coverage of past World of Pinot Noir events (2008 - Volume 6, Issue 56; 2009 - Volume 7, Issue 16).