By The Numbers
The demand for premium Pinot Noir has driven Sonoma vineyard prices over $100,000/acre. Napa vineyard prices are in the $200,00-300,000/acre range. Vineyards in Pomerol go for $1,000,000/acre and in the Cote d/Or vineyards are priced at $350,000 and up/acre.
Pinot Noir retail sales in the United States have increased 24.4% for the 52-week period ending September 22, 2007. New Zealand sales increased 34.1%, French wine increased 2.8%, and Cabernet Sauvignon increased 12.7%. (Nielsen Scantrack data)
The average restaurant price for Pinot Noir increased from $45 in 1995 to $70 in 2006.
There are 365 clones of Pinot Noir in Burgundy - some Pinot Droit as well as Pinot Fin.
90% of California wineries produce less than 10,000 cases of wine per year and most vinify less than 5,000 cases per year.
California now has 4,600 growers, 522,000 vineyard acres in 47 of 58 counties, and 107 appellations. California is the 4th largest wine producer in the world. There are more than 2,000 wine brands in California. California added 465 new wineries (up 28%) in 2006.
17,680 tons of Pinot Noir were harvested in Oregon in 2006, 8,134 of which came from Yamhill County. 200 of Oregon's 364 wineries are in Yamhill County. Oregon wine sales have almost tripled in the years from 2000 to 2006.
E&J Gallo is the top United States wine company producing 62 million cases/year.
Bronco Wine Co, founded in 1973 by Fred Franzia (below), now produces 20 million cases/year, 6 million of which are Two Buck Chuck. Much of the production is sold in bulk. Bronco controls 30,000 acres of vineyards in California and invests $20-50 million each year in facility upgrades.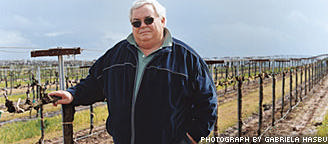 75% of United States wine drinkers purchase wine in the $6-$10 and $10-15 range. Two-thirds drink the wine within a week, and one-third drink it within 48 hours.
There are 5,970 wineries in the United States as of November, 2006, with at least one in every state. California is number one with 2,923 wineries, Washington is second at 507, followed by Oregon with 364, New York with 270 and Texas with 151.
The PinotFile website now receives on average about 100,000 visitors a month and reaches out worldwide with visitors from Canada, Austria, Germany, Norway, Great Britain, South Korea, Singapore, Japan, Sweden, Hong Kong, France, Ireland, Brazil, South Africa, Australia and New Zealand among many others.