Roots Winery: Solid and Reasonable Pinots
Roots Winery is a family affair owned by Christian (Chris) and Hilary Berg. Hailing from Racine, Wisconsin and raised in Idaho, Pennsylvania and Illinois, Chris became interested in wine when his parents bought a manufacturing company in Tualatin, Oregon and moved west from Illinois. The Berg family bought a 20-acre property near Yamhill in the Yamhill-Carlton District located in the same hillside area as Shea Vineyard. In 1999, they planted a 7-acre estate vineyard primarily to Pinot Noir with a small amount of Pinot Gris. Pinot Noir clones 113, 114, 115 and 777 are planted on Willakenzie soil. Chris gained experience in winemaking at Archery Summit Winery. In 2001, Chris and Hilary moved to the Yamhill property and took over management of the property when their parents retired to Wickenburg, Arizona. The name, Roots, is derived from the French word racine which means "roots."
2002 was the first vintage produced a whopping 72 cases of Pinot Noir under the Roots label. In 2003 a reserve bottling, Racine, was introduced and in 2004, a third label, Klee, was added, which pays homage to Bauhaus artist-in-residence Paul Klee. By 2006, the estate vineyard was in full production and grapes were bought (Cherry Grove Vineyard, Apolloni Vineyard, Leroy Vineyard and 49 Rows Vineyard) to produce a total of 2,000 cases under the three labels. Chris also sources grapes for non-Pinot Noir wines from the Walla Walla and Columbia Valley regions of Washington.
Chris Berg's idea is to make affordable wines and he has accomplished that with his five 2007 Pinot Noirs priced at $25 and the 2006 Racine at $50 (but available as low as $35). Beyond the prices though, Chris's wines are impressive and deliver plenty of pleasure. I met Chris at this year's Pinot Days and found him to be a good guy to hang with as well.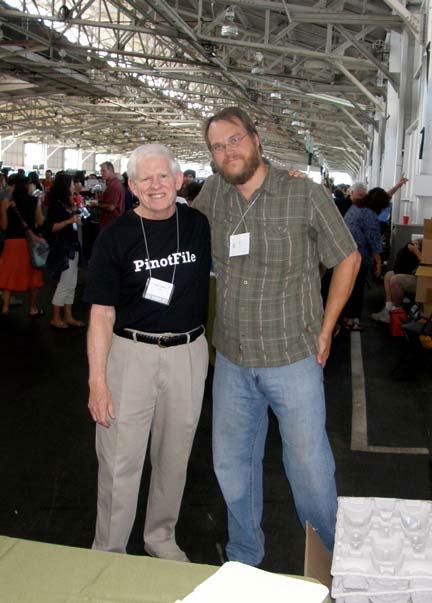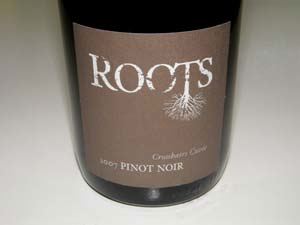 2007 Roots Crosshairs Cuvée Pinot Noir
13.5% alc., 275 cases, $25. Sourced from Leroy Vineyard in the Chehalem Mountains AVA and Cherry Grove Vineyard in the Yamhill-Carlton District AVA. · Moderately light garnet color. The aromas explode in the glass over time revealing black cherries, baking spices, herbs and forest floor. Light in weight and elegant in style with an earthy undertone. Softly textured with gossamer tannins and a good acid spine. A feminine styled wine with enough cleavage to please.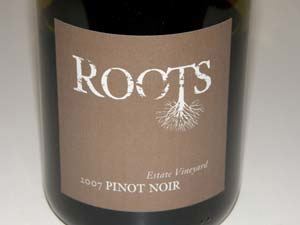 2007 Roots Estate Yamhill-Carlton District Pinot Noir
13.6% alc., 175 cases, $25. · Pleasing scents of, strawberries, tutti-fruity and spice. Substantial red cherry and red berry core with an underpinning of earthiness, spice and Dr. Pepper. Minimum dusty tannins make the wine very approachable now. Seems like a Yamhill-Carlton wine masquerading as a Dundee Hills wine. This wine really brings it for the price of a Jackson and is recommended.
Roots also has three 2007 vineyard-designate Pinot Noirs from Leroy Vineyard, Cheery Grove Vineyard and 49 Rows Vineyard. The wines are in retail distribution (try www.avalonwine.com in Oregon, www.winex.com in California). I have read stunning reviews for the 2007 Roots Viognier (175 cases, $18) which is sourced from Washington. One reviewer wrote, "This guy nailed Viognier like few we have ever tasted outside of Condrieu. On that point alone it's noteworthy. The price is a bonus."