O'Reilly's Oregon Value Pinots
David O'Reilly is one lucky Irishman - he makes his living by drinking. A native of Belfast, Ireland, O'Reilly came with his family to Canada, subsequently worked at a small winery while attending college and went on to start his winemaking career at Elk Cove Winery. He met Peter Rosback, another lover of wine of Irish heritage, and together they left Elk Cove Winery in 1998 to start Sineann. O'Reilly was also to form a partnership with viticulturist Jerry Owen known as Owen Roe, which is the name of a 17th century Irish patriot who dedicated his life to upholding the highest principles of political equality and freedom. Together they also founded two value oriented wine labels, O'Reilly's and Sharecropper's, which have been produced by O'Reilly for over ten years. These wines are made from Pacific Northwest juice that doesn't quite fit the recipe for Owen Roe wines. These two wines are among the first releases from the stellar 2008 vintage in Oregon and show a tad better balance and more pleasing textures than the 2007 versions.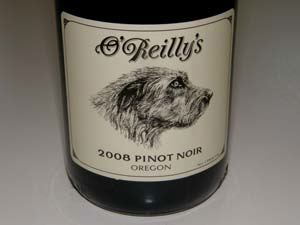 2008 O'Reilly's Oregon Pinot Noir
13.0% alc., $17. This wine is consistently one of Oregon's favorites in the under $20 price range. The Irish wolfhound on the label was a pub dog at an Irish restaurant and bar that O'Reilly's cousin owns in San Francisco. Aged in 3 and 4 year old oak barrels. · A shy and refined aromatic profile of dark berries with a hint of spice. I liken it to fruit in a tuxedo. Tasty dark red fruits with a hint of oak framed by fuzzy tannins and ending in a dry finish. A bright and charming wine that works as a go-to drinker.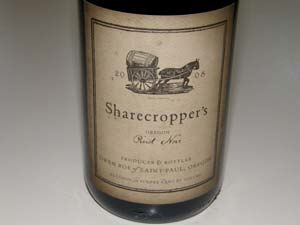 2008 Owen Roe Sharecropper's Oregon Pinot Noir
13.0% alc., $21. · Deep ruby color. Amazing nose of crushed berries with a lovely roseate accent and some subtle oak toast in the background. Light in style and soft in texture with more restrained acidity than the 2007 version. Earth and oak notes in the background augment the berry flavors. A little lacking in the short finish, but overall this is a very pleasant drink for the tariff.
Both of these wines enjoy wide retail distribution but availability is reduced because production in 2008 was decreased by 25%.