Antica Terra Speaks of Terroir
A pair of New Yorkers started Antica Terra in 1989. Co founder and winemaker Marty Weber made small amounts of highly lauded Pinot Noir from the 6-acre estate vineyard located on 40 acres in the Eola-Amity Hills appellation of the Willamette Valley. The vineyard is located on a south-facing sloping hillside with shallow well-drained soil underlain with marine sedimentary rocks and alluvial deposits, hence the name "Antica Terra," Latin for "Old Earth." The stratification of the earth in the Antica Terra Vineyard is depicted on the label.
The Antica Terra Vineyard and label were acquired in June of 2005 by three friends (Scott Adelson, John Mavredakis, and Michael Kramer), and talented winemaker Maggie Harrison. Harrison assisted Manfred Krankl at Sine Qua Non in Ventura, California for eight years. She was so fond of working with Krankl that he had to practically lock the doors to his winery to force her out on her own. It was only the unique opportunity afforded by Antica Terra in Oregon that led her to take the leap. Listen to Maggie's full story in an interview with myself, Brian Clark and Jay Selman on Grape Radio Show #232 at http://www.graperadio.com/archives/ 2009/02/02/life-with-maggie/.
In 2007, 20 additional acres of Pinot Noir were planted with upgrades to the clonal and rootstock mix. A new winery is being built in Dundee scheduled for completion in 2009. The inaugural release by Maggie Harrison was the 2006 vintage (the 2005 vintage was completely declassified) which was highly praised by the wine press. The 2007 vintage Antica Terra Willamette Valley Pinot Noir shows the same refinement and layering of flavors. Although ripeness was an issue in some vineyards in the Willamette Valley in 2007, this wine shows absolutely no sign of this.
The Willamette Valley bottling is a blend of grapes from several sources but primarily the estate Antica Terra Vineyard, and the Cherry Grove Vineyard and Shea Vineyard, both of which are located in the Yamhill-Carlton appellation. The percentage of each will vary depending on the vintage, but the estate vineyard usually makes up about 50% of the mix. Antica Terra Botanica is a very small production reserve type wine only made in vintages when exceptional fruit warrants. In 2006, 88% of the wine came from Shea Vineyard.
The Antica Terra wines are sold through a mailing list at www.anticaterra.com with some retail distribution (see www.avalonwine.com). Antica Terra released an excellent Rosé in 2008 that was reviewed in the last issue of the PinotFile. I met the assistant winemaker, Chad Stock, at Antica Terra Vineyard following the 2009 IPNC. We tasted through the three vineyard components of the 2008 Antica Terra from barrel (Antica Terra Vineyard, Shea Vineyard, and Cherry Grove Vineyard) and it was fascinating to taste how each of these vineyards can bring something special and distinctive to the final blend which is yet to be determined. If you visit, do not be deterred by the "No Trespassing" sign posted in the yard of the small ranch home below the vineyard which is currently serving as the offices of Antica Terra. The vineyard is located on a beautiful knoll with expansive views of the Willamette Valley and definitely worth a visit (by appointment - 503-244-1748).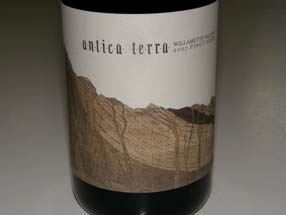 2007 Antica Terra Willamette Valley Pinot Noir
13.5% alc., 1,270 cases, $46. Released April 1 2009.Packaged in a distinctive tall-necked bottle. 53% Antica Terra Vineyard, 28% Shea Vineyard, 9% Cherry Grove Vineyard, 9% Croft Vineyard. 91% de-stemmed without crushing. Fermented in small, open-top fermenters with manual punch downs. Into barrel using gravity flow with 27% press. Aged in 53% new French oak. Unfined and unfiltered. · Teasing aromas of berry tart and spiced raspberries with a hint of pine tree. Tasty dark berry, black cherry and plum with nuances of minerality, earthiness, seasoned oak, spice and musk, which come and go in the glass. There might be some pheromones in there as well as I could not turn away from the glass. This wine has plenty of richness to satisfy, but not in the über-rich mold of SQN. It is very clean and silky with imperceptible tannins and impeccable balance. This beauty will hold your interest and is a truly unique artisan Pinot Noir.