Pinot Briefs —Newsletter 7.22

Pinot Noir New Zealand 2010 This semi annual four day celebration of New Zealand Pinot Noir is scheduled for February 1-4, 2010. The celebration will feature the largest ever tasting of aged New Zealand Pinot Noir from New Zealand's best producers and a regional tasting of New Zealand Pinot Noir from the 2007 vintage. 100+ top New Zealand producers will participate along with world class speakers including Leslie Sbrocco, Nick Stock, Matthew Jukes, Simon Tam, Tim Atkin MW, and Evan Goldstein MS. A formal tasting will include a selection of Pinot Noirs created from a variety of viticultural practices to confirm, confuse or clarify their purpose. American winemaker, Ted Lemon, will be a part of this tasting. For more information and registration visit www.pinotnoir2010.co.nz and follow the event on Twitter at www.twitter.com/pinotnoir2010.
3rd Annual The Dundee Hills Wine Experience Join ¡Salud! and the Dundee Hills Winegrowers Association for this tasting event on Friday, August 28, 2009 from 6:00 PM to 10:00 PM. Over 20 Dundee Hills wineries will be pouring Pinot Noirs, Chardonnays and other varietals accompanied by hors d'oeuvres and music. Bid on unique wine country excursions and collectible wines to benefit ¡Salud! healthcare services for Oregon's seasonal vineyard workers and their families. Held at the Lawrence Gallery in Portland's Pearl District. Tickets are $50 (online), $65 (at the door) which includes a Riedel Oregon Pinot Noir glass. For tickets and information including a list of participating wineries, visit www.dundeehills.org.

14th Annual Grape to Glass Weekend This event is organized and hosted by the Russian River Valley Winegrowers on August 14-16, 2009. Events include a Tour de Vine Bike Ride, a Winery Poker Run, Sip 'N' Cinema at MacMurray Ranch, Ballooning over the Valley, Kayak the Russian River, Behind the Wines Tours and Special Programs, Hog in the Fog Winegrower BBQ, Tasting Fest and Auction at Richard's Grove & Saralee's Vineyard, and the "Wings Over Wine Country" Air show. The full program is available online at www.rrvw.org.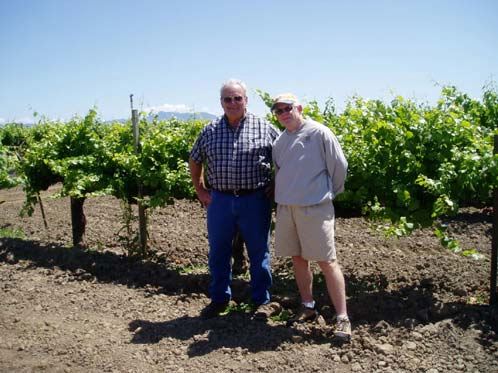 Joe Rochioli Honored Joe Rochioli is the 2009 recipient of the award for Lifetime Contribution to Sonoma County Agriculture presented at the Sonoma County Harvest Fair Awards Night Gala on September 26. Rochioli was one of the pioneering farmers who transformed Sonoma County from a backwater jug purveyor to a wine superpower. In the 1960s, he realized that his family's tract of farmland along the Russian River on Westside Road had the perfect soil and climate to grow cool-climate Burgundian grapes. He was the first grower in the Russian River Valley to plant Sauvignon Blanc. The Sonoma County Harvest Fair will be held October 2-4 at the Sonoma County Fairgrounds in Santa Rosa.
Cuvaison Celebrates Its 40th Anniversary For 40 years, Cuvaison has hosted visitors in their humble tasting room on the Silverado Trail. The historic Calistoga site has been redesigned with a contemporary approach to the classic tasting environment. The atmosphere is warm and welcoming, highlighted by an inviting tasting bar, retail boutique and tree-shaded picnic grounds. A second tasting center is now open in Carneros in the center of the winery's 400-acre estate vineyards. The tasting room here has striking views of the vineyards and an intimate ambiance for enjoying tastings indoors or out, arranged by appointment. Cuvaison produces exemplary Napa Carneros Pinot Noirs and Chardonnays along with Napa Valley Cabernet Sauvignons. Visit the winery website for more about the 40th anniversary at www.cuvaison.com.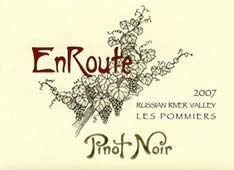 Far Niente Partners Launch EnRoute Winery EnRoute winery specializes in Russian River Valley Pinot Noir. The name, EnRoute, references the journey the owners took to produce Pinot Noir. The first release from the 2007 vintage is labeled "Les Pommiers," which is named for the apple orchards that were once so prevalent in the Russian River Valley (1,275 cases, $50). The wine will be sourced from Amber Ridge Vineyard, Graton Vineyard and Manzana Vineyard, and vinified in Sebastopol by Andrew Delos, who was formerly an assistant winemaker at Pellegrini Family Vineyards. EnRoute Pinot Noir will be sold through an allocated mailing list. Visit the website at www.enroutewinery.com.

19th Annual Family Winemakers of California Tasting 2009 Consumers (3:00 to 6:00) and trade (1:00 to 3:00) may attend on Sunday, August 23 (trade only on Monday, August 24) at Festival Pavilion, Fort Mason. This is the largest tasting of California wines in the world and features many of the state's small, family owned wineries. The Southern California tasting will be held March 14 and 16, 2010.
Alma Rosa Tops Greenopia Sustainability Rating Greenopia is an online service that rates and ranks green services and products. A rating of 25 major wine labels was recently released comparing sustainability. At the top of the list were Alma Rosa, Frog's Leap and French Rabbit. Richard and Thekla Sanford, who attended the recent IPNC as representatives of their featured winery, Alma Rosa, have been committed to organic viticulture and sustainability for 25 years. All of Alma Rosa wines are bottled under screw cap. The study is available free at www.greenopia.com.
Thomas Winery Pinot Noir Only the most devoted Pinot Noir cognoscenti know about John Thomas who produces about 400 cases of Pinot Noir from his vineyard in the Dundee Hills each year ($50). His wines are made in an elegant style and age very well. I have drank a number of vintages through the years. I sampled his 2006 Pinot Noir at the IPNC Salmon Bake and was floored. I thought it was the best wine among 30 or so I sampled that evening. He also has released a Thomas Winery Acme Wineworks NV Pinot Noir from declassified 2006 and 2007 fruit which is inexpensive ($18) and is not made every year. There is an Acme Wineworks NV Rosé as well ($13). Available at www.avalonwine.com.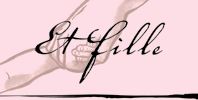 Et Fille Newest Releases Et Fille is a small boutique producer of Pinot Noir and Viognier working out of August Cellars in Newberg, Oregon. I am quite a fan of the wines. Two single vineyard 2007 Pinot Noirs were recently released: 2007 Blakeslee Vineyard Chehalem Mountains Pinot Noir (175 cases, $28) and 2007 Nicholas Vineyard Chehalem Mountains Pinot Noir (102 cases, $34). The Nicholas Vineyard is owned by Sheila and Nick Nicholas who produce wine under the Anam Cara label. I did not get a chance to taste these while I was in Oregon, but given the past Et Fille wines I have tried, I can bet these are winners. Visit www.etfillewines.com.
Pinot Noir Most Planted in California in 2008 Jim Gordon, Editor, Wines & Vines, told a recent group of wine bloggers in a talk titled, "Trends Worth Blogging About," that Allied Grape Growers reported that of the eight major varieties planted in 2008, 36% of the plantings were Pinot Noir, 22% Chardonnay, 16% Pinot Gris, 13% Cabernet Sauvignon, 5% Zinfandel, 4% Syrah, 2% Merlot, 2% Sauvignon Blanc.
San Francisco Wine Association Growing Three new boutique wineries recently joined this alliance of urban wineries making the total number of members 20. SFWA members do not have fancy wineries or tasting rooms, but craft their wines in San Francisco using cutting-edge equipment. Many employ outstanding winemakers. The three newest additions are Bartz-Allen Winery, Kindred Wines and Wait Cellars.
Food & Wine Pairings App for iPhone and BlackBerry Noted Canadian wine writer, Natalie MacLean, (Nats Decants) has released her Nats Decants Drinks Matcher mobile application for iPhone, iPod Touch and BlackBerry. The App contains 380,000 wine and food pairings that can be easily accessed while in a wine store or a restaurant. The Nat Decants Drinks Matcher is $2.99 and can be downloaded in two minutes from the online stores for iPhone or BlackBerry. To view a video demo on how the App works, visit: www.nataliemaclean.com/mobilematch. Daily matching tips are accessible at www.twitter.com/Natalie MacLean.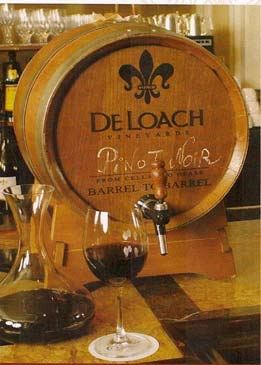 DeLoach Vineyards Barrel-To-Barrel Wine Service DeLoach Vineyards in the Russian River Valley is offering a new wine-by-the-glass service intended for hotels and restaurants. DeLoach partnered with The Fairmont Hotel in San Francisco to produce a 10-liter barrel of Pinot Noir from which wine can be dispensed at the hotel providing a tasting experience for the consumer that is close to an actual barrel tasting in a cellar. Additionally, the offering provides a low by-the-glass carbon footprint and reduces waste. The interior of the barrel contains an ecobag that guarantees the wine stays fresh with no risk of tainted corks. The bags protect the wine for a minimum of six to eight weeks after opening. The cost of the 10-liter barrel approximates a typical 9-liter case, offering an extra liter of wine for the same cost. Each eco-bag holds the equivalent of 67 glasses at a five-ounce pour, or more than 13 standard bottles of wine. DeLoach plans to offer a range of Pinot Noirs, from its California appellation to Sonoma Coast and Russian River Valley appellation wines to a highly allocated selection of single vineyard wines.
Ampelos Vineyard Certified Sustainable, Organic and Biodynamic Ampelos is the first vineyard in Santa Barbara County and one of the first in the United States to receive certification of Sustainability in Practice (SIP), Organic, and Biodynamic practices from each governing body: Central Coast Vineyard Team (SIP), Stellar (USDA organics), and Demeter (biodynamic). Ampelos Cellars is a small family owned winery producing small quantities of red and white wines. The Ampelos Vineyard is located in the Sta. Rita Hills and the winery is in Lompoc. The website is www.ampeloscellars.com.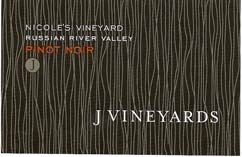 J Vineyards & Winery Adds Three Estate Pinot Noir and Chardonnay Vineyards J now farms 257 acres of vineyards throughout the Russian River Valley. Ten in all, the vineyards encompass the entire Russian River Valley from north to south. 9 rootstocks, 14 clones of Pinot Noir, 10 clones of Chardonnay and 3 clones of Pinot Gris supply diversity and give winemaker George Bursick a range of flavor profiles to work with. The three new vineyards are named Sally Ann's Vineyard (Named after owner Judy Jordan's mother, Sally Ann Jordan), Bow Tie Vineyard (Named after Judy's grandfather who would not be caught out for dinner without his bow tie), and Dotty Stan Vineyard (named after two life long friends who changed Judy's life). The website is www.jwine.com.
New Mockumentary Film - 'Corked!' This is a new film that makes fun of the pretentious side of the wine world and may see distribution in California soon. It is a low-budget spoof which details the happenings at four wineries and follows the people who work at each winery. The Los Angeles Times compared it to 'Bottle Shock.' The writers and directors of the film, Ross Clendenen (no relation to Jim Clendenen) and Paul Hawley (whose family owns one of the wineries in the film) have both worked in wineries. The film was screened at the Sonoma Film Festival in June. Read the favorable review of the film posted in May, 2009: http://www.hollywoodreporter.com/hr/film-reviews/corked-film-review-1003976047.story
Movie Planned on the French Paradox Actress Hiliary Swank has bought the film rights to the best-selling book that reveals the secrets of the French Paradox, French Women Don't Get Fat. The author, Mireille Guilliano, was a former executive at the Champagne house Veuve Clicquot. The French Paradox was first brought to this country's attention by Morely Safer in a 1991 60 Minutes broadcast that revealed that the French lifestyle, which includes regular consumption of wine with meals, leads to a lower incidence of heart disease and a longer life span.