Laura Volkman Vineyards: "She clears the land and plants a vineyard"
Laura Volkman and her husband, Jim, bought a small farm several years ago in Newberg, Oregon. They cleared the land and planted 3.5 acres of Pinot Noir (Elle Rêve Vineyard), primarily Dijon 115, with lesser amounts of 114, 667, 777 and Pommard clones. Unlike most winemaking ventures where the husband is the principal winegrower and winemaker, Laura is the driving force who makes all the winegrowing decisions herself, performs practically all the physical work in the vineyard, makes and bottles the wines, and sells the wines. For the most part, she won't allow anyone else, even her husband, Jim, touch the vines. Jim says, "She takes every bottle personally," while she likens her passion to an author writing a great book who seeks a sequestered location to focus on the job at hand. She says with emphasis, "I have blinders on from April until the end of crush." For a slight woman who weighs only a smidgen over 100 pounds, you have to admire her gumption. Jim has his own profession, possesses the patience of a saint, and provides a helping hand and support only if needed.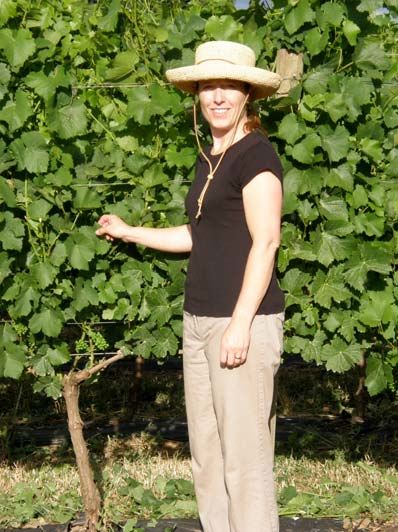 Laura developed her winemaking acumen through the Northwest Viticulture Center in Salem, Oregon, and was mentored by Mike Etzel at Beaux Freres during the 2001 and 2002 crush. Here first wines were released from the 2004 vintage. She realized early on that Pinot Noir was the one grape variety that could be brought to perform brilliantly only through meticulous parenting in the vineyard and in the winery. This explains why some of the world's greatest Pinot Noirs come from very small producers who can personally nurse the frivolous grape every step of the way. Her back label says, "Atop a windy hill in the Chehalem Mountains, she dreams of a great vintage. The soil, the sun, nurturing the vines, harvesting at the peak of perfection, the fruit will make the wine."
Laura's winemaking is traditional and all hands-on. Fermentations are kept cool because Laura believes this preserves the delicate aromas of Pinot Noir. Different yeasts are used to create distinctive flavor profiles that set apart her two major Pinot Noir bottlings, Rachel Estate and Jacob Estate. Absolutely no pumping is done. Aging is carried out in roughly 50% new French oak barrels. Once the wine is ready, it goes directly to tank for blending and then straight to bottle all through gravity flow. All of her Pinot Noirs are unfined and unfiltered. She recommends that consumers wait a year after release to insure full integration of her Pinot Noirs.
The Laura Volkman Vineyards labels are quite striking and display artwork depicting Laura in her vineyard from noted watercolor artist, Terry Peasley. Her three Pinot Noir bottlings are named after family members: St. James Estate (spouse), Rachel Estate (daughter) and Jacob Estate (son). The Chardonnay, sourced from the Celilo Vineyard located in the Columbia Gorge region of Washington, is named after the family dog, Bella. Total production is tiny, less than 500 cases. The wines are sold through a mailing list and on the website at www.volkmanvineyards.com. Tasting is available by appointment at the vineyard at 13000 N.E. Quarry Road in Newberg (503-806-4047). The photo below shows Rachel, Bella and Jacob in their natural habitat.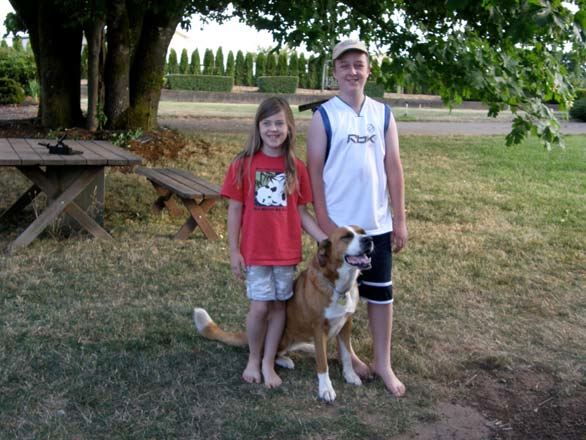 I was very impressed by the 2006 vintage Laura Volkman wines and raved about them in previous issues of the PinotFile. I have sampled the 2006 Pinot Noirs on numerous occasions with consistent results. While in Oregon, I met with Laura at August Cellars (a cooperative winemaking facility, pictured below) located near her vineyard where she crafts her wines. We tasted through her lineup of 2007 wines and barrel samples of separate 2008 Pinot Noir clonal wines from new oak barrels (they will be blended with clonal wines from neutral barrels when bottled). Yields were slightly decreased in 2008. The 2008 Pinot Noirs are darkly colored due to prolonged end of summer heat. They have plenty of tannin that is good (astringent) rather than bad (bitter) in type. Laura calls 2008 "a big, lush vintage with alcohols in the 13.5 range." I thought Laura's 2008 Pinot Noirs were spectacular and in line with other stellar 2008 wines I had tasted elsewhere in the Willamette Valley on this visit. I came away from this tasting with continued respect for Laura's winegrowing and winemaking aptitude.
2008 clone 667: Deep red plum fruit that is very lush with restrained astringent tannins.
2008 Pommard clone: Plush deeply flavored dark fruits that are very "pretty." Plenty of tannin.
2008 clone 114: Bright raspberry fruit with appealing spice and herb accent. Silky textured.
2008 clone 777: Redder fruits balance out the healthy tannins nicely. Touch of citrus.
2008 clone 115: Rich fruit with hi-toned spice and a touch of pepper on nose. Notable but soft tannins.