Anne Amie Vineyards: Wines with a New Spirit
Going back a few years, the wines I had sampled from Anne Amie Vineyards were technically fine, but lacked spirit and sophistication. When I visited Anne Amie Vineyards before the 2009 IPNC, I was happy to find that the current releases show a new vitality and the staff's esprit d corps is infused into every bottle. Wine is really all about the people, and proprietor Dr. Robert Pamplin, Jr., has gathered an impassioned staff to pursue the goal of producing world-class wines. Winemaker Thomas Houseman, viticulturist Jason Tosch and sales manager Kim McLeod have guided Anne Amie to the top echelon of Oregon wineries while kicking up their heels and thoroughly enjoying themselves along the way. Their spirit is evident in the photo below (from L to R, Houseman, Tosch, Prince, Kim).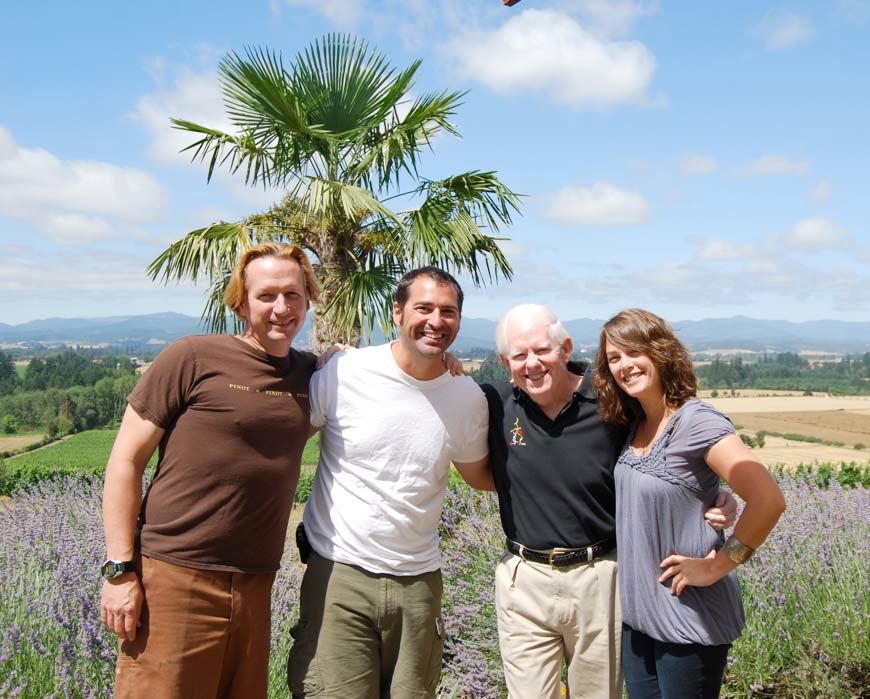 Dr. Robert Pamplin, Jr., is a man of varied talents who has earned eight degrees in business, economics, accounting, education and theology. He is Chairperson, President and CEO of the R.B. Pamplin Corporation and is the founder of the Portland Tribune newspaper, Columbia Empire Farms, and Your Northwest retail stores. He is the author of 13 books. His record in philanthropy is commendable with 10 percent of pre-taxed profits of the R.B. Pamplin Corporation donated to nearly 200 charities nationwide.
Dr. Pamplin bought the former Chateau Benoit Winery in Carlton in 1999. The name, Anne Amie, is in honor of Dr. Pamplin's two daughters. The initial winemaker, Scott Huffman, was a holdover from Chateau Benoit and some credible wines were produced. The 2002 vintage Anne Amie Vineyards Pinot Noir was one of the top rated Pinot Noirs in Oregon according to the Northwest Wine Press. Huffman was succeeded by Thomas Houseman. Houseman's story would make a good movie. He was an accomplished modern dancer living in New York and traveling the world when he began to assist his company's lighting director in making beer. Sufficiently intrigued by fermentation and its after products, he left New York and enrolled in the enology and viticulture program at University California Fresno. His love for Pinot Noir led him to winemaking jobs at Husch Vineyards in the Anderson Valley of California and Bleinheim Winery and Bell Hill Winery owned by the Giesen brothers in North Canterbury, New Zealand. Upon returning to the states, he was mentored by Dick and Luisa Ponzi at Ponzi Vineyards in Oregon before becoming Director of Winemaking at Anne Amie.
The important role of a viticulturist in the production of Pinot Noir cannot be underestimated. The Director of Viticulture at Anne Amie, Jason Tosch, is an Oregon native who came to Anne Amie from Ponzi Vineyards. He has transformed all the Anne Amie estate vineyards to LIVE (Low Input Viticulture & Enology) and Salmon Safe certification. He notes, "Encouraging the vines using balanced and sustainable practices in the vineyards creates the stage for what Pinot Noir in Oregon soils is meant to do: perform beautifully."
Anne Amie farms several vineyard sites. The Estate Vineyard (photo below with winery in background) surrounds the winery and consists of 18.7 acres of Pinot Noir (115, Pommard) planted between 2001 and 2007, 6.4 acres of Riesling and 15.37 acres of Müller-Thurgau in Willakenzie soil. The Boisseau Vineyard was planted between 2000 and 2007 to 11.9 acres of Pinot Noir (114, 667, 777, Pommard), 3.3 acres of Chardonnay (76) and 1.6 acres of Pinot Gris (146) in Laurelwood soil. Louise Vineyard was planted in 2003 and 2007 and contains 5.5 acres of Pinot Noir (777 and Pommard), 3.1 acres of Pinot Gris (146), 3.1 acres of Pinot Blanc and 2.1 acres of Chardonnay (95) in Laurelwood soil. Marilyn Vineyard is planted to 4.6 acres of Pinot Gris (146). Justin-Grant Vineyard was planted in 2007 to 9.5 acres of Pinot Noir (113, 667, 777, Wädenswil, Pommard) and 6 acres of Pinot Blanc (French 07, Italian 05, 06) in Laurelwood soil. Robert Vineyard is the youngest with 18.35 acres of Pinot Noir (667, 777, 828 and Wädenswil) in Laurelwood soil. Many of the vineyards are not yet in full production. The future holds great promise for Anne Amie Vineyards as Houseman will have a widely varied site and clonal palate to work with. Anne Amie also sources grapes from several prominent vineyards in the Willamette Valley.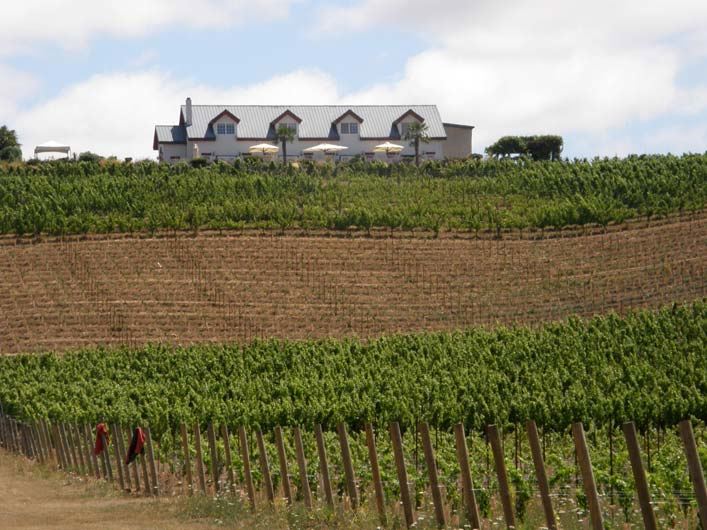 Houseman is an unpretentious figure who is a minimalist in the winery. For Pinot Noir, grapes are de-stemmed and 80% of the berries reach the open-top fermenters intact. Fermentations are extended up to 28 days and beyond on the skins, for Houseman believes this leads to better resolution of tannins and wines with softer textures. The wines are moved by gravity flow and bottled with no fining or filtration.
Anne Amie is located in Carlton on just west of Highway 99 at 6580 NE Mineral Springs Road. It is situated in the Yamhill-Carlton District. The wines are sold on the website and at the winery's tasting room which is open daily from 10:00 to 5:00. A vineyard and winery tour is available Wednesday through Sunday at 11:00 AM by reservation (503-864-2991).