Shea Wine Cellars: Pinot Dreams Come True
In 1989, Shea Vineyards was one of the first plantings of Pinot Noir in the now esteemed viticultural appellation known as the Yamhill-Carlton District of the Willamette Valley. Little did Dick Shea, an emigrant from New York's Wall Street, realize the good fortune that the future held for him. That is not to say that he did not meet challenges. The original Pommard and Wädenswil clones of Pinot Noir were planted on their own roots and inevitably, phylloxera afflicted the vines, making necessary planned replanting of many vines which progressed through 2005. Dick did have the foresight to seek out knowledgeable people to assist him. When asked about the secret of his success, Dick told me, "What I did right was putting plenty of effort into finding good people to advise me and later work for me. I have picked up my knowledge from them." One of these people was viticulturist Javier Marin who has managed the vineyard from the beginning.
Today, Shea Vineyard consists of 140 acres of Pinot Noir and 5 acres of Chardonnay and includes the newer Pinot Noir Dijon clones, 114, 115, 777 and 828. The soil at Shea Vineyard, shallow sedimentary Willakenzie topsoil with underlying fractured sandstone, turned out to be a perfect match for the fickle grape. The Coast Range of mountains to the West creates a rain shadow over the District, and the ancient marine sediments drain quickly to create a natural deficit-irrigation effect. Shea's vines are never irrigated except for new plantings during the first year. Shea Vineyard is one of 32 farms in the Yamhill Basin that has received the highest level of stewardship of agricultural lands and is both LIVE and Salmon Safe certified.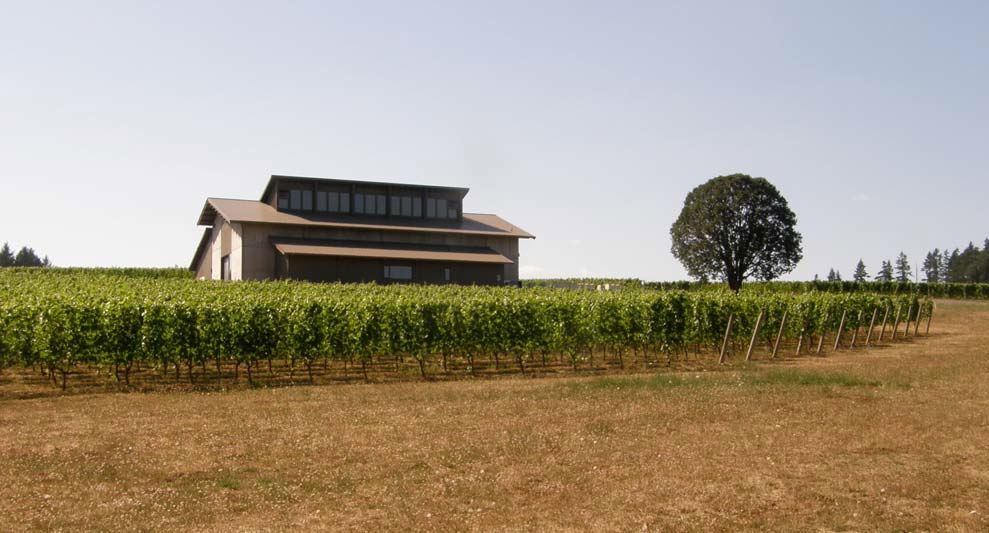 Grapes from this distinguished site are highly sought after by many of Oregon and California's top wineries. Since 1996, Dick and his wife, Dierdre, have had their own label, Shea Wine Cellars, and it has taken them over ten years to arrive at a consistent style that they now comfortably embrace. They seem to have found the right winemaker match in Drew Voit, who took over with the 2007 vintage (the 2008 vintage is the first that Drew vinified from start to finish), and a new winery on the property allows them to tightly monitor and control all aspects of winemaking. About 25% of production is held back for the Shea Wine Cellars wines.
The labeling of Shea Wine Cellars Pinot Noirs has been something of an enigma through the years, with multiple bottlings including an estate bottling, various block-designates, clone-designates and vineyard division-designates (the vineyard has 33 blocks with both numbered and named designations and the vineyard is divided into two portions: West Hill and East Hill), and a reserve bottling labeled "Homer." It helps to have some familiarity with the vineyard layout (below). For the 2008 vintage, all the wines will have block designations.
In 2008, there are 18 wineries sourcing Shea Vineyard fruit and most bottle a Shea vineyard-designate Pinot Noir Because they each source from different blocks of the vineyard, each Shea Vineyard Pinot Noir will be distinct.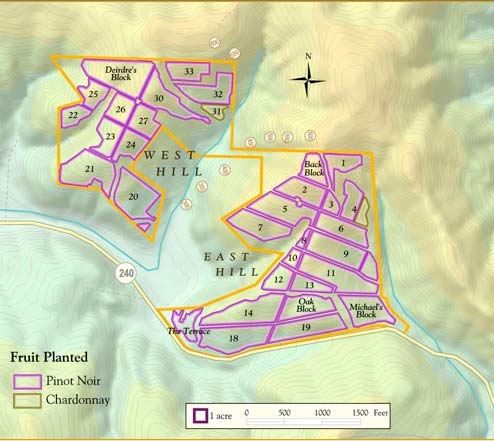 The Pinot Noirs from Shea Vineyard typically have a dark red to black fruit character, a complimentary earthiness and a substantial structure now recognized as typical for the Yamhill-Carlton District. Experienced tasters talk about a certain "Shea-ness" that is expressed in the wines from this vineyard. A consistent floral aroma and a dark red fruit character with spice seems unusually clear and unique to this vineyard.
It has been a tradition for me to visit Shea Wine Cellars just before IPNC each year and taste the latest releases. This year I sampled the lineup of 2007 wines and finished 2008 wines which were scheduled to go into bottle shortly after my visit. I just can't say enough about the quality of all the Shea Wine Cellars Pinot Noirs in both of these vintages. I came away shaking my head and muttering to myself, "How do they do that?" I have tasted every bottling back to 2002 and in most of these past vintages there were outstanding single wines, but there was uneven consistency across the entire lineup. In 2007 and 2008, every wine in the entire lineup was stunning. You need these wines in your cellar. When a die hard California wine geek says to you, like one of my acquaintances did recently, "I don't like Oregon wines," pull the cork on one of these beauties and you will have a lifelong convert.
The 2007 wines, which include a Chardonnay, were bottled in August 2008. Winemaking is traditional for the most part. Fermentations are stroked with inoculated yeasts. The oak regimen is quite restrained with oak never peeking out in either the 2007 or 2008 vintage wines. Gentle crossflow filtration is employed and the wines are unfined.
Shea Wine Cellars wines are sold primarily through a mailing list at www.sheawinecellars.com with limited retail distribution (check www.avalonwine.com). Some of the 2007 wines are still available in very small quantities. Phone 503-241-6527 for inquires or e-mail Dick Shea at dickshea@sheawinecellars.com. The winery and vineyard are not open to the public.

The 2008 vintage wines are bigger than the 2007 wines with more color, tannin and lush fruit. Alcohols are in the 14s, less than 2006 but more than 2007. 2008 was a slow ripening vintage featuring a little rain in early October and then dry until November. Grapes were picked primarily in later October. The 2008 Pinot Noirs from Shea Wine Cellars are stunning wines that are at the uppermost echelon of Oregon Pinot Noir.
2008 Shea Wine Cellars Block 22 Pinot Noir From old vines planted in 1990. Produce small crop and ripen 2-3 weeks later. Beautiful spice on the nose and palate. Gracious and pleasing now
2008 Shea Wine Cellars Block 31 Pinot Noir Pommard and Wädenswil clones. A big earthy wine with mouth filling richness. Powerful aromatic finish.
2008 Shea Wine Cellars Block 7 Pinot Noir 100% Wädenswil, the backbone of Homer bottling. Extroverted nose with prodigious fruit and a long, opulent finish.
2008 Shea Wine Cellars Block 5 Pinot Noir 100% clone 777. Showing a little reduction but the lush black cherry fruit is evident. I wrote, "great."
2008 Shea Wine Cellars Homer Pinot Noir Primarily Wädenswil clone. Intense dark fruit still showing some toasty oak. Very clean and pure. A mouth coating wine of amazing density.