The Run at Copeland Creek Ends
Don Baumhefner is a long-time veteran of Sonoma County winemaking who spent a number of years with Joe Swan at his eponymous winery in the heart of the Russian River Valley (refer to past issues of the PinotFile for further details about Don's friendship and experiences working along side Joe Swan). Don made his first barrel of wine 30 years ago in his family's barn. He was an innovator, starting several wine bars in the San Francisco Bay area back in the 1980s when the concept was brand new. In 1980, he established the wine program at the new Santa Rosa restaurant, John Ash & Co. Here he worked as a sommelier and pioneered the practice of offering fine wines by the glass. In 1992, he directed the Sonoma Mountain planting of the first Pfendler Ranch Vineyard to Bordeaux varietals. Shortly thereafter, he supervised the planting of a 6-acre Pinot Noir vineyard along the lower slopes of Sonoma Mountain near Copeland Creek. The vineyard was planted to Swan (no surprise!) and Dijon 114, 115, 777 and 838 clones and benefits from a long growing season in the Sonoma Coast appellation.
The vineyards were owned by Peter Pfendler, but Don was the vineyard manager, winemaker and sales manager for Pfendler Vineyards. The name was eventually change to Copeland Creek and Don released a series of outstanding Pinot Noirs, several of which made the PinotFile North American All- American list. Tragically, Peter Pfendler passed away in 2007 and his widow decided to take the winery in a new direction with a new name and new winemaker, Greg Bjornstad. Don subsequently became the winemaker at Ridgeway Vineyards in Petaluma.
The Copeland Creek style of Pinot Noir was one of finesse, balance and easy approachability. It has been a wine of moderate alcohol, usually about 13.4%, that has an affinity for food. Don has developed a theory about the "sweet spot" for alcohol in wines. His idea is that each vineyard has its own alcohol level or sweet spot at which the wine presents its optimum flavor profile. Don has been doing experiments for years with alcohol levels in wines. Using the same wine, say his Pinot Noir, he makes several samples differing only in 0.1% alcohol level (for example, 13.2% through 13.9%). He then asks tasters representing a cross-section of wine expertise which wine they prefer. Every time the consensus has been almost exactly the same - 13.4%. He has done this for several vintages and the preferred level of alcohol came out the same each year. Don is convinced that higher alcohol wines mask many of Pinot Noir's delicate flavors, obscuring the terroir from which the grapes originate.
Don now has available the last Copeland Creek Vineyards Pinot Noir from the 2005 vintage.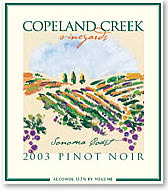 2005 Copeland Creek Vineyards Sonoma Coast Pinot Noir
$30. The wine was aged in 33% new oak and has now spent about 8 months in bottle. The 2001, 2003 and 2005 (alternate years) of this wine produced more color and fruit concentration. · Light in color, this wine shows nice penetrating aromas of the Holy Trinity of Pinot Noir - red fruits, oak and spice. Light in weight and silky in texture, with plenty of finesse, this Pinot exhibits lovely red cherry flavors enhanced by a hint of spice. No fancy heavy bottle or cutesy cork - just good Pinot at a fair price.
To order the wine, contact Don directly at 707-778-7143 or e-mail him at donbaumhefner@hotmail.com