Styring Vineyards: Texas Transplants Escape Corporate World
The story is not an unusual one among Oregon vintners. Steve and Kelley Styring had all the trappings of success in Dallas, Texas, but they had tired of the corporate world. In the summer of 2002, they visited Oregon and fell in love with the wines and the rural countryside. The next year they bought 40 acres of land in the Ribbon Ridge area, quit their jobs, packed up their two children, ages 3 and 7, and headed to Oregon. As fate would have it, they ended up 2.5 miles from Avalon B&B, where they had stayed on their trip in 2002.
The Styrings initially planted 5 acres of vines, adding 5.5 acres later creating a vineyard consisting of Pinot Noir (primarily clones 115 and Pommard), Pinot Gris and Riesling. For a few years, they apprenticed as volunteers at Willamette Valley wineries to learn the business. They launched their commercial venture with the 2004 vintage and became the first winery on Ribbon Ridge Road ( now joined by Trisaetum, Redman and Utopia). Their disdain for the corporate mill has led them to continue slowly and concentrate on small lots of handcrafted quality wine. Production in 2008 was 36 barrels.
Their winery is not fancy and very small, but this is precisely the type of facility that lends itself to artisan production. Styring Pinot Noir spends 16 to 18 months in barrel and 1 year in bottle so the current releases are from the 2006 vintage.
The name Styring is Viking in origin with the Styring history in England linked with farming as far back as 1100 A.D.. Steve's parents emigrated from England in 1956, following a sister who had married an American G.I.. Steve is a first-generation American.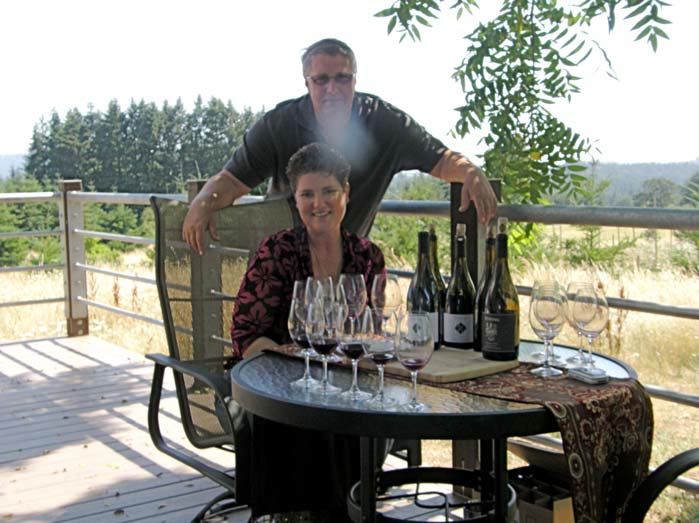 When I visited the Styrings in July, we tasted a vertical of Styring Wit Reserve Pinot Noir, 2004-2006, and the 2006 Styring Premier Estate Pinot Noirs and 2006 Styring Signature Pinot Noir. The 2006 Styring Wit Reserve was awarded the prestigious David Lett Award at the 2009 Northwest Wine Summit, designating it as the best Oregon Pinot Noir in the competition. The wine also won a Gold Medal at The Summit, as did the 2006 Styring Premier Estate Pinot Noir.
Styring wines are sold on the website at www.styringvineyards.com. Tours of the property and tasting are welcome by appointment (503-866-6741). The address is 19960 NE Ribbon Ridge Road. Check out the adventures of Molly the wine dog on Twitter@mollythewinedog and at www.mollythewinedog.blogspot.com., and watch the video, "Passion for Pinot," at www.youtube.com/watch?v=hCV5ExULNz4.