Ponzi Vineyards: Setting the Standard for Innovation
Richard Ponzi and his family founded Ponzi Vineyards in 1970. He was an unlikely candidate to become a winegrower. Ponzi was an engineer who designed amusement park rides in California. His introduction to wine was through his immigrant Italian father who made wine each year with California grapes that were shipped to his Michigan home. Richard moved out to California in 1962 with his spouse Nancy shortly after their wedding. He lived in Los Gatos and began to make wine at home as part of the family tradition and began to be intrigued with Pinot Noir. Knowing that Oregon had about the same climate at Burgundy, Richard and Nancy moved to Portland and Richard began to search for an appropriate vineyard site. He found his spot in Beaverton, a suburb of Portland, and planned to make wine for the local market in Portland. Planting began in 1970 and the first wines were released in 1974. By the 1990s, Ponzi was crafting world-class Pinot Noirs and his reputation soared. I was a devotee of the Reserve Pinot Noirs that Ponzi crafted in the early 1990s at a time when I was getting firmly hooked on Pinot Noir. My Oregon wine epiphany was a 1992 Ponzi Reserve Pinot Noir that was made from a single vineyard that was 18 years old at the time.
Ponzi's small winery had no master plan and periodically a new addition would be added in a haphazard manner. To look at the original winery today, it seems impossible that nearly 30,000 cases of wine could have been produced there. A few years ago, Richard began to realize his dream of nearly thirty years to have a large, modern winery of his own design. The new Ponzi Winery has been completed and sits on a 42-acre parcel between Beaverton and Newberg on Chehalem Mountain, about a 15 minute drive from the old winery site. The 30,000 square foot winery is a four level gravity-flow design constructed primarily from concrete and metal with wood accents. Solar panels provide energy. The building is 80 percent buried in the ground to aid in insulation and along with the reflective metal roof, there is no need for air conditioning. When I visited in July, I was amazed how lit up the interior was simply by strategically placed windows at the top of the building. The generous size of the winery will easily accommodate the production of 50,000 cases of wine annually. The winery is not open to the public but the original tasting room in Beaverton will remain open.
Ponzi Vineyards has always been an innovator. The Ponzis were instrumental in obtaining state permission to allow wineries and adjoining tasting rooms be constructed on agricultural land in Oregon. Together, they helped to found the Oregon Winegrowers Association and the Oregon Wine Advisory Board (currently known as the Oregon Wine Board). In 1984, they established Bridgeport Brewing Company, Oregon's first craft brewery, and in 1998 established a regional wine bar and bistro in downtown Dundee. Nancy Ponzi was one of the key founders of the International Pinot Noir Celebration, Oregon Pinot Camp, and the ¡Salud! Barrel Auction to benefit seasonal workers' health care in Oregon.
The evening before the 2009 International Pinot Noir Celebration, there are several dinners held at Willamette Valley wineries which spotlight the hosting winery as well as other featured wineries of the IPNC event. I was fortunate to attend the pre-IPNC dinner at Ponzi Vineyards, held in a beautiful hospitality center that was formerly the Ponzis home. Jason Stoller Smith from the Dundee Bistro created the exceptionally tasteful menu. All the wines were notable and I considered this the best wine dinner (of many I attend) I had ever been a part of. A copy of the menu is included below.
2008 Ponzi Vineyards Willamette Valley Arneis
13.7% alc., 250 cases, $20. Something different in a dry wine. First planted by the Ponzis in 1991, they are one of only three Arneis producers in the United States. The grape originated in the Northern Piedmonte region of Italy. Whole cluster pressed and cool fermented in stainless steel and French oak barrels. · Full of vim and vigor, this wine is endowed with bright flavors of pears, green apples and citrus. The lively acidity provides a refreshing finish that has the slightest sweetness.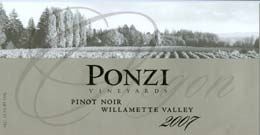 2007 Ponzi Willamette Valley Pinot Noir
13.6% alc., 6,764 cases, $35. A blend of fruit from multiple sustainable vineyards. 100% de-stemmed, 5-day cold soak, fermenters aerated or punched down before lightly pressing at dryness. Aged in 30% new French oak barrels for 11 months. Aged in bottle 5 months before release. · This wine was served along with the two 2007 red Burgundies from Domaine Fourrier and got somewhat lost in the competition. The Fourrier wines were two of the best I tasted during my July visit to Oregon this year. That said, the Ponzi Willamette Valley is a dependable wine that is styled more elegantly than the Reserve. Red fruits were at the forefront with hints of savory herbs, oak and grilled meats. Nicely composed and quite decent.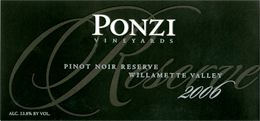 2006 Ponzi Vineyards Reserve Willamette Valley Pinot Noir
14.3% alc., 2,100 cases, $60. An outstanding wine in every vintage and one that I have been buying since 1992. The wine is a blend of grapes from the older vines of Ponzi's Madrona, Abetina and Aurora vineyards with smaller amounts of purchased fruit. Fermented in small lots with 5 days of cold soak. 7 days of post fermentation maceration to increase structure and length. Aged in 50% new French oak barrels for 20 months. Bottled unfined and unfiltered and aged in bottle for five months before release. · Enticing aromas of black cherry and Satsuma plum nicely spiced. The stone fruits deluge the mid-palate with richness which is augmented by subtle notes of earth, oak and tea. Very harmonious and stylish. Drinking beautifully now but will last.