Celebrated Vineyards Focus Tasting
Hirsch Vineyard, Sonoma Coast, CA
Visionary David Hirsch planted one of the first vineyards in the true Sonoma Coast in Cazadero in 1980 (Mike Bohan preceded him in 1973). In 1978, Hirsch bought 1,100 acres on a remote ridge 1,500 feet above and three miles to the southwest of the Pacific Ocean. Beginning in 1980, David and Marie Hirsch established a vineyard which would eventually encompass 72 acres on the ridge tops above the fog line. Planted to Pinot Noir and Chardonnay, Hirsch Vineyard became world-renowned when Burt Williams (Williams Selyem), Ted Lemon (Littorai), and Steve Kistler (Kistler Vineyards) showed up one day in the early 1990s, chose their blocks, and began to make startling good and age worthy vineyard-designate Pinot Noirs from the vineyard. The name, Hirsch Vineyard, quickly became synonymous with the true Sonoma Coast. The area is a coastal rainforest with a desert-like climate in the summer. The vineyard is scattered over several ridge tops with varying exposure, altitude and soil type, and there are a variety of rootstocks and clones planted. The result is considerable heterogeneity to the fruit, so Hirsch Vineyard Pinot Noirs from different producers are difficult to compare. In 2002, the Hirschs built a 15,000 case winery on the estate in an old lambing barn and launched their Hirsch Estate label. The vineyard now consists of approximately 68 acres of Pinot Noir and 4 acres of Chardonnay. Pinot Noir clones include 114, 777, Pommard, Swan and Mt. Eden divided into old vineyards (planted between 1980 and 1998) and new vineyards (planted in 2002 and 2003). Photos below are of David Hirsch (L), winemaker Bob Cabral of Williams Selyem (R) and winemaker Kevin Kelley of LIOCO.
Featured wines:
2007 Failla Hirsch Vineyard Sonoma Coast Pinot Noir
2006 Hirsch Vineyard Estate Sonoma Coast Pinot Noir
2006 LIOCO Hirsch Vineyard Sonoma Coast Pinot Noir
2006 Williams Selyem Winery Hirsch Vineyard Sonoma Coast Pinot Noir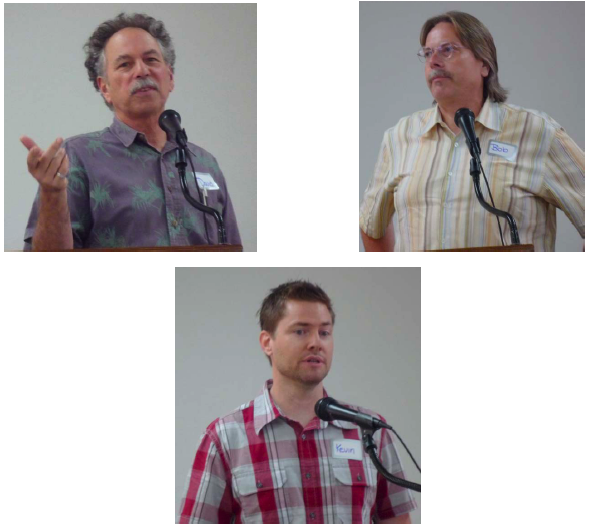 Clos Pepe Vineyard, Sta. Rita Hills, CA

"Vigneron" Steve Pepe and vineyard manager and winemaker Wes Hagen are at the forefront of viticulture in the Sta. Rita Hills AVA. In less than ten years, the name Clos Pepe Vineyard on a bottle has become synonymous with quality. Think California "Grand Cru" quality. Pepe and Hagen have taken the site and infused their knowledge, passion and commitment to create a vineyard that can produce wines of uncommon distinctiveness. The name, Clos Pepe ("Clo Peppy"), comes from the French word clos and the vineyard proprietor's name, Steve Pepe. In France, a clos may signify a walled vineyard or denote a winery in the same manner as the word domaine or chateaux. So Clos Pepe = Pepe's Winery or Vineyard. The 30-acre vineyard is planted to 24 acres of Pinot Noir (clones 115, Pommard 4, 667 and 777 in order of acreage, most to least), and 4 acres of Chardonnay (clones 76 and Wente). Spacing is 8' x 4' with slightly modified (7 wires) VSP trellising exclusively. A full-time vineyard crew of three insures that the vineyard is meticulously maintained. Farming is sustainable, organic and biodynamic. Yields are extremely low, averaging 1 to 2 tons per acre. 25% of the grapes from the Clos Pepe Vineyard are retained for the Clos Pepe Estate wines which include a Pinot Noir, a Chablis-styled Chardonnay, a Rosé, and a sparkling wine. A total of 800 cases of Clos Pepe Estate Pinot Noir and 100 cases of Clos Pepe Chardonnay are produced. The remainder of the fruit is distributed to some of Calfornia's highest profile wine producers including A.P. Vin, Brewer-Clifton, Copain, Ken Brown, Loring Wine Company, Ojai Vineyards, Roessler Cellars and Siduri. Photos below are of winemaker Joe Davis of Arcadian (L), winemaker Scott Shapely of Roessler Cellars (R) and winemaker Wes Hagen of Clos Pepe Estate.
Featured wines:
2005 Arcadian Winery Clos Pepe Vineyard Sta. Rita Hills Pinot Noir
2006 Clos Pepe Estate Sta. Rita Hills Pinot Noir
2007 Siduri Wines Clos Pepe Vineyard Sta. Rita Hills Pinot Noir
2006 Roessler Cellars Clos Pepe Vineyard Sta. Rita Hills Pinot Noir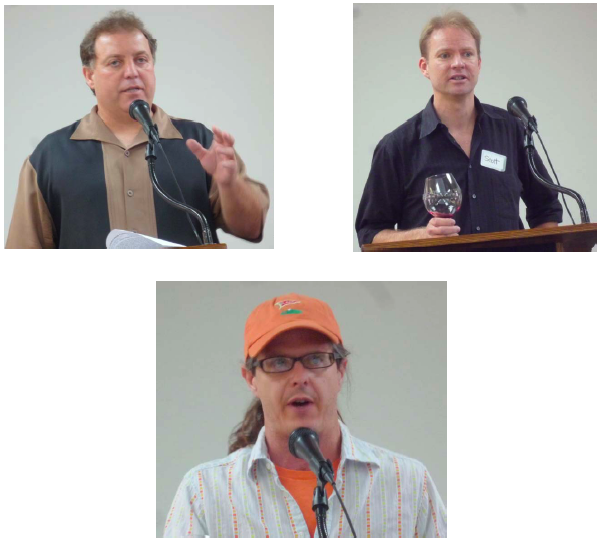 Keefer Ranch, Green Valley of Russian River Valley, CA

Keefer Ranch Vineyard is located near the headwaters of the Green Valley Creek in Sebastopol. Marcy Keefer, a nurse, and her husband, Robert Keefer, M.D., now deceased, bought the property, a former apple orchard, in 1985. Planting began in 1988 and now consists of 40 acres of Pinot Noir and 10 acres of Chardonnay. The Pinot Noir clones are a mixture of Dijon 114, 115, 777, Pommard 5, 23, 2A, Swan and Calera. The Keefer Ranch is now farmed by Marcy Keefer and her son Craig Strehlow. Keefer Ranch Vineyard is planted on Goldridge soil that is particularly suited to Pinot Noir. The Green Valley location is defined by fog intrusion through the Petaluma Gap and is one of the coolest and foggiest areas in the Russian River Valley. For many years, Keefer Ranch has supplied grapes to notable wineries including most recently A.P. Vin, Failla, Freeman, Kosta Browne, Loring Wine Company, Pali Wine Company and Siduri. Beginning with the 2006 vintage, Marcy Keefer and Craig Strehlow launched their own Keefer Ranch label. Photos below are of Failla sales manager Kathy Berez (L), assistant winemaker Ryan Zepaltas of Siduri (R), and Marcy Keefer of Keefer Ranch.
Featured wines:
2007 Failla Keefer Ranch Russian River Valley Pinot Noir
2006 Freeman Keefer Ranch Russian River Valley Pinot Noir
2007 Keefer Keefer Ranch Russian River Valley Pinot Noir
2007 Siduri Keefer Ranch Russian River Valley Pinot Noir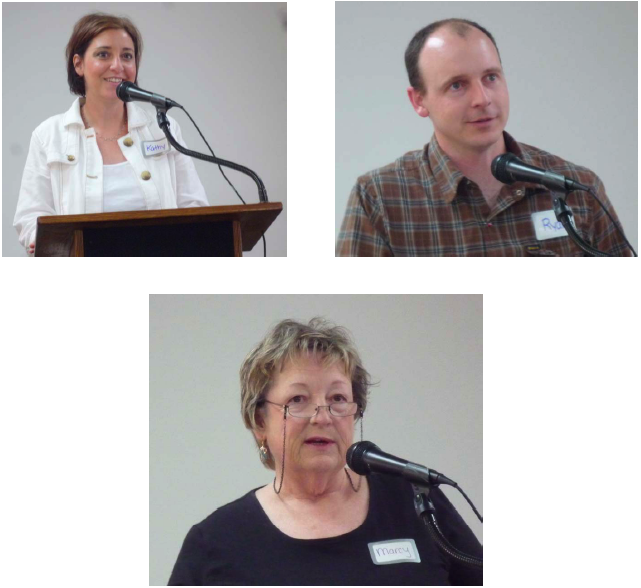 Pisoni Vineyard, Santa Lucia Highlands, CA

Winegrower Gary Pisoni comes from generations of farmers who tended row crops long before he was born. Pisoni enjoyed drinking and collecting French wines while in college. When he graduated, he was eager to find a way into the wine business. When he told his father he wanted to plant grapevines on the family cattle ranch in the Santa Lucia Highlands, he was met with several objections, not the least of which was the cost. Gary countered to his father, "Have you ever been to a $250 lettuce tasting?" His father relented and a legendary vineyard was born in 1982. Gary planted his own-rooted vines in virgin soil. It took ten years of witches and well drillers to tap into a water source. The original vines have been rumored to originate from suitcase cuttings from a famous domaine in Vosne-Romanee, now called the Pisoni clone or selection.
The Pisoni Vineyard now consists of 45 acres of small blocks, each with a distinct soil type and microclimate. Perched at 1,300 feet on the southern end of the Santa Lucia Highlands AVA, the mountain estate overlooks the fertile Salinas Valley. Fog curls in from nearby Monterey Bay, contributing to the cool mornings and nights. Winemaker son, Jeff Pisoni, and grape grower son, Mark Pisoni, created the Pisoni label, releasing the first estate Pinot Noir in 1998. A second label, Lucia, debuted in 2000. Pisoni fruit quickly became highly prized in California and Pisoni Vineyard essentially put the Santa Lucia Highlands region on the map, becoming one of California's true "Grand Cru" vineyards. Mark Pisoni presides over a 15-person crew that has tended the vines by hand for over 10 years. Many top producers craft a Pisoni Vineyard Pinot Noir including Arcadian, Capiaux, Morgan, Patz & Hall, Peter Michael, Siduri, Tantara and Testarossa. Gary Pisoni manages the nearby Garys' Vineyard with Gary Franscioni. Photos below are of Gary Pisoni of Pisoni Estate (L), winemaker Joe Davis of Arcadian with Gary Pisoni (R), Jeff Fink of Tantara (L), owner Rob Jensen of Testarossa Vineyards (R), and winemaker Jeff Pisoni of Pisoni Estate.
Featured wines:
2000 Arcadian Winery Pisoni Vineyard Santa Lucia Highlands Pinot Noir
2006 Pisoni Pisoni Estate Santa Lucia Highlands Pinot Noir
2007 Tantara Pisoni Vineyard Santa Lucia Highlands Pinot Noir
2007 Testarossa Vineyards Pisoni Vineyard Santa Lucia Highlands Pinot Noir
Listen to this focus tasting: http://www.graperadio.com/archives/2009/11/23/2009-pinot-days-seminar-1-part-1/ and http://www.graperadio.com/archives/2009/11/23/2009-pinot-days-seminar-1-part-1/