Legends of California Pinot Noir
Merry Edwards
Merry Edwards Wines, Sebastopol, CA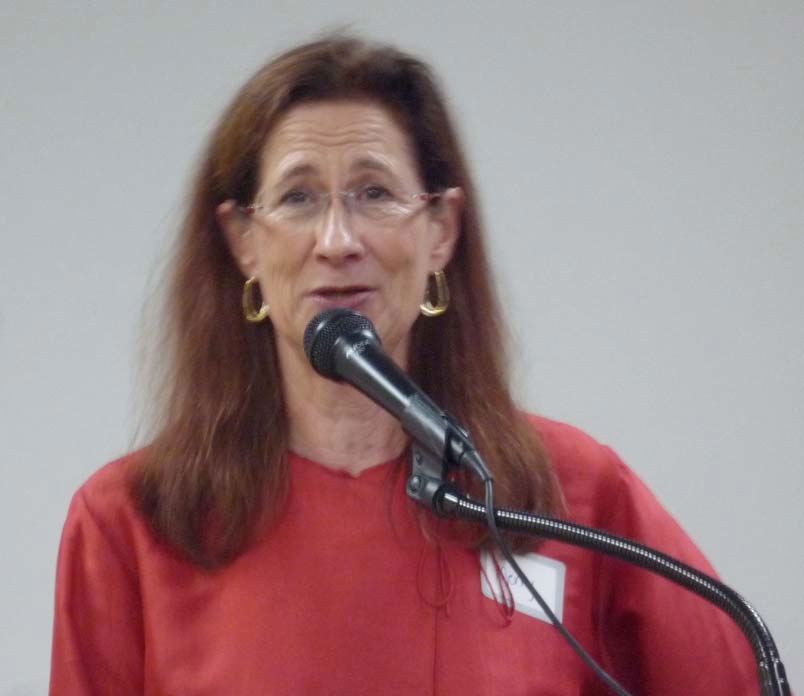 Merry (Meredith) Edwards has deservedly become known as the "Queen of Pinot." Throughout her career she has made some benchmark California Chardonnay, Merlot, Sauvignon Blanc, and sparkling wine. Her true passion, however, is Pinot Noir, her heart is in the Russian River Valley, and her legacy will say that she was the first woman to made credible Pinot Noir in California.
As a youngster, Merry Edwards was an avid cook and food scientist as well as home winemaker. After obtaining a master's degree in food science and enology at University California Davis, she was hired to succeed Peter Graff at Mount Eden in the Santa Cruz Mountains in 1974. She crafted some remarkable wines during her short tenure there (1974-1976). Her pioneering work in clonal selection while at Mount Eden led to the now widely planted UCD 37 certified clone of Pinot Noir. Her work at Mount Eden was remarkable for the time, because there were very few winemaking jobs offered to women and only a handful of notable Pinot Noirs were being produced in Northern California. As a point of historical reference, Joe Swan released his first Pinot Noir in 1973, Davis Bynum bottled his Rochioli Pinot Noir in 1972, the Pellegrini family planted the Olivet Lane Vineyard in the Russian River Valley in 1972, and Tom Dehlinger, Forrest Tanzer at Iron Horse, and Marimar Torres were starting their own Pinot Noir programs in the Russian River Valley in the mid 1970s.
Merry Edwards left Mount Eden in 1977 and went on to national prominence at Matanzas Creek. While there, she continued to produce Pinot Noir from the Quail Hill Vineyard in the Russian River Valley. She had her own label, Merry Vintners, which failed financially, and had a stint as winemaker at Domaine Laurier. Along the way she consulted for numerous wineries including Liparita, Fritz, Lambert Bridge, and Pellegrini Family Vineyards.
The most exciting chapter of Merry's professional career is her current passion. In 1996, she bought a 24-acre fruit orchard in the southern part of the Russian River Valley and formed a partnership with her husband, Ken Coopersmith and others, under the Meredith Vineyard Estate name. This allowed her to produce Merry Edwards wines from select Pinot Noir grapes in the Russian River Valley and Sonoma Coast, including, for the first time, her own vineyards: Meredith Estate, Coopersmith, Georganne and Cresta d'Oro. After many years as a guest at other wineries, the Merry Edwards Winery, located at the Coopersmith Vineyard acquired in 1999, opened in time for the 2007 harvest (see photo below).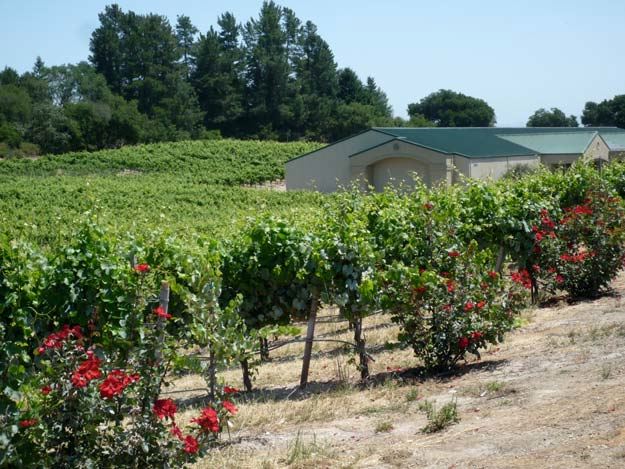 Merry releases eight Pinot Noirs and one Sauvignon Blanc under the Merry Edwards Wines moniker. The Russian River Valley and Sonoma Coast appellation bottlings and the Olivet Lane Vineyard Pinot Noirs are spring releases, and the vineyard-designated Pinot Noirs from Klopp Ranch, Tobias Glen, Flax, Meredith Estate, and Coopersmith vineyards and Sauvignon Blanc are released in the fall. The wines are sold online, to an eager mailing list at www.merryedwards.com, and to a lengthy list of restaurants nationally. Tasting at the new winery at 2959 Gravenstein Highway North, Sebastopol, is available by appointment (707-823-7466).
Featured wines:
1975 Mount Eden Vineyards Estate Bottled Santa Cruz Mountains Pinot Noir (2nd professional vintage. A dead but noble soldier. )
1997 Merry Edwards Olivet Lane Vineyard Russian River Valley Pinot Noir Magnum (1st vintage under her own label. An outstanding wine which has aged gracefully.)
2000 Merry Edwards Meredith Estate Sonoma Coast Pinot Noir Magnum (Inaugural vintage from founding estate vineyard)
2003 Merry Edwards Klopp Ranch Russian River Valley Pinot Noir (Merry's 30th vintage).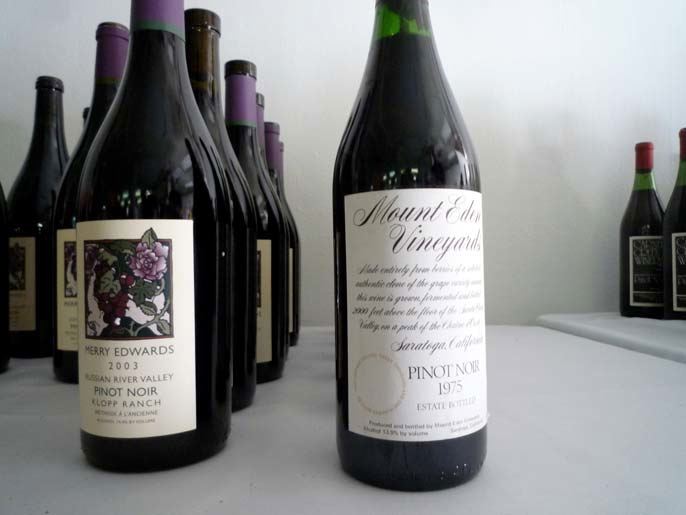 Richard Sanford
Alma Rosa Winery & Vineyards, Buellton, CA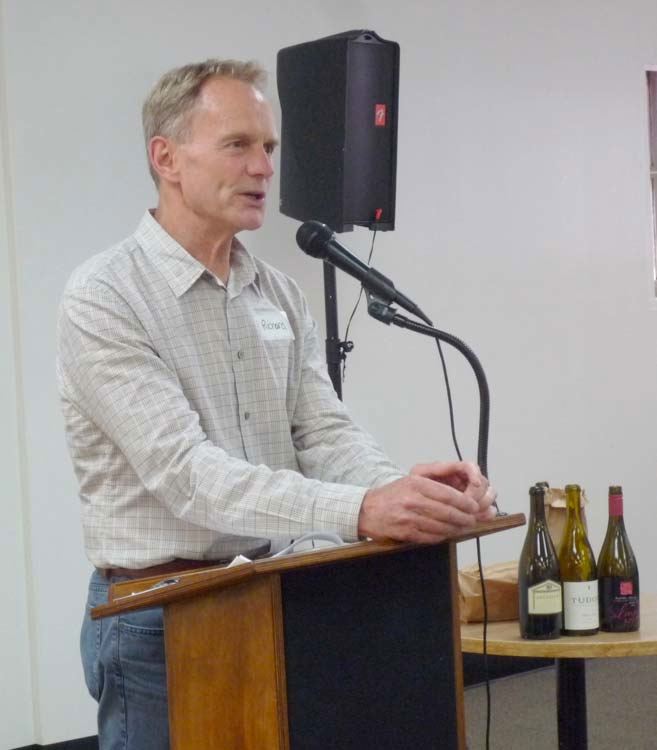 Richard Sanford is a revered icon in the annals of California Pinot Noir, having been largely responsible for putting the Santa Rita Hills on the wine map. Along with partner Michael Benedict, he planted the 100-acre Sanford and Benedict Vineyard back in 1970 on Santa Rosa Road. The vineyard was nine miles west of Buellton at the western end of the Santa Ynez Valley. As a student of geography, Sanford saw the potential of the Santa Rita Hills region for Pinot Noir and Chardonnay.
Victor Geraci notes in his book, Salud! The Rise of Santa Barbara's Wine Industry, "He traveled through the Burgundian region of France and began to dream of a life in agriculture. He had no agricultural experience and thus went through the agonizing decision of whether to go to University California Davis for a master's degree in enology or to plant a vineyard and learn through trial and error....Being a little crazy, Sanford decided in that year (1970) to go directly into business.
In 1980, Sanford ended his partnership with Michael Benedict, who subsequently sold his share to a British businessperson, Robert Atkin. Atkin invested in Sanford's winery, which was founded in 1981, and hired Sanford to manage the Sanford & Benedict Vineyard. Sanford was a strong advocate of organic farming from the beginning of his career.
Sanford Winery went on to become a respected and successful large winery with a small, quaint tasting room on Santa Rosa Road made famous in the movie, Sideways. By 1993, Sanford Winery was producing 30,000 cases of wine per year with Bruno d'Alfonso as the winemaker. In 1997, Sanford planted a second vineyard, the 130-acre Rancho La Rinconada adjacent Sanford & Benedict Vineyard, and in 2001 completed his dream winery on that property.
Beginning in 2002, a number of events played out that eventually led Sanford to loose his namesake winery. In 2005, Richard and his wife, Thekla, left to begin a new venture, Alma Rosa Winery and Vineyards. Alma means "soul" in Spanish, reflecting the Sanfords' view that their wines reflect the soul of the Rancho Santa Rosa, the original Mexican land grant on which their vineyards are planted. When Sanford left the Sanford Winery the Sanford & Benedict Vineyard and the La Rinconada Vineyard and winery were also relinquished in exchange for the El Jabali Ranch (the site of the tasting room and the Sanford's personal home) and La Encantada Vineyard. The Sanfords now farm organically over 100 acres of estate vineyards.
The Alma Rosa wines are made since 2005 at Orcutt Road Cellars in the Edna Valley by winemaker Christian Roguenant following Richard Sanford's protocol. There are several Pinot Noirs produced along with Chardonnay, Pinot Blanc, Pinot Gris and Pinot Noir Vin Gris (Rosé).
Richard Sanford has been a tireless supporter of wine events over the years, patiently answering questions with polite aplomb and enthusiasm. Even today, Richard and Thekla eagerly participate in many Pinot Noir events, not content to rest on their laurels.
The Alma Rosa tasting room is open daily from 11:00 AM to 4:30 PM at 7250 Santa Rosa Road in Buellton. Tasting room manager Chris Burroughs, who was featured in Sideways, is still at the helm. The wines are sold online at www.almarosawinery.com.
Featured wines:
1991 & 1992 Sanford Signature Blend, Sanford & Benedict Vineyard Pinot Noir Magnums (Brickish in color, faded fruit, but the wine still had charm with secondary characters of leather and mushroom)
2001 Sanford Pinot Noir Sanford & Benedict and La Rinconada Pinot Noir (Charming old bouquet, rustic flavors of brown spiced cherries with bright acidity)
2007 Alma Rosa Mt. Eden Clone El Jabali Vineyard Sta. Rita Hills Pinot Noir (Previously reviewed in the PinotFile).
2007 Alma Rosa La Encantada Vineyard Sta. Rita Hills Pinot Noir (Previously reviewed in the PinotFile).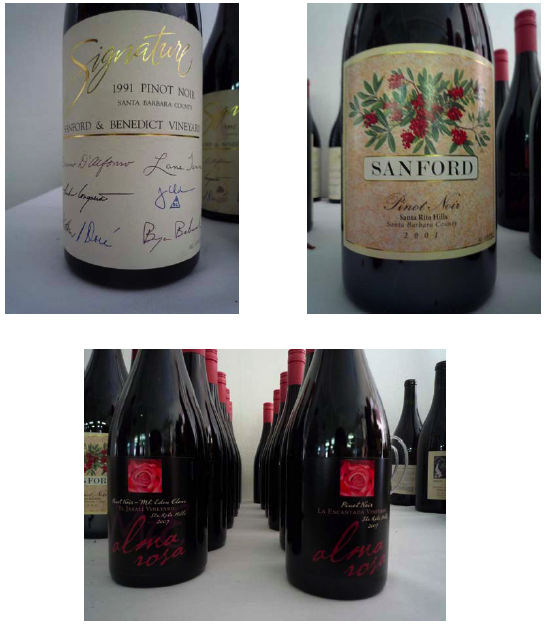 Jeffrey Patterson
Mount Eden Vineyards, Santa Cruz Mountains, CA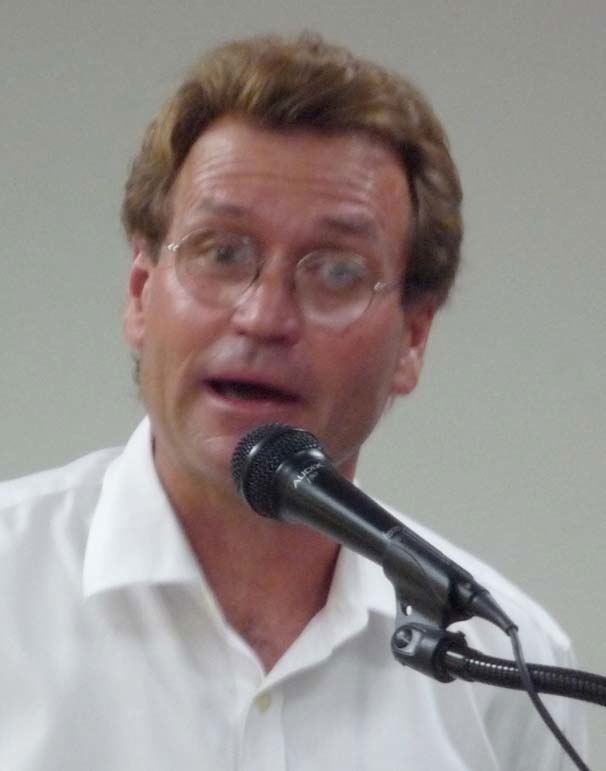 Mount Eden is a viticultural island perched at 2,000 feet uniquely planted to Pinot Noir, Chardonnay and Cabernet Sauvignon. Martin Ray started his eponymous and innovative winery at Mount Eden in the early 1950s. Ray estate bottled his wines and Mount Eden's lineage of estate bottled Chardonnay and Pinot Noir is the longest in California.
The modern era of winemaking at Mount Eden Vineyards passed through several hands beginning with the first vintage of Pinot Noir in 1972, including Dick Graff and his brother Peter, Merry Edwards, Bill Anderson and Fred Peterson. For the past twenty-eight vintages, Jeffrey Patterson has made the wines. Patterson is a selftaught winemaker who took a few basic courses at University California Davis.
Patterson is widely admired for his ability to go it alone and achieve success. Working at an isolated vineyard and winery (Patterson and his family live at Mount Eden in the original hilltop house built by Martin Ray pictured below), he has own clearly defined vision, yet he has not been closed to what others are doing. His story is not well publicized and publicly he focuses more on Martin Ray and his legacy than his own accomplishments. One cannot help but be impressed by his panache in crafting highly unique wines which not only clearly reflect Santa Cruz Mountains terroir, but offer age ability that goes beyond what wine enthusiasts have come to expect from California Chardonnay and Pinot Noir. The ideal drinking window for Mount Eden Estate Pinot Noir is 7 to 10 years.
Patterson began a stepwise replanting of the vineyard at Mount Eden in 1984, but kept one acre of the original Pinot Noir vines (UCD 37) as a "mother vineyard." The remaining six acres of Pinot Noir are planted to Winery Lake, Mount Eden, Swan and Calera selections, and Dijon clones 115, 667, 777 and 828. The Mount Eden Estate Pinot Noir is a mosaic of all of these clones. Today, Mount Eden totals 40 acres of vineyards composed of 20 acres of Chardonnay, 7 acres of Pinot Noir and 13 acres of Cabernet Sauvignon with small amounts of Merlot and Cabernet Franc.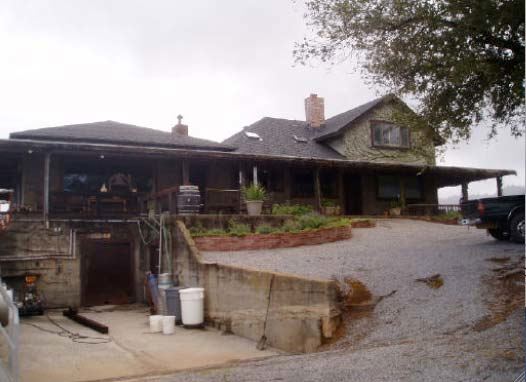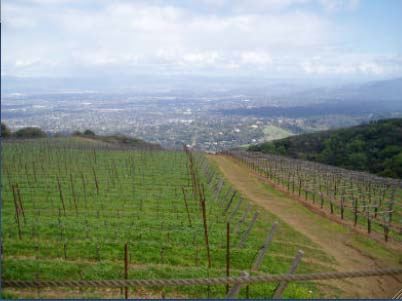 The cool location of the vineyard, old clones and winemaking combine to produce an Old World style of Pinot Noir that is more austere than opulent. The wine departs from the typical California style by its higher tannins and acidity (the same holds true for the Mount Eden Estate Chardonnay and Cabernet Sauvignon). Many tasters have difficulty picking out a Mount Eden Estate Pinot Noir from a flight of French Burgundies.
Mount Eden Estate wines are sold through a mailing list with limited retail distribution. Tasting is available in San Francisco at the Press Club. Tours (without tasting) of the historic Mount Eden property are available each weekday by reservation (www.mounteden.com). Library wines are available for sale on the website.
Featured wines:

1996 Mount Eden Vineyards Estate Santa Cruz Mountains Pinot Noir (A vintage that started off just "ok" and blossomed.)
1998 Mount Eden Vineyards Estate Santa Cruz Mountains Pinot Noir (Challenging year with rain and cold throughout. This is a beautifully aged wine that has layers of flavor, impeccable balance and charm to spare. Impressive for a vintage with lousy weather.)
2000 Mount Eden Vineyards Estate Santa Cruz Mountains Pinot Noir (A lighter vintage showing the feminine side of Pinot Noir marked by harmony and grace. Incredible wine.)
2005 Mount Eden Vineyards Estate Santa Cruz Mountains Pinot Noir (Miniscule harvest from a great year. Still young and austere. Give this one another 10 years. Drink the 2006 vintage in the meantime.)
Francis Mahoney
Mahoney Vineyards, Carneros, CA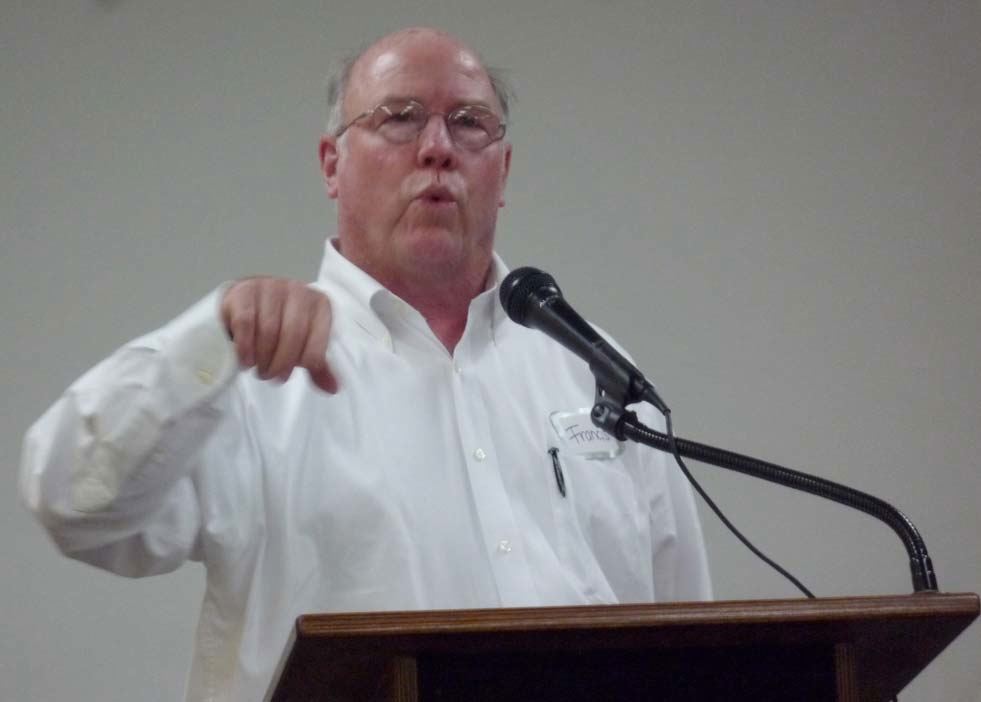 Francis Mahoney can claim 35 years of experience growing and producing wines in the Carneros region that spans the cool southern reaches of the Napa and Sonoma Valleys. He established Carneros Creek Winery in 1972 with his wife Kathleen and partner Balfour Gibson. With the goal of making Burgundian-styled wines, the trio built a winery in 1973, the first new winemaking facility in Carneros since the repeal of Prohibition.
Mahoney was unique among Pinot Noir pioneers of the 1970s in that he realized that, besides climate and soil, clones were the third most important factor in creating great Pinot Noir. From 1975 to 1985, Mahoney and Curtis Alley, a professor at University California Davis and viticulture specialist, conducted experiments on a small 1.5-acre plot planted near the Carneros Creek Winery. 20 clones and selections from around the world were planted as part of the Carneros Creek Winery Clonal Trial, and the clones were evaluated in both the vineyard and in finished wines. The intent was to compare clones from University California Davis (so-called "clean-stock") with clones not sourced from the clean-stock program. Valuable data was collected on clonal performance and many other vineyards were planted with budwood from this trial. No single clone was considered best. Mahoney said, "We liked different clones like we like different children. They had their own personalities and a little bit of this with a little bit of that makes a more interesting wine. We concluded that we would not just plant one clone in a vineyard." The five best industry clones (A, E, M, P and V) were donated to the Foundation Plant Material Service (FPMS) for the public collection in 2002. 'A' came from Paul Masson/ Martin Ray sources by way of Joe Swan, 'E' came from the Gustav Niebaum/John Daniel/Inglenook Estate originally, 'M' was a Pinot Noir selection collected by Louis Martini and Harold Olmo, 'P' came from a vineyard near Chambertin by way of the Chalone Vineyard, and 'V' was Martini selection 583.
Phase 2 of the Carneros Creek Winery Clonal Trial was planted in 1989 in Las Lomas, 3,000 feet from the original clonal study. Phase 3 is ongoing and includes some of the original clones and the new FPMS selections created from Carneros Creek clones.
Mahoney was instrumental in founding the Carneros Quality Alliance (now Carneros Wine Alliance), an organization of winegrowers and wineries in Carneros. In the 1980s and 1990s, Mahoney planted the Mahoney Ranch Vineyard around his home, and Las Brisas Vineyard on Ramal Road. In 1998, he sold his majority share in Carneros Creek Winery to Bill Hambrecht, an investment banker closely allied with California wine. The winery subsequently passed through several hands to its present owner, Briarcliff Wine Group, LLC. Today, Mahoney Vineyards and Briarcliff share the Carneros Creek Winery. In 2002, Mahoney brought on Ken Foster as winemaker for Mahoney Vineyards. Foster had been the winemaker and production manager for David Bruce Winery in the Santa Cruz Mountains and had been making wine there for fifteen years.
Mahoney now owns 162 acres of vineyards in Carneros, 149 acres of which are planted to Pinot Noir. Pinot Noir plantings include Swan selection, UCD 107 and Carneros Creek selections. Mahoney supplies Carneros Creek Winery and Mahoney Vineyards as well as selling fruit to others. Mahoney Vineyards currently releases four Pinot Noirs: a Carneros appellation blend and vineyard designates from Las Brisas Vineyard, Mahoney Ranch Vineyard, and Haire Ranch Vineyard. The Mahoney Vineyard wines are available for tasting at the Oxbow Tasting Room at 708 1st St. in Napa and on the website at www.mahoneyvineyards.com.
Mahoney has always been true to his vision for Pinot Noir, crafting wines of balance, elegance and true varietal character while clearly demonstrating the influence of their Carneros heritage.
Featured Wines:
1976 Carneros Creek Napa Valley Carneros District Pinot Noir (Produced before the creation of the Carneros appellation and the first of Mahoney's Pinot Noirs where a majority of the fruit was grown in his own clonal plot. Of historical interest only as the wine was faded with only secondary characters of leather, tea, vitamin and old book displayed.)
1986 Carneros Creek Los Carneros Blue Label Pinot Noir (The first bottling of fruit sourced from both Mahoney's clonal plot and the new Mahoney Ranch Vineyard. Of interest to lovers of old, austere Pinot Noir.)
1996 Carneros Creek Estate Grown Pinot Noir (First wine to bear the term "Estate Grown." (Released in the 25th year of operation in special etched bottles. Well-rounded red fruits with lively acidity, secondary flavors of brown spice, mushroom, and sherry.)
2006 Mahoney Vineyards Mahoney Ranch Carneros Pinot Noir (20th year of production for this vineyard. Not released. Outstanding wine with beautiful composure. Hi-tone red Pinot fruits, gossamer tannins, silky mouthfeel, and a lengthy, refreshing finish. Recommended.)