Heart & Hands: Passion for Pinot in the Finger Lakes
Tom Higgins grew up in the Finger Lakes region of New York. While still in high school, he worked at Hazlitt 1852 Vineyards learning both winemaking and tasting room management. He studied accounting and information systems in college, thinking that the technology field was a great way to make a quick buck and allow him to eventually have his own winery. He entered the technology industry during the dot-com boom of the 1990s, and met his future spouse, Susan, who was also a wine lover, while they were both on corporate assignment in Ohio.
Tom quickly longed to return to the wine industry and told me, "The tech industry was interesting for a while, but there were just too many 3:00 A.M. 'emergency' pages among other irritating things." He left his job and started working for Zachy's Wine & Liquor in Scarsdale, New York. This was an eye-opening education into the world of wine. The connections he made at Zachy's enabled him to work in Bordeaux at Chateau La Lagune and learn old world winemaking techniques. Unfortunately, at the time, Domaine Romanee-Conti already had an intern and Domaine Dujac felt like they had helped enough young American winemakers with their success.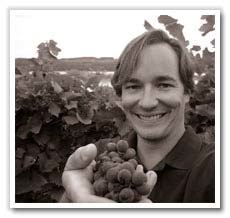 Upon his return to the states, Tom worked a harvest at Calera Wine Company in California. He then ventured back to the Finger Lakes, working for Thirsty Owl Wine Company and Atwater Estate Vineyards, while preparing to launch his own winery, Heart & Hands Wine Company. I met Tom at Thirsty Owl Wine Company during a trip I made to the Finger Lakes a few years ago. His spouse, Susan spent many vacation weekends in the Finger Lakes and after obtaining an MBA from New York University Stern School of Business, the couple were married and Susan works for a leading management consultant firm when not assisting Tom with winemaking activities.
A suitable site for a vineyard and winery was chosen on a gently sloping hillside overlooking the eastern shore of Cayuga Lake. The site is ideal for Pinot Noir and Riesling, with soils redolent of Onondaga Limestone with outcroppings of shale. The proximity to the lake and the gently sloping site offer the future vineyard protection from harsh winter weather. In 2008, winery construction was completed and a tasting room opened the following year.
As the 6-acre estate vineyard is developed, Heart & Hands has obtained acreage contracts with several premier winegrowers including Sawmill Creek Vineyard and Hobbit Hollow Farm. Current production is under 800 cases of Pinot Noir, Brut Rosé and Riesling. The Claddagh ring on the label is the traditional Irish wedding ring symbolizing friendship and togetherness (the hands), love (the heart), and loyalty and fidelity (the crown). It is worn by people of Irish descent the world over as a source of pride in their heritage. At Hearts & Hands, the Claddagh symbolizes the Higgins' passion for wine and loyalty to their customers.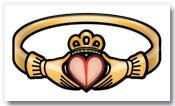 The Finger Lakes region is a challenging area for successfully growing vitis vinifera. The winters are cold, vine diseases are always a threat, and ripening can be an issue. In a Wine Spectator article published in 2006 on New York wine country, there was a comment about Pinot Noir that read, "The jury is out on Pinot Noir; some winemakers love the challenge it poses in a tricky climate and have had decent results, while others say it's too much of pain to grow." This is similar to the same refrain about the heartbreak grape heard in California and Oregon 40 years ago.
Many Finger Lakes wineries have turned to newer hybrid grapes, such as Corot Noir, Valvin Muscat, Cayuga White, Noriet and Traminette, which are adaptable to the region, yet have different flavor profiles than wines made from vinifera grapes. Many proponents of the region are opposed to hybrid varieties. Hermann J. Weiner came to the Finger Lakes region in the early 1970s to work at Bully Hill Winery on Keuka Lake. He was fired for developing an experimental nursery of vinifera vines. He later would become famous for producing the first dry Riesling in the United States. Another Finger Lakes vinifera advocate was Dr. Konstantin Frank. He was able to successfully cultivate vinifera vines by choosing proper rootstocks planted in sites close to the lake allowing the vinifera vines to survive the sub zero winters of the Finger Lakes region. Frank's original 9-acre Pinot Noir vineyard is planted to the Dr. Frank clone obtained from Europe. The oldest blocks were planted from 1959 to 1961 making them as old as most early California plantings of Pinot Noir still in production except the 1953 block at Hanzell.
The Finger Lakes region produces almost every common vinifera varietal but Riesling has clearly been the star here with sparkling wines showing great potential. The small number of Pinot Noirs produced have been more akin to Burgundy than to Oregon or California. The acids are typically high and the alcohols are low (around 12%). The wines are lighter in color with restrained and subtle flavors. One must approach the Pinot Noirs with an open mind and a vinous curiosity, since they are unique expressions of the Finger Lakes region.
Tom is very forward thinking about his wines and winery. He has been using the glass Vino-Seal closure on some of his wines, This seal has a number of advantages. It eliminates cork taint, it is "cooler" than a screw cap, easy to apply, easy to reseal the bottle with, and 100% recyclable. The downside is the risk of reduction, so Tom focuses on sulfur levels at bottling, keeping them around 50% of what he would be used under cork.
The Heart & Hands tasting room allows a special tasting experience for $10 that is uniquely different from most wineries in the area. Tom and Susan take guests into the cellar and taste Pinot Noir from barrels, offering an educational session on barrels, whole cluster, and site differences in determining the character of finished wines.
Heart & Hands Crush Camp offers seven participants the chance to work harvest at the winery while enjoying accommodations at the nearby E.B. Morgan House in Aurora, New York. Activities include picking grapes, sorting grapes, daily punch downs, lab analysis, pressing grapes, and of course, plenty of cleaning. Participants also receive six bottles of wine from the harvest and plenty of swag.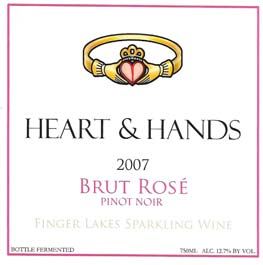 2007 Heart & Hands Finger Lakes Brut Rosé
12.7% alc., pH 3.18, 32 cases. 100% Pinot Noir grown on Seneca Lake vineyards. Grapes were fermented 23 hours on the skins. Whole clusters were then gently pressed with a basket press and transferred to stainless steel for a 16-day fermentation. Secondary fermentation was induced in the bottle and the wine was disgorged January 20, 2009. · Pale rose color. Scents of strawberries, red roses and a hint of yellow peach. Clean and crisp flavors of fresh berries, persimmon and a faint herbal note. A perfect summer wine.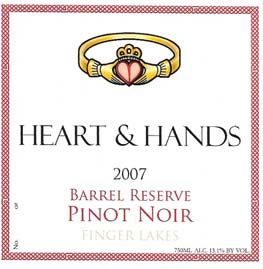 2007 Heart & Hands Finger Lakes Barrel Reserve Pinot Noir
13.1% alc., pH 3.63, 146 cases, $40, both cork and Vino-Seal closures. Unusually warm and dry growing season causing more of a West Coast influence on the wine. Twenty-three 90+ degree days which thickened skins for more color and flavor extraction. 75% clone 115 and 25% clone 777 cropped at 1.7 tons per acre. 100% whole cluster. 11-day fermentation, basket pressed, and aged for 18 months in 66% new and 33% once-used Francois Freres French oak barrels. · Brooding nose initially that opened with swirling to reveal dark fruits, especially black raspberry, a hint of spice, smoke and incense. Held up beautifully in the glass over time. On the attack, the wine was full-bodied with a substantial tannic backbone. Plentiful dark fruits were complimented by an earthy underpinning and a faint note of grapefruit peel on the finish. Silky and beautifully composed, but still needing time for the tannins to soften and integrate. Amazing fruit intensity but not jammy, with the acidity holding forth to reign in the hedonistic fruit and tannins. Would recommend decanting now or cellaring for a couple of years. A very, very impressive wine like nothing I had ever previously tasted from the Finger Lakes region. Given the proper weather, viticulture management, and in the hands of a talented winemaker, the potential for premium Finger Lakes Pinot Noir is exemplified here.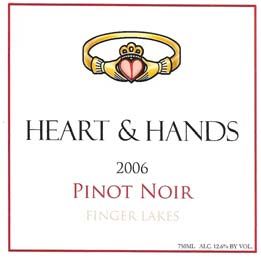 2006 Heart & Hands Finger Lakes Pinot Noir
12.6% alc., pH 3.52, 232 cases, $20, Vino-Seal. September marked by rain prolonging harvest. Clone 115 cropped at 2 tons per acre. 50% whole cluster with manual punch downs twice daily. 13-day fermentation without cold soak or extended maceration. Basket press used for extraction. Aged in 40% new and 60% once-used Francois Freres oak barrels. · Lovely aromatics initially featuring strawberries, cherries, red licorice and nutmeg. With time in the glass, notes of raisins and marzipan emerged. The palate was quite charming initially with red fruits, sassafras, spice, and mocha and was silky smooth with bright acidity and reigned-in tannins. Over time the fruit intensity faded with acidity coming to the forefront, and I was looking for some food to compliment the wine.
Heart & Hands Wine Company is located at 4162 State Route 90N, Union Springs, New York. The tasting room is open on weekends from 12:00 to 5:00 and weekdays by appointment. The wines are available online at www.heartandhandswine.com. For further information, consult this video and winery review by Jason Feulner, Finger Lakes Correspondent: http://lennthompson.typepad.com/lenndevours/2009/07/