Bennett Valley: The Secret is Out
Bennett Valley only consists of about 700 planted acres, but the wines from this tiny appellation are making an impression on wine aficionados. Matanzas Creek Winery, which released a 2007 Bennett Valley Pinot in the 2007 vintage, its first since the 1970s, is the most high-profile producer in this region. Bennett Valley is Sonoma County's newest appellation, awarded approval in December 29, 2003. Located 45 miles northeast of San Francisco, the appellation is surrounded by three mountains: Taylor Mountain to the West, Bennett Peak to the East and Sonoma Mountain to the South (see map on the next page). The soils are mainly rocky and volcanic in origin. Most vineyards are planted between 500 and 600 feet elevation and enjoy a consistent marine influence throughout the growing season. The Crane Canyon/Grange Road gap in the mountains allows cooling fog and wind to enter the valley moderating summer temperatures and creating conditions that are ideal for cool climate grape varieties. There are 8,140 total acres in the appellation occupied by 36 growers and 4 wineries (2004 statistics). According to the Bennett Valley Grape Growers, only 9% of the planted acreage is Pinot Noir, with Merlot and Chardonnay making up over 66% of the total.
A complete history of Bennett Valley is available on the Bennett Valley Grape Growers website (www.bvgg.org).
Grey Stack Cellars was formerly known as Dry Stack Cellars, but the owners of Dry Stack Sherry felt the name was confusing. The name was changed to Grey Stack, which refers to a dry stack rock wall made from gray basalt native to Bennett Valley. Grey Stack Cellars sources fruit primarily from two estate vineyards (Dry Stack Vineyard at the home ranch in Bennett Valley and Greywacke Vineyard, located in the Russian River Valley). Pinot Noir fruit is sourced from the Connell Family Vineyard in Bennett Valley.
The owners of Grey Stack Cellars are Peter and Marie Young who came to Sonoma County in 1999. Their first commercial wine, a Syrah from Dry Stack Vineyard, was produced in 2005. Russell Bevan of Bevan Cellars in Bennett Valley was the winemaker until 2009, when he was replaced by Pat Sullivan (Rudd Winery, Peter Michael, Lewis Cellars and Paul Hobbs) and assistant winemaker Randall Watkins.
Although Grey Stack Cellars has focused on Syrah, Grenache, a Syrah-Grenache blend and Sauvignon Blanc from estate grapes, the winery plans to expand Pinot Noir and Grenache offerings and add Chardonnay to the lineup over the next few years.
I recently sampled the latest Pinot Noir offering from Grey Stack Cellars and was very impressed. The Connell Family Vineyard is just up the road from the Grey Stack home ranch. The vineyard manager is Chris Bowland. This wine serves notice that the Bennett Valley is an untapped promising region for Pinot Noir.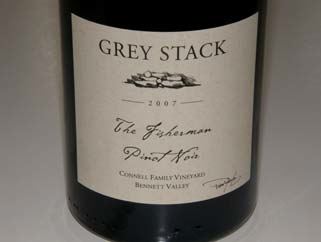 2007 Grey Stack Cellars The Fisherman Connell Family Vineyard Bennett Valley Pinot Noir
14.5% alc., pH 3.85, 50 cases, $35, to be released soon. This wine is named for Peter Young's father who is an avid fly fisher and Pinot Noir lover. Clones are 115 and Pommard. 5- day cold soak, aged 12 months in French oak. · Moderately dark reddish-purple color. Attractive aromas of dark fruits, Provencal herbs and seasoned oak that pick up intensity with time in the glass. Very tasty fullbodied flavors of plums and black raspberries with a subtle underpinning of oak. Mouth coating fruit with a smooth, creamy texture that speaks of pinotosity, and noteworthy persistence on the pleasing finish. Everything is working in harmony. This is a wine that is definitely worth seeking out, especially given the sensible price.
Grey Stack Cellars wines are available on the website at www.greystackcellars.com, and through the winery's mailing list. For tours of the estate vineyards or tasting, phone the offices of Grey Stack Cellars in Santa Rosa at 707-228-1338.