Alana Estate: New Star Arrives in the U.S.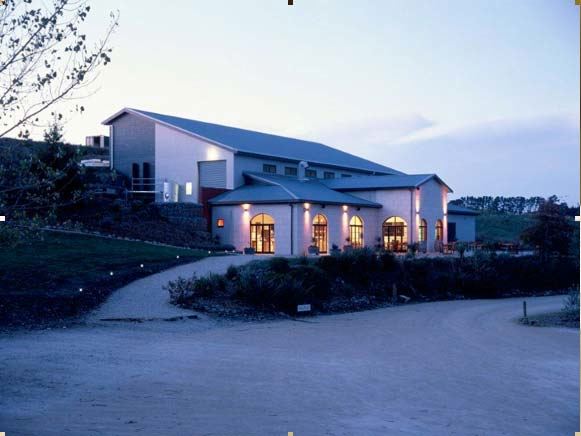 Alana Estate is not a familiar name to American Pinot Noir geeks, but this estate will shortly be exporting their excellent Pinot Noir to the United States, and I am confident this wine will find a place in many of their cellars. Alana Estate was established in 1992 by a group of shareholders headed by Ian and Alana Smart. Encompassing 55 acres of land, 42 acres of which are in planted vines, and located on the northern edge of the Martinborough Terrace, this estate is believed to be the driest location in Martinborough. The site is cool with well-drained deep stony soil making growing conditions ideal for Pinot Noir, Chardonnay, Riesling and Sauvignon Blanc. Recent plantings are dominated by close density and low trellised Pinot Noir. The vineyard will be in full production in 2010. Alana's most immediate neighbor is the world-renowned Dry River, which occupies 30 acres of land immediately adjacent the Alana Estate. Ata Rangi and Martinborough Vineyards are close by.
Martinborough's alluvial river terraces of deep, free-draining gravel overlaid with gravely silt loam are ideal for growing Pinot Noir. The climate is conducive as well, with low rainfall, warm dry summers, and a long, reliably dry autumn. The weather can be unpredictable, however, with a significant threat of frost and bad weather always looming early in the growing season. The cool evenings during the growing season allow the grapes to retain acidity, although acid is often added during winemaking. Combined with low yields and a focus on quality, the Martinborough region has received international recognition for producing top quality Pinot Noir as well as Chardonnay, Riesling and Sauvignon Blanc.
The first vineyards were planted in Martinborough in 1978 by Alistair Taylor at about the same time that a report by Derek Milne was published which identified the stony terraces around town as ideal for viticulture. By the early 1980s, the area had five mainstay wineries which included Ata Rangi, Te Kairanga, Chifney, Dry River and Martinborough Vineyard. The second wave arrived in late 1980s including Palliser Estate, and the third wave in the 1990s with the arrival of Escarpment and the Craggy Range Vineyards at Te Muna as well as Alana Estate.
The Alana Estate is home to a modern gravity-flow winery which is set up to allow multiple small batches of wine to be processed. In 2008, 8,200 cases of wine were produced and the 2009 harvest was even better, producing 11,000 cases.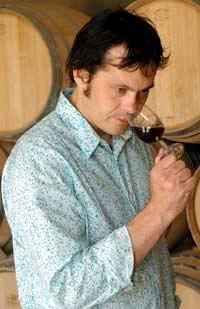 Winemaker Chris "Hopper" Archer is an Aussie who claims, " I was forced into the wine industry by parents at the tender age of seventeen, who were hoping to have an endless supply of good wine for their retirement. Their plans came into fruition, except that I eventually escaped to New Zealand to attempt to rebuild my depleted cellar." Archer's first job was with Tyrrell's Wines in Hunter Valley and while completing his winemaking degree, continued vintage work for Tyrrell's at Wolf Blass in Clare and Rosemount in McLaren Vale. After obtaining his wine science degree, Archer returned to Tyrrell's in 1992 as assistant winemaker and was put in sole charge of the company's Pinot Noir program. After a subsequent highly successful five year stint at a small boutique winery, Pepper Tree Wines, he was coerced to New Zealand in 2000 by Morton Estate, before eventually joining Alana Estate. Along the way, Archer has collected a slew of trophies for his wines.
Recently, I was contacted by Flinn Flexer, an American living in Sherman Oaks, California, who has become a shareholder at Alana Estate and is the United States importer of Alana Estate wines beginning in 2009. He estimates that 2,500 cases of the 2008 Alana Estate Pinot Noir will be exported to the United States. I tasted the 2008 Alana Estate Pinot Noir with Flinn and later at home in private and my notes were consistent. The label below is preliminary.
2018 Albatross Ridge Estate Carmel Valley Monterey Chardonnay
13.0% alc., pH 3.23, 450 cases, $68. Clones 96 and 15 harvested at 1.53 tons per acre and a harvest Brix of 20.0º-23.5º. · Moderate golden yellow color in the glass. Subdued aromas of lemongrass, bruised apple, straw and wet oak. Slightly viscous in the mouth offering flavors of lemon and yellow peach. There is some persistence on the finish, but overall the wine lacks inspiration and crispness. Score: 89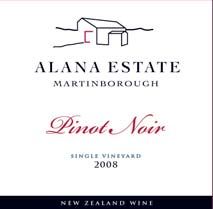 2008 Alana Estate Martinborough New Zealand Pinot Noir
14.3% alc., pH 3.76, 2,500 cases, $39.99, screw cap. Grapes were hand picked and 100% de-stemmed. Aged in French oak for 10 months and settled in stainless for an additional 5 months. Unfined and unfiltered. Bottled July 3, 2009. · A black cherry bombast in the nose and on the palate. A hint of cola and spice add interest with oak playing a subtle supporting role. The most striking feature of this wine is the velvety texture. Beautifully crafted and perfectly harmonious, this is a complete wine. One of the best Pinot Noirs I have ever sampled from New Zealand.
Alana Estate Pinot Noir will be available in the United States November 1, 2009. A portion of the United States allocation is being made available first to the mailing list through the U.S.-based website, www.alanestate.com, that will launch October 1, 2009. Some wine will be sold through a select number of fine wine stores and restaurants, primarily in CA, AZ, NV, MI, TX, and NY. The wine will be poured at the International Wine and Food Festival in Grand Rapids, MI in November, 2009.