Pfendler Vineyards: Hollywood to Vines
Pfendler Vineyards was launched by Kimberly Pfendler in 2007 to honor the legacy of her husband, Peter Pfendler, who first planted the Pfendler Vineyards in 1992. Peter, who passed away in 2007, was a man of many accomplishments. He graduated from the U.S. Air Force Academy and served as a distinguished fighter pilot in Vietnam. Later, he obtained an MBA from UCLA and a degree from Harvard Law School and had a successful business career. Peter founded Polaris Aircraft Leasing Corporation in 1974, which became the world's largest commercial aircraft leasing company. In 1989, he sold Polaris to General Electric Corp., and bought a ranch just east of the town of Petaluma in Sonoma County. He pursued his life long dream of cattle ranching, wildlife and land conservation, and later, planting vineyards and growing grapes.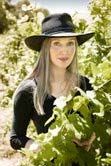 Kimberly was a successful Creative Executive in the Hollywood film industry. After earning a degree from UCLA Film School, she worked at both Warner Brothers and MGM studios where she developed a series of hit films. She married Peter in 2004, trading her Hollywood glamor for a life close to the land. The drive and passion she developed in Hollywood has given her the tools to launch a luxury wine brand.
The Pfendler vineyards consist of 19 acres of Pinot Noir and Chardonnay on four estate vineyards. Peter was the first to plant vineyards at the Petaluma Gap's Crown, a very cool and windy area. The Penngrove Vineyard is a 6-acre parcel in this region planted to Chardonnay and Pinot Noir (clones 114, 115, 777, 828 and Swan). The fruit from this vineyard previously went into the Copeland Creek label. The Pullis Vineyard is the coolest and foggiest vineyard, situated on the base of a mountain just east of Petaluma. It was planted to clone 828 in 2005. Pfendler Vineyard is part way up the mountain and was planted to Bordeaux varieties in 1992. Located at 1,200 feet in the middle of the fog line, it was budded over to Chardonnay (Hyde clone) and Pinot Noir (Pommard clone) in 2008. The Helgren Vineyard sits at 2,000 feet on the mountain top and was planted in 2005 to Calera and Swan selections of Pinot Noir. This vineyard will make its debut in 2009.
Noted winemaker and viticulturist, Greg Bjornstad, has been hired as winemaker. Greg was the viticulturist at Joseph Phelps Vineyards and Newton. In 1996, he joined Flowers Vineyard & Winery as vineyard manager and assistant winemaker. Flowers was awarded the title, "Artisan Winery of the Year," by Wine & Spirits magazine two years in a row while Greg worked there. In 1999, he launched an international vineyard consulting business and has assisted winegrowers in Russia, South Africa and Australia, and well-known stateside clients such as DuMOL, Hirsch, Kistler, Kosta Browne, Paul Hobbs, Pisoni and Scott Paul. He founded his own label, Bjornstad Cellars, in 2005, specializing in vineyard-designated Pinot Noir and Chardonnay from the Sonoma Coast, Russian River Valley, Bennett Valley and Sonoma Mountain appellations.
Bjornstad's winemaking starts with vigorous sorting followed by native yeast fermentations. The barrel aging program uses 50% new French oak. Pfendler's Pinot Noir and Chardonnay receive 8 months of sur lees aging, and are racked twice before the wines are bottled unfined and unfiltered.
The 2007 Pfendler Vineyards Pinot Noir and Chardonnay were sampled over dinner with Kimberly Pfendler. I was impressed by her passion and commitment and I believe this label can compete with the best from California.
2007 Pfendler Vineyards Chardonnay (see feature on Chardonnay, page 21)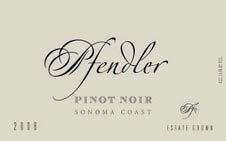 2007 Pfendler Vineyards Sonoma Coast Pinot Noir
14.6% alc., 350 cases, $45. Clones 114, 115, 777, 828, and Swan. 100% de-stemmed, 7-day whole berry cold soak, 8 months sur lees aging. Aged 11 months in 50% new French oak. · A medium bodied Pinot Noir with charm and balance. Still young, needing 45 minutes to fully open in the glass. Sweet, scented nose of plums and blueberries with gentle oak which are echoed in the flavors. The most striking feature is the wine's silky texture. Tres Pinot.
The inaugural 2007 vintage for Pfendler Vineyards produced 550 cases of Pinot Noir, Chardonnay and Rosé. Production will double with the 2009 vintage as the family's newest vines come of age. The wines are sold through a mailing list at www.pfendlervineyards.com.