Harrington Wine: Urban Star
Harrington is part of the popular San Francisco urban wine movement, located in a warehouse in the Produce District. Proprietor and winemaker Bryan Harrington is a Pinot Noir specialist who has achieved a quiet following and his wines are truly worth your interest. I first became interested in Harrington wines after tasting them at the World of Pinot Noir in 2006. The wines stood out for their individuality and deft winemaking.
While working as a bartender in San Francisco, Harrington traveled to Europe and became enamored with the very small producers who were tending tiny vineyard plots and crafting a few barrels of wine. It was a model that he eventually was to pursue. He began making wine in his basement in San Francisco, attended several University California Davis classes, and moved on to a cooperative winemaking facility in Berkeley. He finally started his own label in 2002 and settled into his present location in San Francisco. His wines are crafted in an artisan fashion with no wine made in larger than a 300 case lot. Bryan says, "It is my responsibility each year to use every means possible to bring a fruit-full and authentic wine experience to your glass."
Most Harrington vineyard sources are at least 30 years old and nurture California's older heritage clones. Bryan notes, "Vineyard sources have been chosen not only for their age and quality, but also for their ability to convey those characteristics that typify the particular Pinot Noir appellations, whether it be the firm structural elements of wine from the limestone of Chalone, the dark fruit flavors of the Sonoma Coast rocky ridge tops, or the racy Bing cherry profiles from the Goldridge soils of the Russian River Valley. The winemaking approach is biased to accumulate the particular flavors and aromatics natural to each site."
Photo below shows Bryan (left) and partner Ken Zinns pouring at the 2009 Anderson Valley Pinot Noir Festival.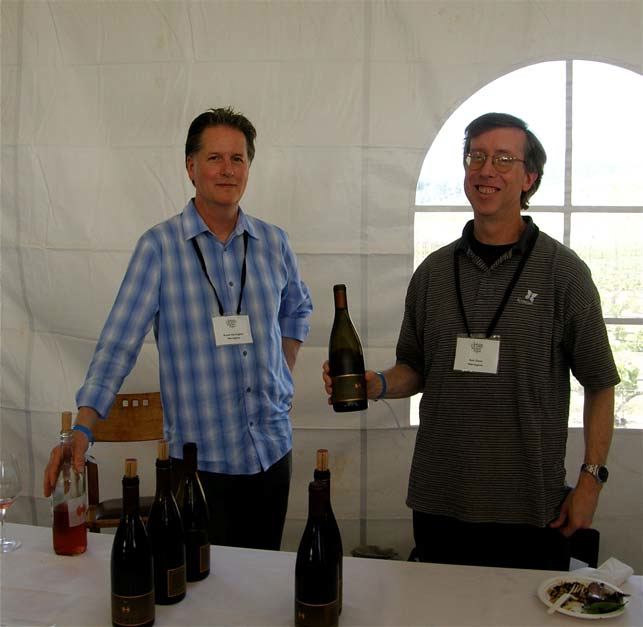 I recently sampled the four 2007 Harrington Pinot Noir releases. As Bryan promises, each wine speaks of its location and has an appealing individualistic style and personality. Also, all four wines retain the finesse and delicacy that Pinot Noir is known for and I like this. All fermentations are driven by natural and inoculated yeasts.
Harrington wines are sold to a mailing list at www.harringtonwine.com. Look for Bryan Harrington pouring at San Francisco Urban Wineries events sponsored by the Winery Collective. The Winery Collective is a collection of small winemakers dedicated to producing artisan wines (www.winerycollective.com). Harrington wines are available for tasting seven days a week at Grange Sonoma, another tasting room collective located in Sonoma at 23564 Arnold Drive on Highway 121 (www.grangesonoma.com).