Van Duzer : Corridor Makes the Pinot
The Van Duzer Corridor is the only break in Oregon's Coastal Range that borders the western side of the Willamette Valley. This corridor or gap allows Pacific Ocean air to flow eastward into the Willamette Valley, moderating summer heat. The influence of the Van Duzer Corridor extends inland to the McMinnville and Eola- Amity Hills appellations as well as the vineyards in the Dallas area of the Willamette Valley.
The Van Duzer Corridor is named after Henry Brooks Van Duzer, a New York native who had a long career with the Inman-Poulsen Lumbar Company, one of Oregon's largest lumbar firms. He was Chairperson of the Oregon State Highway Commission for eight years and during his tenure, there was a significant increase in much-needed highways in Oregon. To formally recognize him, the corridor was named in his honor.
In 1998, Carl Thoma, managing partner of Chicago-based Thoma Cressey Equity Partners and his wife Marilynn bought the run-down Van Duzer Vineyards property. The couple had developed an enthusiasm for wine when they both attended Stanford University to study for their MBAs. Thomas had been a managing partner in Parducci Wine Estates in California, and like so many Oregon wineries before, Van Duzer benefited from an enthusiastic outside investor. Jim Kakacek was hired to upgrade the estate's 65 acres of vineyards, manage the winemaking, and direct construction of a new winery. New plantings of Pinot Noir were complemented by field grafting of Dijon clones to 15-year-old established Pinot Noir vines. Vineyard plantings now total 82 acres and include Pommard, Wädenswil, and Dijon 113, 115, 667 and 777 clones. Two clones of Pinot Gris are also planted. The vines have 9' x 4' spacing and VSP trellising which improves light penetration spray coverage, disease resistance and induces moderate stress in the vines.
By 2001, the efforts began to show in the wines and success has followed. The new winery was finished in time for the 2006 harvest, increasing capacity to 20,000 cases when the entire estate is producing. The old winery was a source of brettanomyces in Van Duzer wines and was part of the Van Duzer 'style' in the 2002, 2003 and 2004 vintages. The problem was curtailed by 2005 and eliminated beginning with the 2006 vintage when all wine was vinified in the new winery.
Recently, horticulturalist Rebecca Sweet has been hired to manage vineyard operations at Van Duzer. The vineyards are LIVE certified. All wines are 100% estate fruit and production is divided between wines that represent the entire estate and block-designated wines of special pedigree.
The Van Duzer label is inspired by Zephyr, the Greek mythological goddess of the gentle West Wind, who blows Pacific breezes over the estate's hillside vineyards. The estate is located 60 miles south of Portland and west of the Eola Hills and Salem in the eastern mouth of the Van Duzer Corridor three miles off Highway 99W. Because of its location, summer temperatures in the vineyard drop sooner in the afternoon than in the vineyards to the North or south by 13 degrees. The result is extended hang time.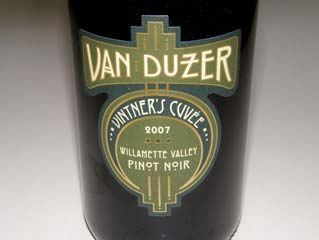 2007 Van Duzer Vinter's Cuvee Willamette Valley Pinot Noir
13.1% alc., pH 3.59, 4,500 cases, $20. A blend of six Pinot Noir clones with a focus on the younger vines on the estate. After cold maceration, yeasts are chosen specifically for each clone to enhance and preserve the terroir. Aged in 35% new, 30% once-used, and 35% neutral French oak barrels for 8 months. · Complex aromatic profile of dark raspberries and plums, smoky oak, spice and graham. Moderately rich dark fruits with a hint of root beer and oak in the background. Soft tannins and a very pleasing smooth mouth feel. A solid daily drinker.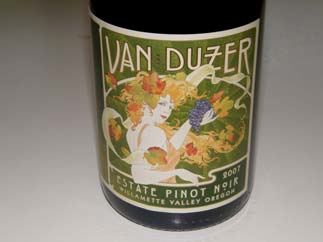 2007 Van Duzer Estate Willamette Valley Pinot Noir
12.7% alc., pH 3.52, 7,500 cases, $30. After selective harvesting, the grapes were gently destemmed and fermentation was immediately started by inoculating yeasts. Fermentation lasted two weeks with selected tanks undergoing extended maceration post-fermentation to balance the tannins and other components. Aged for 10 months in a mixture of new and older oak barrels. · Moderately light garnet color. Very attractive pure and bright aromas of dark red stone fruits and berries with a note of oak-derived roasted marshmallow in the background. Light in weight but flavorful, with attractive tastes of dark red fruits, earth, mushroom, and oak. Very silky and refreshing with an appealing gentleness.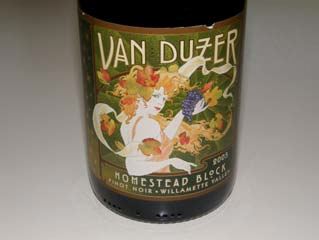 2005 Van Duzer Homestead Block Willamette Valley Pinot Noir
13.05% alc., pH 3.64, 300 cases, $45, May 2009. Pommard clone vines located where the original homestead of this property was located. The vines are nearly 30 years of age. This is the fourth Homestead Vineyard-designated bottling. 100% de-stemmed, cold macerated, aged 9 months in 50% new and 50% one-year-old French oak barrels and then returned to the barrels for 5 additional months of aging. Bottled by hand, unfined, and allowed to bottle age 2 years before release. · Moderately dark reddish-purple color. Darkly fruited aromas, particularly mu shu plum sauce and black raspberries, draw you into the glass. Earth-dusted black fruits cascade through the palate still encased in noticeable but refined tannins. Oak plays a supporting role in the background. A full-bodied fruit-driven wine displaying the appealing smooth texture characteristic of all the Van Duzer Pinot Noirs. This wine is still a Lolita and will benefit from even further cellaring. Decant if you can't wait.
The Van Duzer tasting room is open daily from 11:00 to 5:00, March 1 through December 30, or by appointment (800-884-1927). The tasting room, located at 11975 Smithfield Road in Dallas, has a grand view of the vineyards and the Baskett Slough Wildlife Refuge. Winery tours are available by appointment. The Van Duzer lineup of Pinot Noirs and Pinot Gris are available online at www.vanduzer.com with some retail distribution. Older vintages of some wines are available.