Vergari: Letting Wines Find Their Voice
I have met David Vergari on several occasions and I am always impressed by his philosophy. He says, "Wine is dynamic, going down many paths on its way to becoming something unique. Often times I help it along. Sometimes the best choice is to do nothing and let the wine find its voice over time." Vergari (below at the 2009 World of Pinot Noir) admits that the majority of his winemaking goes on in the vineyard, in concert with the people who watch over the vines.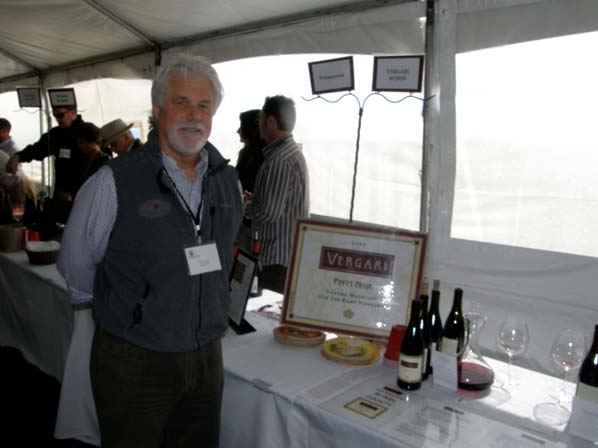 Vergari's life long interest in wine is attributable in part to his Italian ancestry. His first memory of wine occurred when he was five years old in his great-uncle's cellar in San Francisco where he sampled "Dago Red," cut with water, of course. He began his working career as a financial analyst, but winemaking was in his blood. He began his winemaking career with internships at Sonoma-Cutrer and The Hess Collection in California, and work abroad at Coldstream Hills in Australia and Covisa in Spain. Returning to California, he became a research enologist at Joseph Phelps Vineyard before becoming the winemaker at Rutz Cellars, and later at Maddalena Vineyards. In 2003, he founded his namesake label Vergari Wines.
Vergari crafts Pinot Noir and Cabernet Sauvignon at Owl Ridge Wine Services in Sebastopol, California. He divides his time between the winery and vineyards in Northern California and his home life with Katie Orth in Sierra Madre, Southern California. His dedication and talents have turned his winemaking dreams into quite a success.
A few months ago, I sampled a trio of Vergari's Pinot Noir releases. His vineyard sources are carefully selected and superbly farmed. The Van der Kamp bottling is clearly the star. Winemaking employs careful sorting, 3 to 6 day cold soak, native yeast and native malolactic fermentation, 20%-30% new French oak, and aging for 11 months.
2006 Vergari Marin County Pinot Noir
14.4% alc., pH 3.63, 145 cases, $36, released Fall 2008. Vineyard in the Chileno Valley is farmed by noted viticulturist Mark Pasternak. Heritage and Dijon clones. Aged in 33% new French oak for 11 months. · Shy but pleasing red fruit aromas touched by herbs. Cherry-driven on the palate in an elegant style. Gossamer tannins and well-appointed acidity. Doesn't excite, but decent.
2006 Vergari Sangiacomo Vineyard Sonoma Coast Pinot Noir
14.2% alc., pH 3.61, 178 cases, $42, released Fall 2008. Sourced from the Roberts Road Vineyard located in the Petaluma Gap and farmed by the Sangiacomo family who have been mainstays in Sonoma County for several generations. Pommard and Dijon 115 clones. Yields less than 1.5 tons per acre. Aged on fine lees in 20% new French oak for 10.5 months. Released after 13+ months of bottle age. · Scents of blackberries and cranberries with subtle oak, exotic woods and herbs. Medium-weighted red fruits with a slight olive oil and oak underpinning. Elegant with supple tannins and bright acidity.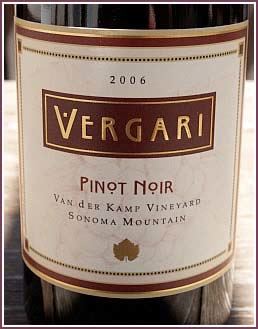 2006 Vergari Van der Kamp Vineyard Sonoma Mountain Pinot Noir
13.5% alc., 135 cases, $45. Heritage clones and Dijon 777. Low yields. · Dark reddishpurple color. Beautiful aromatics that really draw you in. Deep, dark fruits including black raspberries and mu shu plum sauce. Full-bodied and mouth coating black fruits with an earthy underpinning. Velvety tannins frame the lush fruit perfectly and the dry finish lingers memorably. The pedigree of this vineyard shows through in this excellent wine.
Van der Kamp Vineyard
The famous Van der Kamp Vineyard is located near the top of Sonoma Mountain at 1,200 feet on a north-facing slope. Martin, Dixie and son Ulysses Van der Kamp, have planted most of the California heritage clones as well as the newest Dijon clones. The soil is a reddish volcanic loam, varying from intense rocky slopes above the "Red Shoulder" area to deeper, browner, but still volcanic clay loam in the "Horn Section." Martin has been farming this ranch since the late 1950s. It is written that the vineyard contains the oldest block of Pinot Noir planted in Sonoma County, but I believe Hanzell's 1953 block is the oldest. Ulysses is now farming the vineyard armed with the knowledge of his father and employing the latest in viticultural techniques. Ulysses likes to say, It's easy to grow Pinot Noir. That is, if you're willing to work twelve hours every day." Vergari talks about a mystical, spiritual feeling at the vineyard. "Tibetan flags flutter in the breeze, mating pairs of hawks fly overhead....the land speaks to me."
Van der Kamp Vineyard supplies grapes to many of California's most notable producers including Bjornstad Cellars, Berridge Wines, Landmark Vineyards, Novy (Pinot Meunier), Ryan, Siduri and Tandem.
Vergari wines are sold on the website at www.vergariwines.com and through fine wine retail stores (listed on the website. 626-818-8398.