Monterey County: Great Pinot Values
Monterey County winegrowers are prospering in this recession as consumers seek out more value priced wines. With 42,000 acres planted, Monterey County has only slightly less vineyard acreage than Napa Valley (43,000 acres). 75% of Monterey County grapes are sent out of the county to be incorporated into wines from Napa and Sonoma that often say, "California" on the label. This trend is slowly changing as Monterey gains more cachet among consumers. Many wineries both in and outside of Monterey County are now bottling Monterey County appellation wines, including Pinot Noir.
Pinot Noir thrives in the northern parts of Monterey County including the Carmel Valley, Chalone, Arroyo Seco and Santa Lucia Highlands appellations (see map below). The plum of Monterey County is the Santa Lucia Highlands. This prestigious grape growing region sits directly opposite the low-lying vegetable plains of the Salinas Valley. The maritime climate is well suited for Pinot Noir and Chardonnay, which represent 78% of the Santa Lucia Highlands appellation's 5,500 acres of vineyards. The Pinot Noirs from this appellation are primarily vineyard-designated, with more appellation wines certain to appear as plantings increase and newer plantings come into production.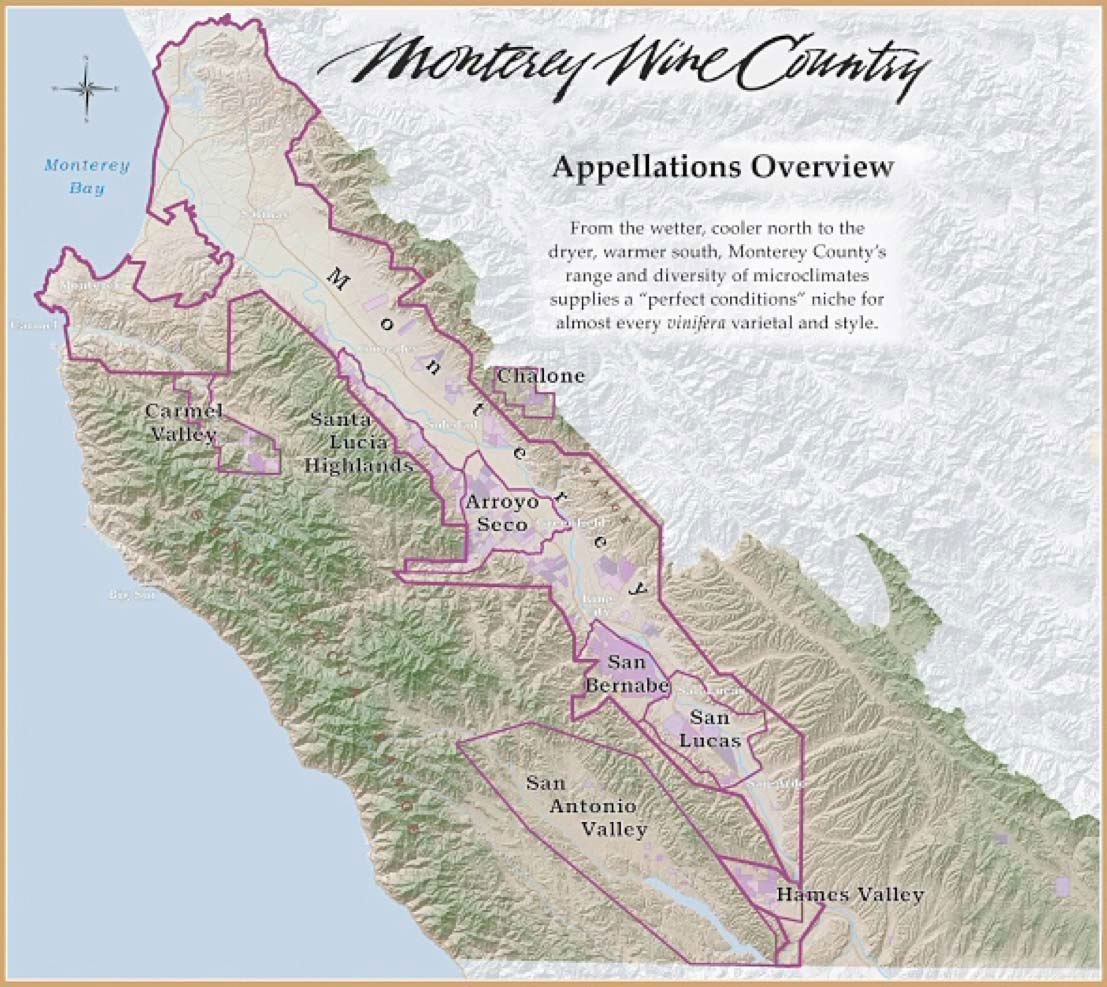 I recently sampled a number of value-priced Monterey County Pinot Noirs that are currently on the market. Monterey County has only 30 wineries, so many producers are located outside the Monterey appellation. The quality was consistently solid and this is a region to look to for reliable, value-priced, varietally true Pinot Noir. The Monterey Pinot Noirs tend to be darkly colored and well-endowed with dark fruits.
Will success spoil Pinot Noir? Basically, there are three tiers of Pinot Noir from California and Oregon: (1) < $25, (2) $25-$60, and (3) > $60. The differences between the three tiers are subtle and often only detectable by experienced tasters. The average consumer may not see the justification for the higher priced wines. Is the $60 Pinot Noir three times better than the $20 Pinot Noir? In recent years, there has been a remarkable advance in quality of low-priced Pinot Noir from California and Oregon and this will certainly pressure the economic viability of higher priced examples of the varietal. Will there be enough Pinot geeks to support the multitude of high-priced Pinot Noirs? I had a subscriber recently cancel his subscription to the PinotFile saying, "I am tired of paying for overpriced California Pinot Noirs." Only time will tell.