What This Country Needs is a Good $8 Pinot Noir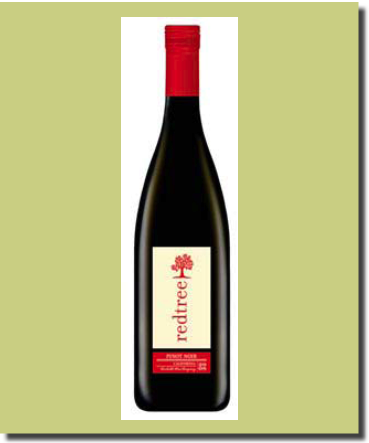 At a time when young consumers are looking for a good Pinot Noir they can afford, along comes the 2008 Redtree Pinot Noir from Cecchetti Wine Company. Everything is appealing about this wine. The label is classy, the red screw cap is eye-catching, the alcohol is low at 12.5%, and the wine inside is remarkably good for the price. In some markets this wine has been discounted to less than $6.
The wine includes some red varieties other than Pinot Noir and is made with oak chips instead of oak barrels.
Cecchetti Wine Company is a new face in the wine business, having been launched by industry veteran Roy Cecchetti and his wife Rachael in 2007. Roy Cecchetti has over 20 years of experience developing wine brands, including the successful Pepperwood Grove. The former winemaker for Pepperwood Grove, Bob Broman, has been enlisted as winemaker. Cecchetti Wine Company has two labels: Line 39 includes Petite Sirah, Cabernet Sauvignon and Sauvignon Blanc from the Lake County AVA. The Redtree label offers several varietals for early consumption at affordable prices.
2008 Redtree California Pinot Noir
12.5% alc., pH 3.54, 5,416 cases, $8, released February 2009, screw cap. · Very attractive aromas of strawberries, cherries, red licorice, forest floor, mushrooms and smoky oak. A lighter-weighted offering that is demurely flavored with red cherries, raspberries and strawberries with a hint of oak and sandalwood in the background. The tannins are supple and a spark of acidity marks the short finish. I would recommend chilling this wine slightly before serving. Very good for the money and the best California Pinot Noir I have ever tasted at this price point.
Redtree Pinot Noir is widely distributed. For more information, visit the website at www.cecchettiwineco.com.