Calera Wine Co.: Burgundian Soul & Soil
Josh Jensen goes by several adoring names conjured up by his employees and followers including "Generalissimo" and "Mr. Pinot." Perhaps something with a French ring would be more appropriate such as "Monsieur Pinot," since Jensen's Calera Pinot Noirs are probably the closest to the Burgundian idiom of all Pinot Noirs in California.
Calera Wine Company has just released its 31st vintage. In 1975, when Josh Jensen first planted his vines on a remote property in the Gavilan Mountains of California, he was among a few pioneers at the time who were attempting to grow Pinot Noir in California. It was the limestone that brought Jensen to this remote location. He was a student of and fervent lover of Burgundy and was convinced that it was the limestone in the soil of Burgundy that made the wines so special. Jensen has said, "Here in this country, the establishment doesn't think limestone is important. I didn't waste my time debating it. I just saw where the great Burgundies grow and decided to let my wines do the talking." The name, Calera, is Spanish for lime kiln, referencing the old lime kiln left on the land when he acquired it.
Jensen's remarkable story was first told in detail in 1993 in the first edition of the book, The Heartbreak Grape, A Journey in Search of the Perfect Pinot Noir, by Marq de Villiers. A revised and updated version was published in 2006 (McArthur & Company, paperback, $10.99). Jensen's saga is an inspiration for anyone hoping to follow a passion for Pinot Noir. Only recently, after thirty-four years, has Jensen's heartbreaking efforts found vindication. Pinot Noirs from Calera can hold their own to the best from Burgundy.
In 1975, Jensen cleared enough land in the hills of Hollister to plant three Pinot Noir vineyards, all located about a fifty minute drive from the winery. The vineyards were Jensen (named after his father, Stephen), Selleck (named after Dr. George Selleck, who first introduced him to wine), and Reed (named after his initial business partner). Mills (named after John Everett Mills who built the infrastructure on the property on Cienaga Road for a mining operation, the retaining walls eventually to become part of Calera's gravity-flow winery), and Chardonnay and Viognier plantings followed in 1984. The Jensen Vineyard is nearly 14 acres, Reed is 4.4 acre, Selleck is 4.8 acres, and Mills is 14.4 acres. The most recent Pinot Noir planting is the Ryan Vineyard (named for Jim Ryan, the vineyard manager since Calera began) which is 13.1 acres and was planted in 1998 and 2001. There are also some unnamed plantings of Pinot Noir that have not yet produced commercially viable grapes. Jensen feels that there are locations on his property that may have even more potential for Pinot Noir than his original plantings.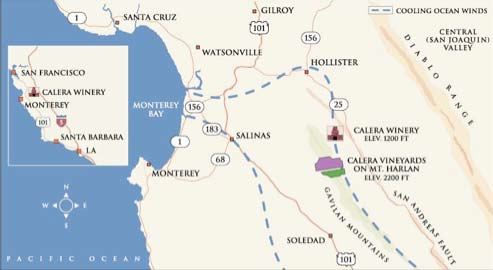 Calera's vineyards are located at 2.200 to 2,500 feet above sea level and are cooler than almost all other vineyard locations in the North Coast. Jensen can prove it with University of California, Berkeley's 30-year temperature averages for all California towns and cities. The fog often rolls in from the neighboring valleys creating the potential for very long growing seasons and Calera often harvests well into October, after both Carneros and Sonoma County.
Jensen won't say where the original clones of Pinot Noir that are planted at Calera came from. Selleck, Reed and two-thirds of Jensen are probably suitcase clones either originating directly from Domaine Romanee-Conti or indirectly from Chalone. The rest of the plantings are presumably nursery bench grafts sourced within California. All the Pinot Noir is planted onto nursery rootstock except Mills Vineyard which is own rooted.
By 2006, Jensen had 83.6 acres planted on his 1088-acre property. The winery, the world's first and only completely gravity-flow winery, was built on seven different levels into a hillside. Calera is the only winery in the Mt. Harlan AVA (he can also use the Central Coast AVA and San Benito AVA designations). Curiously though, the vineyards are in the Mt. Harlan AVA, but the winery technically is not, so he cannot use "estate bottled" on his labels.
The first estate Pinot Noir was from the 1978 vintage consisting of 700 cases of half-bottles and was also the first Calera wine made at the winery. Calera Pinot Noirs are typically reticent and brooding upon release, with healthy tannic backbones, and with the balance to predict age ability. The best drinking window is often between five and twenty years after the vintage. The wines are not flashy, fruit-driven wines with upfront appeal like the so-called "Smasher-Blasters" that Jensen calls California's fruit bombs. He says, "Smasher- Blasters are mostly one-dimensional, simple but potent beverages that will merely lose their fruit, their main if not their only appeal, with the passing years and just turn into....expensive mud." His vision for the perfect California Pinot Noir is well reflected in the eloquent style of his wines, one "that is perfectly balanced on the cusp of richness and complexity, of fruitiness and subtlety, and neither one nor the other."
The Calera winemaking regimen is as follows. The grapes since 1984 have not been de-stemmed except for some purchased grapes and grapes from young vines. No cold soak is employed. Typically, tartaric acid is added, native yeasts drive fermentation, punch downs are by hand, and the wines undergo 100% malolactic fermentation in Francois Freres barrels, of which typically 30% are new. Racking is done twice into a fining tank (egg whites are used) and bottling tank. The single-vineyard Pinot Noirs are aged for 16 months before bottling. The Central Coast Pinot Noir is aged in 12-15% new barrels for 10-11 months.
Calera wines are sold on the website at www.calerawine.com and through retail distribution. Current annual production is 30,000 cases. The portfolio includes seven different bottlings of Pinot Noir, Chardonnay, Aligoté, and Viognier. Interestingly, Jensen was the first to plant Viognier in California, petitioning the U.S.D.A. to import Viognier cuttings in 1973 when it did not exist in this country. The back labels are unrivaled for information.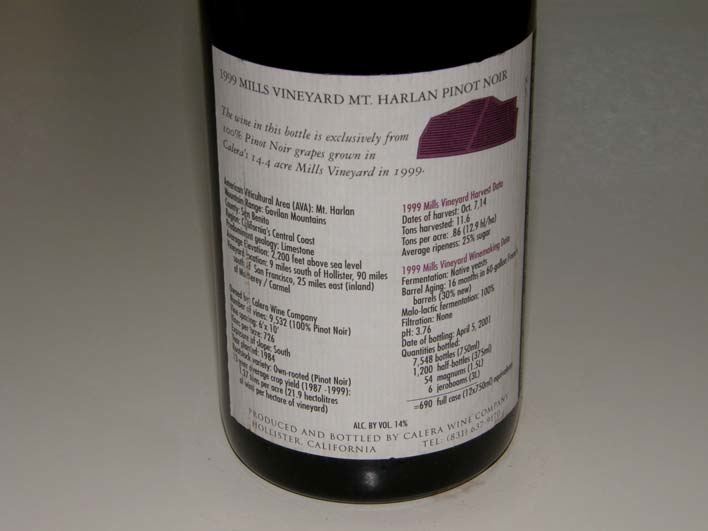 I recently sampled the lineup of 2006 Calera Pinot Noirs and a few older vintages from my library as well. These are wines you can bank on for consistent quality and age ability. Their unique character makes them highly collectable. Tasting the five vineyard-designate Calera Pinot Noirs is a lesson in terroir for all the wines are essentially vinified in the same way. The 2005 Pinot Noirs didn't show as well as when they were sampled about 6 months ago, indicating they may be closing down for the winter (damn Pinot, so capricious). I strongly recommend buying a mixed case of the 2006 vintage, putting the wines in a corner of your cellar, and forgetting about them for 3 to 5 years.
A bit of interesting trivia: What was the first full case of Pinot Noir that the Prince bought? Answer: 1985 Calera Jensen Mt. Harlan Pinot Noir.
Some generalizations can be made about the different Calera Pinot Noir vineyards. Reed is always the most precocious and is less dense than the other wines. Selleck is Josh Jensen's favorite almost every vintage and mine too for its intense aromatics and bright and spicy cherry and berry flavors. Mills has its fans but always seems a bit out of balance with the fruit dominated by tannins. Jensen is the most aristocratic with a degree of complexity and age ability that outshines the others. Ryan is the new kid on the block, fruity and fresh with a lively grip of acidity and minerality, and less likely age ability.