Joseph Swan Vineyards Cuvée de Trois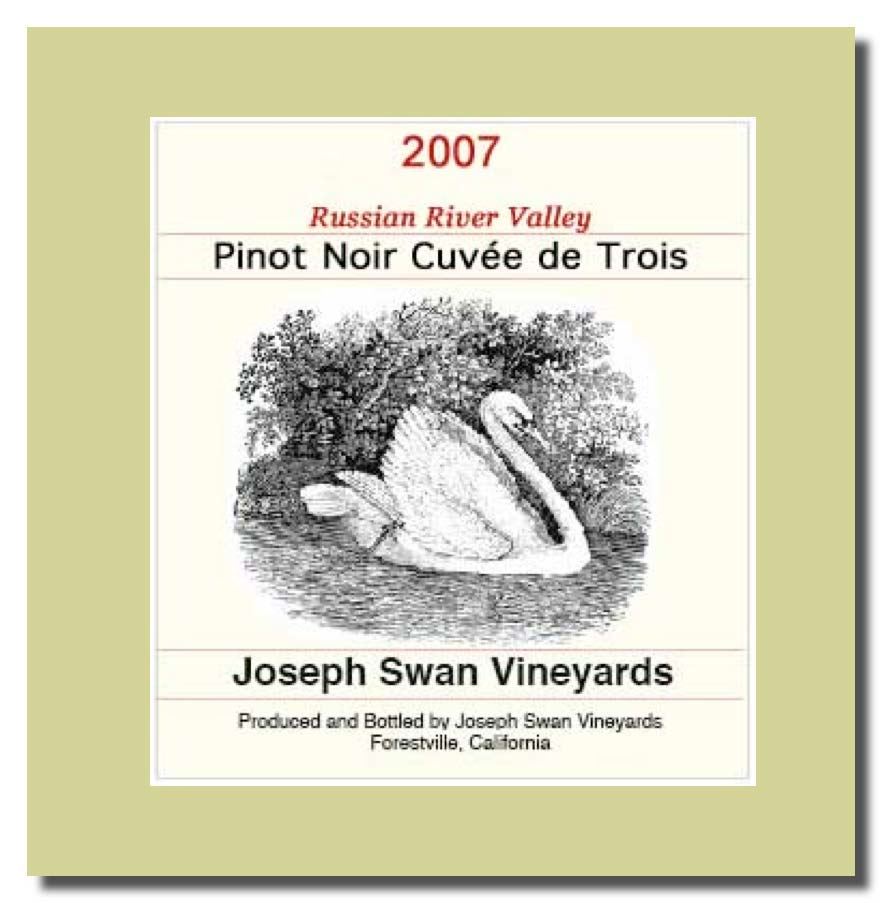 Joseph Swan Vineyards' long time owner and winemaker, Rod Berglund, has been bottling this wine since the 1999 vintage. Initially it was not expected to be but a tiny part of the winery's total production, but by 2006, Cuvée de Trois had become 20% of production. The reasons were simple: it was a well-crafted, delicious wine with early approachability, and it was priced right. The wine is a blend, but Berglund notes, "We put every bit as much care and effort into making this wine as we do with our other Pinot Noirs. In fact, it includes all of our vineyard designated Pinot Noirs, including our Trenton Estate."
Each year in August Berglund tastes through all the Pinot Noir barrels on a five point scale and kicks out the lesser barrels. He then puts together trial blends of each of the vineyard lots. Once he has arrived at the proposed vineyard lot, he then makes a trial blend of what is left. Berglund says, "Usually I need to do some horse-trading with the potential vineyard-designate lots to make the Cuvée de Trois work. The goal is a wine that represents the terroir of the Russian River Valley as a whole.
Year in and year out, I have found this to be a wine you can rely on to be fresh, vibrant, and harmonious, and one you can afford to drink on a regular basis. This is a dependable Russian River Valley offering that you can stock your cellar with as it will age for 5-7 years as well. The wine is available on the website at www.swanwinery.com and through limited retail distribution channels. Is there a better label in all of Pinot world?

2007 Joseph Swan Vineyards Cuvée de Trois Russian River Valley Pinot Noir
13.8% alc., 1,900 cases, $28. · Moderately deep reddish-purple robe. Great nose that draws you in featuring aromas of Bing cherries, red raspberries, slightest oak and violets, and a big dose of Asian Five Spice. Demure red berry and dried cherry core with an appealing touch of earth and oak. Silky smooth and elegant with the right mix of t n 'a to bring the fruit into focus. Not a heavyweight, and even a little shallow in the mid-palate, but satisfying. The moderate alcohol adds to the appeal. Very good.