WesMar: Aromas that Dance in the Glass
WesMar Winery is a modest garagiste throwback winery located in the former Vacu-Dry apple processing facility on Gravenstein Highway in Sebastopol. There is no fancy sign to mark the winery, just some grape bins outside with the name "WesMar" stenciled on them, and a few halved stainless steel milk shipping containers used for fermentations that are left over from Williams Selyem winery when it was owned by Burt Williams and Ed Selyem. The Williams Selyem imprint is evident in the winery's business model and the wines are déjà vu for lovers of the Williams Selyem Pinot Noirs of the early 1990s. This is not surprising, for owner Denise Mary Selyem is the daughter of Ed Selyem, and both her and her partner and spouse Kirk Wesley Hubbard, worked at Williams Selyem for several years before the winery was sold in 1997.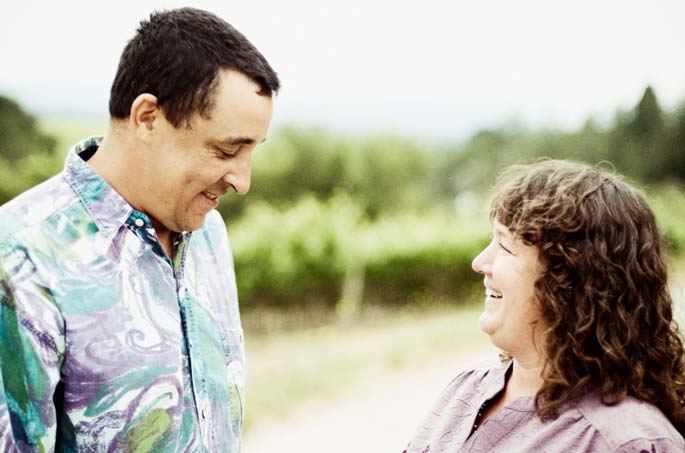 The owners are an unpretentious couple who shun the limelight. They do not submit their wines for comparative judging, preferring to allow the wines to speak for themselves. It took nine vintages before they ventured out into the Pinot Noir event circuit, pouring their latest releases at the 2009 Pinot Days San Francisco. As a result, WesMar is primarily known to hardcore Pinot Geeks. Wesmar is strictly a two-person winery, with Kirk and Denise sharing all winemaking and winery management duties without the assistance of employees, consultants or brokers. Denise and Kirk have an ongoing good-natured dispute about who has the most winemaking experience, with Denise offering as proof of her superior know how a photo of her and her brother stomping Pasquinelli Zinfandel in 1974.
Despite their focus and independent spirit, Denise and Kirk love contact with their consumers and warmly receive visitors by appointment to their 1,500 square-foot winery. They still resist selling their wines on the internet, preferring to deal with their customers directly on a more personal level.
I have been a fan of WesMar (pronounced "Wes-Mare") Pinot Noirs for many years and have introduced many happy Pinot Geeks to the wines. The Pinot Noirs are distinctive for several reasons. First, Denise has an aroma fetish, often smelling her wines for extended periods ("devouring the nose" as she puts it"). The ultimate compliment for a Pinot Noir, she says, "Is an aroma that dances in the glass." Second, the wines show a remarkable consistency from vintage to vintage, regardless of vineyard source. I have been drinking WesMar Pinot Noir for seven years and have never had a disappointing bottle. Third, each of their yearly bottlings are distinctive. Denise and Kirk realize that people tend to gravitate toward that which is familiar and look for similarities in wines from different sources. From a winemaker's prospective, the desire is always there to replicate the success that a particular vineyard or vintage may offer. To counter this tendency, Denise and Kirk strive to make wines that have individual personalities, yet offer very similar levels of richness. Denise refers to these distinct terroir-driven differences as "WesMarrior."
I have spoken a number of times with Denise and Kirk about their winemaking regimen. I am certain that the intoxicating aromatics, irrepressible flavors and attractive textures consistently achieved in WesMar Pinot Noirs are from intuition, experience, a deft touch, and hands-on, labor-intensive commitment every step of the way. There is a close eye on detail and a judicious monitoring of barreled wines that is only possible in a small winery of this design where two control freaks can be proactive rather than reactive.
Grapes are picked earlier than many producers because of the belief that the feminine aspects of Pinot Noir are best expressed at lower sugar levels. If grapes are picked over several days, the incoming grapes are never added to the existing must, but rather fermented separately. Each vineyard is treated to the same fermentation regimen. No cold soaks are used, although when the fruit arrives at the winery, the grapes in their own tank juice are inoculated with proprietary yeast and usually the fermentation does not begin for two days. Five ton, double-walled, rectangular open-top stainless steel milk shipping containers are used for fermentations to maximize surface area relative to height and width. All punch downs are by hand. Portable glycol heaters maintain complete temperature control. Whole cluster, ranging from 20% to 40% is used, depending on a number of factors. The thinking is that whole cluster provides some aroma and flavor nuances and age ability, but significant whole cluster inclusion should be avoided because it can detract from early drink ability that most consumers demand. Fermentations are short by Pinot Noir industry standards, lasting from 7 to 10 days. Pressing is carried out with an old incarnated bladder press once used for apples. Aging is carried out in 50% to 70% new Francois Freres oak barrels for 11 months. The entire winemaking process is by gravity flow (WesMar owns no pumps). Fining and filtering are unnecessary because the wines are lovingly tendered in small lots and constantly monitored for stability. No flavor nuances are ever squandered by manipulation or intervention.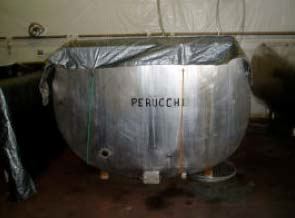 Asked to describe the WesMar "style," Denise touts, "Aromatic, fruit-forward, not excessively ripe, balanced acidity, complimentary fruit tannins, subtle oak impressions, richness of flavors, finishing with a cloying mouth feel and flavors that linger long after the wine has left the mouth." In other words, as the WesMar tag-line says, "Palate Pleasing Pinot Noir."
Each year, the WesMar Pinot Noirs are released on Valentine's Day. I recently tasted the lineup of 2007 WesMar Pinot Noirs, released Valentine's Day, 2009. 2007 offered a perfect growing season and Kirk and Denise were very pleased with the quality of the grapes. Because of early bud break, the clusters had ample hang time to fully develop. Clusters were on the small size, contributing to concentrated flavors. The vintage compares to 2005, but with more fruit concentration and structure. Flavors were noticeably precocious when Kirk and Denise sampled from the fermenting tanks. As they were free running (siphoning via gravity) the just-fermented juice wine from fermentation tank to barrel, they thought, "For a very young wine lacking the influence of oak, this tastes surprisingly like a finished wine." During barrel tastings, they remarked, "This tastes like it could be bottled right now." Kirk and Denise say, "This is the most exciting vintage with which we have worked. Remember, we are suckers for wines with vibrantly feminine fruit flavors and low alcohols!"
My experience has been that the WesMar Pinot Noirs will age perfectly fine for at least six years, and even longer in large format. WesMar is one of the minority of Pinot Noir producers who release most of their bottlings in magnum format. Wines in magnums can be expected to age 10 to 15 years. Unlike most producers who add an extra charge for magnums, WesMar magnums are twice the 750 ml bottle price.
The 2007 lineup of WesMar Pinot Noirs are stunning wines, the best vintage ever for this producer. Every wine has impeccable balance, never leading you to think tannin, acid, or oak upon tasting. All have a purity of fruit expression that is striking. Visit the website at www.wesmarwinery.com for Kirk and Denise's tasting notes. The wines are sold primarily through a mailing list. The prices are very fair. The wines sell out every year, but because of the current economic climate, there are still some of the 2007 vintage Pinot Noirs remaining for sale. This is a unique opportunity, because outstanding wines are often long gone by the time they are reviewed. Phone 707-829-8824 to order.