Don Sebastiani & Sons Branching Out
It is hard to keep up with all the different Pinot Noir bottlings under the umbrella of the negociant wine company, Don Sebastiani & Sons. Until recently, the main wine division of Don Sebastiani & Sons was the Three Loose Screws Wine Company which includes the popular Smoking Loon and Pepperwood Grove labels made from purchased bulk wine and selling for less than $10. In addition, Pinot Noirs have been released under The Crusher, Aquinas and Mia's Playground labels, and represent a step up in quality and price. Last year Three Loose Screws Wine Company sold 1.7 million cases.
The higher-end division of Don Sebastiani & Sons, The Other Guys, has been operating separately under the direction of the three children of Don and Nancy Sebastiani (Donnie, August and Mia), and includes Moobuzz Pinot Noir. The market for The Other Guys wines is directed at restaurants and retailers and sales are in the 110,000 case per year range. The Other Guys is an innovative brand, directed at millennial wine drinkers, including names such as Hey Mambo and Plungerhead and new packaging like screw caps and Zork closures. Their tag line says it all, "Laid-back guys, stand-out wines." I love the idea. The wine has no tie-in with the upcoming movie, "The Other Guys," starring Will Ferrell and Mark Wahlberg.
Don Sebastiani & Sons is currently in transition and by the end of 2009, Don's two sons will each be in charge of his own company: The Three Loose Screws division will be discontinued and will become Don & Sons with The Other Guys operating as a separate stand-alone company. Both companies will be under the umbrella of Don Sebastiani Family Wines.
The Sebastiani family feud is one of the most publicized in Sonoma County. In 1986, Sylvia Sebastiani fired her oldest son, Sam Sebastiani, and put her other son Don in charge. Sam Sebastiani started his own winery, Viansa, but it was not successful and was subsequently sold. Sebastiani Vineyards was also sold and Don launched his own company, Don Sebastiani & Sons, which has been very successful.
The Pinot Noirs I have sampled from the two divisions of Don Sebastiani & Sons have been uneven, with some wines representing excellent value-priced examples of Pinot Noir, and others offering agonizingly poor quality. I am always interested in discovering well-priced quality Pinot Noirs for everyday drinking so I have sampled the Pinot Noirs of Don Sebastiani & Sons off and on through the years. Recently, I tasted two recent releases.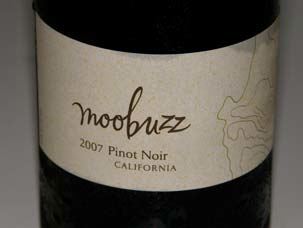 2007 moobuzz California Pinot Noir
13.5% alc., pH 3.76, $20 (retail, but often sold at $14-$15), yellow Zork closure. Topographic map of Monterey on the label where the grapes are primarily sourced. Best barrel lots from Monterey County in the 2007 vintage. Aged 10 months in French oak. · Initially a very bright perfume of cherries, strawberries and raspberries, leading to a smoky influence over time. Moderately rich core of berry fruit with a smoky overtone. Minimal tannins and easy to drink. Decent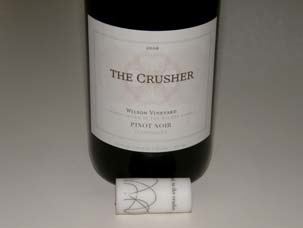 2006 The Crusher Wilson Vineyard Clarksburg Pinot Noir
13.5% alc., $12- $13, white synthetic cork closure. · The nose is composed of black fruits, herbs, oak and cedar. Moderately lush dark fruits create a plush mouth feel. Woodsy and earthy with some oak char in the background. Smoothly textured, this bold wine represents the dark, loamy side of Pinot Noir. Decent. The 2008 vintage is in current release but I have not sampled it.