Pinot Briefs —Newsletter 8.4
Geologist Debunk Soil Impact on Wine?
Not so fast. The Associated Press (AP) reported this week on the Geological Society of American conference in Portland, Oregon. The news report chimed, "Debunking mistaken notions of terroir was one of the goals of the scientists during the meeting." It went on to say, "Geologists say wines may vary in levels of dissolved minerals, but those variations aren't related to the levels in vineyard soil. The concentration of minerals in wine is below the threshold of human taste and smell. Whatever 'minerality' in wine is, it is not the taste of vineyard minerals." In a communique I received from Damien Casten of Candid Wines in Chicago, he sent to me this response from noted Oregon geologist, Greg Jones. "I was at the meeting (a very good session in my opinion) and gave two talks. Even what I said was taken out of context in the AP story as was much of everything else. There was no 'debunking,' only good debate about the relationships between climate, landscape, soil and vine. The take home was that it is clearly a non linear issue we know virtually very little about, but that the use of terms like 'minerality' are overdone and have no connection or basis for being derived directly from some mineral aspect in the soil. It never stated that soil has no impact on wine. To the contrary, the take-home for me confirmed what I truly believe: geology, landscape and soil are important factors that mediate the interaction between climate and the vine, especially soil water supply and nutrition. Climate is most basic and most profound for what can be grown where and how. For me this gets back to the sense of place or the importance of site being at the core of terroir!"
Toss Those Heavyweight Bottles Sure those heavy bottles with large punts are impressive and make a statement, but I hate them. They don't fit into my cellar racking, they are awkward to manage, and they are increasing our carbon footprint. I am not alone. Tim Atkin wrote in The Observer (October 25, 2009), "Anyone who makes an icon wine seems to come over all macho and purchase the thickest glass available." Atkins, who is a wine critic for the UK newspaper, has vowed to not recommend any wines that come in a heavyweight bottle. The only exception is Champagne and sparkling wine where the packaging must be resistant to the high pressures of the wine inside. Read his remarks at www.timatkin.com.
By the Numbers Number of wineries in California: 2,843. Number of wine grape growers in California: 4,600. Number of varieties of wine grapes grown in California: >110. Number of bottles produced with one ton of California wine grapes: 797 (about 66 cases). Number of bottles produced by one grapevine: approximately 5. Number of results from Googling California wine: 23-46 million. Number of people who visit California wine regions every year: 20.7 million. Number of wine companies that represent more than 90% of U.S. wine market by volume: 30. Percentage of wine buying market that buy wine over $25: 2%. Number of wine blogs on the internet: over 700 (570 in English).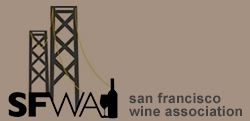 San Francisco Wine Association This is a consortium of 20 boutique, family owned wineries that produce wine in San Francisco. SFWA member wines are available for sale at www.sfwineassociation.com, and the association pours at events in the San Francisco Bay Area. The second annual SFWA Holiday Showcase at Crushpad in San Francisco will be held on Thursday, December 10, from 5:30 to 8:00 PM ($25). Several of the wineries produce or even specialize in Pinot Noir including Bartz-Allen Winery, Connor Brennan Cellars, Damian Rae Winery, Due Cani Cellars, Joelle Wine Company, Kindred Wines, Mark Moretti Winery, Millarium Cellars, PerryMoore Wine, Seawind Wines, Pug Wine, Think Tank Wine Company, Townley Wines, and Wait Cellars. I haven't sampled many of the Pinot Noirs from these producers but plan to do a tasting soon. Stay tuned. Other notable independent producers of Pinot Noir in San Francisco are A.P. Vin, August West, and Harrington Wines.
Wine Tasting Palate Cleanser SanTásti is a sparkling carbonated beverage formulated to refresh the taste buds between sips of wine. Supposedly, SanTásti helps remove tannins and stimulate saliva flow to leave the mouth with a clean feeling. The drink is slightly sweet and citrusy but has no aftertaste. It is available in classic, peppermint and cinnamint flavors. SanTásti is distributed throughout California. For more information, visit www.santasti.com.
Iron Content of Red Wine Influences Compatibility with Seafood In a study published in the Journal of Agricultural and Food Chemistry, it was found that red wines with high levels of iron caused a strong fishy aftertaste with seafood (scallops in the research study), while white wines did not. When a substance was added to the red wine to bind iron, the exaggerated fishy taste cause by the red wine disappeared. Red wines with lower iron levels would be potentially better matches for fish, but in my limited research I could not find any information on the relative iron levels of different commonly consumed red wine varietals.