Windy Oaks Estate Vineyards & Winery
Like Alfaro, Windy Oaks is located in the tiny hamlet of Corralitos in the southwestern corner of the Santa Cruz Mountains AVA. The proximity of Corralitos to the Pacific Ocean makes it ideal for winegrowing. The summers are dry and warm with foggy mornings and the winters are cool and moist with annual rainfall between 12 and 30 inches. Large temperature swings are not unusual, with 90º days followed by 50º nights. The growing season here is among the longest of any viticultural region in California, with bud break in February and harvest in some vintages extending all the way into the first days of November.
Jim and Judy Schultze left the corporate world behind and used their many years of interest and experience in artisan winemaking to create Windy Oaks Estate beginning in 1996. 18 acres are planted to Pinot Noir (including 1 acre of a special Burgundian clone) and 1 acre to Chardonnay at 900 feet on a ridge overlooking the town of Corralitos and the Monterey Bay beyond.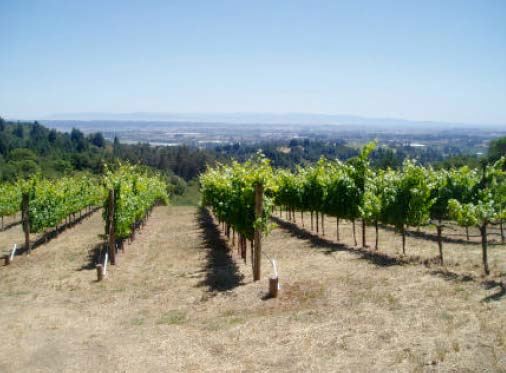 Viticulture and winemaking here is very much Burgundian-themed. The Schultze Family Vineyard is farmed according to sustainable and organic principles with hand-tending of all the vines which are directly monitored for water status. The site is extraordinary for growing the Burgundian varieties, yielding physiologically ripe grapes without high sugars but with high natural acidity. The planted Pinot Noir clones are Dijon 115, 667, 777 and 828, Pommard, and 2A.
Winemaking is non-interventional and natural with no additives except yeast (most fermentations are 50% indigenous and 50% inoculated). No racking is done once the wines are in barrel. The Schultzes travel yearly to Burgundy to meet with coopers. They use 3-year-old air-dried tight-grained French oak barrels and age their Pinot Noirs for 18 to 27 months using a relatively high percentage of new oak (50% up to 75%). The wines are neither fined nor filtered. The estate winery is quite modern with a basket press and a bottling line that employs minimal oxygen uptake insuring that the wines go through little or no bottling shock. Jim is experimenting with oak tank fermentation, 100% indigenous yeast fermentation, and 100% whole cluster fermentation. Special limited bottlings of Pinot Noir have been released employing these innovative techniques. The attention to detail throughout the winemaking process and meticulous care of the vineyard have produced extraordinary wines at Windy Oaks.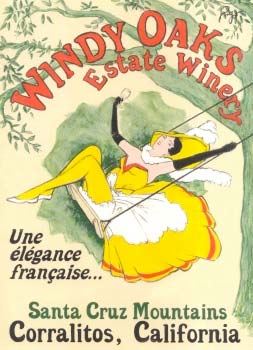 Windy Oaks Estate wines are sold primarily through the winery's Wine Group. The Limited Releases such as the Proprietor's Reserve, Special Burgundian Clone and One-Acre Chardonnay are only available to Wine Group members. Since production is small (2,000 cases of Pinot Noir), the Wine Group has been closed since 2007 (a waiting list is now in place), but an Early Release List allows you to buy most new releases before their offering to the general public. Some wines are sold on the website subject to availability. Visit the website at www.windyoaksestate.com for more information. Special events and open houses are held periodically at the winery for dedicated customers and occasionally the public. 831-786-WINE.