Heart O' The Mountain
This unique property, located in a relatively isolated area of Scotts Valley among the redwoods, is rich with history. Beginning in 1881, Pierre Cornwall produced wine here under the Santa Sada label. Cornwall named his Cornwell Ranch estate "Heart of the Mountain." The famous director, Alfred Hitchcock, acquired the estate from the Cornwell family in 1940, and lived here on and off until 1970. The property was a hideaway for Hitchcock, a place where he could get away from the public eye and the pressures of Hollywood. Hitchcock built a 5,000 square feet house in a Spanish style surrounded by elaborate gardens. An adjacent vineyard was planted which reputedly grew white Riesling that he sold to Cresta Blanca Winery. Hitchcock was a gourmand and wine lover who entertained many Hollywood luminaries here including Ingrid Bergman, Princess Grace and Prince Rainer of Monaco, and Joan Fontaine.
The 154-acre property was acquired by Robert and Judy Brassfield in 1978. They moved into the home in 1979 and have lovingly restored this historic estate including an extensive renovation of the house after the 1989 Loma Prieta earthquake. The Brassfields transformed an old horse barn on the property into a winery in the early 2000s. Robert and his brother were investors in Felton-Empire, a Santa Cruz Mountain winery that dates to the late 1970s. One of Robert's ex-partners, Jim Bauer, planted the vineyards at Heart O' The Mountain and continues to manage them along with Prudy Foxx. There is a total of 6.6 acres of Pinot Noir including clones 667 and 777 (planted in 2002), 115 and 828 (planted in 2006), and Pommard (planted in 2003). The breathtaking site sits at 1,100 feet and overlooks Scott's Valley. Note the photo below showing a lower section of vineyard visible through the redwood trees.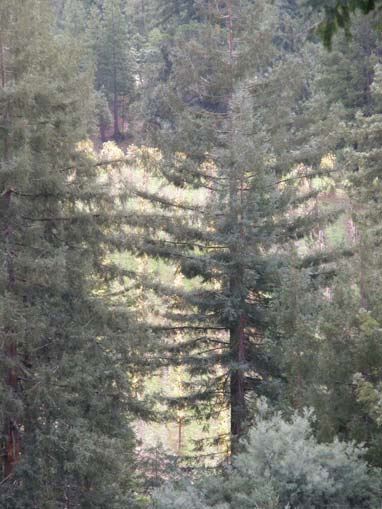 Robert's son Brandon, has partnered with his father to produce the wines at Heart O' The Mountain using the assistance of a consulting winemaker beginning in 2004. The first commercial release was in 2005 consisting of 180 cases of Pinot Noir. With the 2007 vintage there are three bottlings: an Estate blend consisting of all clones grown on the property, Estate Pommard Clone, and Estate Triple Seven (clone 777). The 2006 vintage of the Estate blend has been reviewed favorably by me previously, and at the time of my visit, the 2007 Estate blend had not been released. Current production is 800 cases.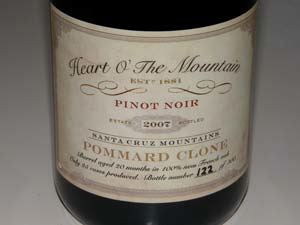 2007 Heart O' The Mountain Estate Pommard Clone Santa Cruz Mountains Pinot Noir
14.6% alc., 25 cases, $48. Aged 20 months in 100% new French oak. 100% de-stemmed, whole berry fermentation. Unfined and unfiltered. Only available to Wine Club members. · Enticing and penetrating aromas of subtlety-spiced cherries which carry over to the flavor profile. Beautifully composed and harmonious with supple tannins and a clean, refreshing finish. Flat-out delicious with plenty of finesse to charm. One of the best Pinot Noirs tasted on this trip. Regretfully, it is already sold out to Allocation Club members. The Pommard clone thrives on this site.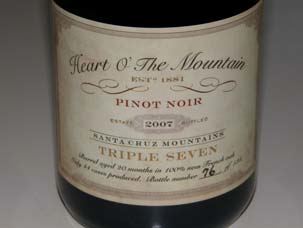 2007 Heart O' The Mountain Estate Triple Seven Santa Cruz Mountains Pinot Noir
14.8% alc., 44 cases,$48. Whole berry fermentation after cold maceration. Aged 20 months in French oak. Unfined, unfiltered. · Deep color. Brooding nose showing ripe dark stone fruits, a hint of oak char and barnyard. Plenty of rich, plush and very ripe plum fruit fans out on the palate. The oak is a subtle accent, the texture is all velvet, and the finish lingers. A bold and aggressive wine that will appeal to lovers of hedonistic fruit. Very good.
Heart O' The Mountain Pinot Noirs are sold almost exclusively to the winery's Allocation Club members. Sign up at www.heartothemountain.com. The winery is not open to the public due to its relative inaccessibility created by a narrow one lane access road. Those who buy a case are invited to the annual winery party where they can tour the exterior of the historic Hitchcock house. 831-345-6133. The photo below shows Brandon (left) and his father Robert at the winery. The pair are extremely warm and gracious hosts.