Mount Eden Vineyards
This iconic Santa Cruz Mountains winery has been featured in the PinotFile in several issues. Among California wineries, Mount Eden's lineage of estate bottled Pinot Noir and Chardonnay is the longest in California. Founded in 1945 by legendary vintner Martin Ray, it is recognized as one of the first "boutique" California winery properties with a unique focus on small lots of three varieties normally found in disparate locations: Pinot Noir, Chardonnay and Cabernet Sauvignon. Mount Eden Estate is situated at 2,000 feet overlooking Silicon Valley, reached by a winding 2.2-mile dirt road. The grape vines are planted in infertile Franciscan shale on a cool, exposed hilltop, leading to low-yielding, distinctive wines. Proprietor and winemaker, Jeffrey Patterson, has been at Mount Eden since 1981, a remarkable longevity for a California vintner. In 2007, Mount Eden acquired an additional 55 acres in the Saratoga foothills (the formerly Cinnabar Winery property), which has been named Domaine Eden.
The Mount Eden Vineyards estate wines account for one-third of production. A Mount Eden Vineyards Saratoga Cuvée Pinot Noir and Chardonnay is produced from declassified estate grapes, grapes grown nearby, and Mount Eden's satellite vineyard five miles to the south. Mount Eden Vineyards also produces nonestate Chardonnays from the central coast of California, primarily Edna Valley. Patterson consults on a number of winery projects including the recently revived Mountain Winery in Saratoga.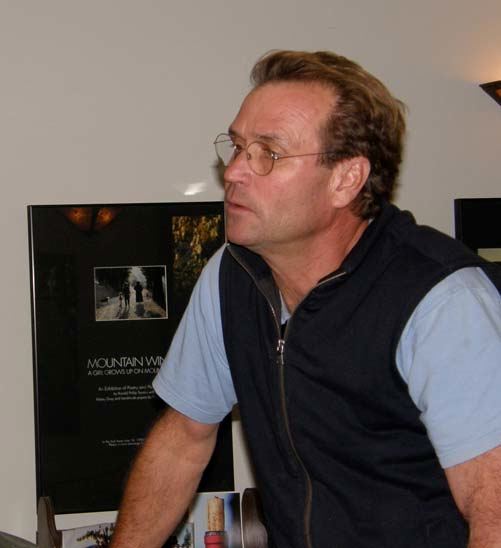 The Mount Eden site now consists of 40 acres of Chardonnay, Pinot Noir, and Cabernet Sauvignon, with small amounts of Merlot and Cabernet Franc. The Chardonnay and Pinot Noir were propagated from selections brought to California by French winemaker Paul Masson, while the Cabernet Sauvignon came from La Questa Vineyard in nearby Woodside. Patterson began a stepwise replanting of the vineyard at Mount Eden in 1984, but kept 1 acre of the original Pinot Noir vines as a "mother vineyard." The remaining 6 acres of Pinot Noir are planted to Winery Lake, Mount Eden, Swan and Calera selections, and Dijon clones 115, 667, 777 and 828. The Mount Eden Estate Pinot Noir is a mosaic of all of these clones. Patterson is committed to dry farming, believing that with non irrigation the vintage character expresses itself more purely.
Mount Eden Estate Chardonnay is grown on 20 acres, from which 1,200 to 2,000 cases are produced each year. The grapes are pressed without crushing and the juice is all barrel fermented in new and one year old French Burgundy barrels, where the wine undergoes full MLF and is aged on the lees for 10 months before being lightly filtered before bottling. The Chardonnay is then cellared for two years before being released for sale. Patterson aims for a longevity of 20 years for the Chardonnays and his past tastings of vintages that have aged this long, particularly in magnum format, have proved the capability of this site to produce remarkably age worthy wines.
Pinot Noir vines occupy 7 acres of the Mount Eden estate vineyard and yields are typically one to one-and-a-half tons per acre. 50% to 100% whole cluster is used. Patterson kids about whole cluster saying, "The problem with whole cluster is the stems!" Natural yeasts are used for fermentation in small open-top fermenters, lasting 10 to 14 days with the must punched down by hand. The new wine is aged for 18 months in 75% new and 25% one-year-old French Burgundy barrels and bottled unfined and unfiltered. Patterson's goal with Mount Eden Estate Pinot Noir is, "A wine that I am still proud of in 10 years." The Pinot Noirs tend to be more austere upon release than many California examples, requiring several years of cellaring to reach their apogee (7 to 10 years). A 1998 Mount Eden Vineyards Estate Pinot Noir tasted at this year's Pinot Days was superb with layers of flavor, impeccable balance, and charm to spare. The 2000 vintage was equally impressive.
Mount Eden Vineyards Estate wines are sold through a mailing list, online and through retail distribution. Tasting is available at the Press Club in San Francisco (www.pressclubsf.com). Tours (without tasting) of the historic Mount Eden property are available each weekday by reservation (except during the harvest months of September and October). 408-867-5832, extension 10. Library wines are sold on the website (www.mounteden.com). The excellent 2006 Estate Pinot Noir is still available. Magnums of estate Pinot Noir and Chardonnay are also produced and highly sought after for their longevity