Eldridge Estate (Yes, there is great Pinot Noir in Oz)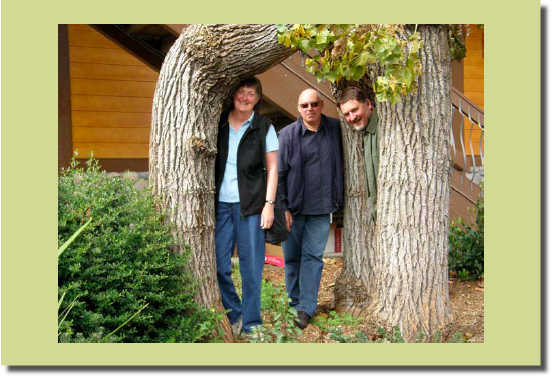 My recent trip to the Santa Cruz Mountains was made extra special by the three winos from Down Under pictured above (Wendy and David Lloyd with Peter Brown in the center). The Lloyds own a boutique winery in the Red Hill region of the Mornington Peninsula in southeastern Victoria, Australia and specialize in Pinot Noir. I visited them last year on my trip to Australia, and discovered their special wines. David had read a feature I wrote on the Santa Cruz Mountains and noticed a number of similarities between the Santa Cruz Mountains and the Mornington Peninsula. A trip was planned and well-taken recently.
The Lloyds farm an estate vineyard of 7 acres planted to Pinot Noir, Chardonnay, Gamay and Sauvignon Blanc. In location, the site is very similar to Burgundy in France but in the opposite hemisphere. The soil is a rich volcanic loam and a spring-fed dam on the property allows for necessary irrigation. The site is protected by natural land forms resulting in a long, cool growing season. The vines are trained using the Scott Henry system of canopy management developed in the 1980s at the Scott Henry Vineyard in Oregon. Six clones of Pinot Noir are planted including Dijon 114, 115, 777, 2A, Pommard and MV6 ("Mother Clone").
Eldridge Estate wines have received considerable acclaim in Australia, and in the 2010 James Halliday Wine Companion, Eldridge Estate was listed as a Five Star Winery. Unfortunately, the wines, like many fine Pinot Noirs from the Mornington Peninsula, are snapped up by locals who visit the cellar doors (tasting rooms) and are not exported to the United States. I have had the good fortune to sample the Eldredge Estate Pinot Noirs both here and in Australia and have been very impressed by the elegant style of the wines which are modeled after those of Chambolle-Musingy. I sampled a few vintages of Eldridge Estate Pinot Noir that David brought with him from Australia to the Santa Cruz Mountains. The 1999 vintage was spectacular, still filled with enticing, fresh fruit and charm. The wine reviewed below was sampled at home after the trip. Visit the website at www.eldridge-estate.com.au.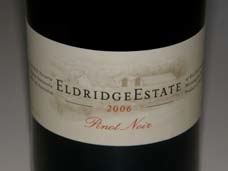 2006 Eldridge Estate Red Hill Mornington Peninsula Victoria Australia Pinot Noir
14.0% alc., screw cap. · Moderate deep red color in the glass. Attractive aromas of cherries and ripe strawberries with a hint of oak and mint. Delicious slightly confected cherry core that is rich yet light on its feet. Accents of savory herbs and cinnamon spice are complimentary. Beautifully composed with gossamer tannins and a crisp finish. My only nit would be a lack of persistence on the refreshing finish but the wine more than makes up for this with upfront charm.