New Additions to Willamette Valley Make Wine Touring More Enticing
It is ironic that the modern Oregon wine industry was founded by outsiders, many of whom came from California, yet Oregonians have never been fully receptive to hosting wine tourists. Unlike California, Virginia, New York and New Zealand, Oregon has never developed the infrastructure to comfortably accommodate visitors eager to discover the state's marvelous wines. The Willamette Valley is an amusement park of Pinot Noir, yet because of a lack of lodging and other tourist amenities in the Valley, many visitors shun staying at the "park," heading instead back to Portland after a day of wine tasting where ancillary services such as comfortable accommodations, fine dining, and shopping are readily available. Understandably, residents of the Willamette Valley want to preserve their bucolic piece of paradise and maintain their agricultural heritage. However, Oregonians are slowly coming to terms with the reality that tourism can be tastefully integrated into the countrified lifestyle of their communities. Recent lodging and dining additions to the Willamette Valley now offer the wine lover some enticing options. Willamette Valley's Pinot Paradise has now become an attractive destination for the sophisticated wine enthusiast.
All photographs in this article are copyrighted and used with the permission of Andrea Johnson Photography (www.andreajohnsonphotography.com). They may not be reprinted or used for advertising purposes.
Inn at Red Hills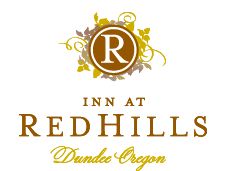 The story of the Inn at Red Hills begins with Dustin Wyant. He grew up in Bend, Oregon, had a successful career as the Sales and Marketing Director for Willamette Vineyards, and later spent twelve years in Montana managing the St. Mary Lodge & Resort at Glacier National Park. He recruited staff from all over the world, managed a seasonal work force of 250 people, oversaw five restaurants and even filled in as a working chef when the chef abruptly departed one summer the day before the July 4 holiday.
Upon returning to the Willamette Valley, Wyant envisioned a 60-room luxury hotel built on a farm in the Dundee Hills modeled after the Blackberry Farm in Tennessee and the Herbfarm in the state of Washington. He wanted to offer guests a full immersion in the Oregon farm and wine country experience by surrounding the luxury inn with a working vineyard and winery, a cheese maker, and livestock, poultry, and organic gardens that would supply the on site restaurant with a sustainable source of fresh food. He realized that the Willamette Valley had no professional hospitality to offer the wine traveler touring the region.
Wyant connected with a prominent local Oregonian, Kendall Bergström, whose family had left Portland to settle in Dundee in the late 1990s. Kendall's father, John, a successful surgeon, wanted to return to his childhood agricultural roots remembered as a child in Sweden. He planted Bergström Vineyard and soon after, in 1999, launched Bergström Wines with his son, Josh, handling the winemaking duties. Kendall and her husband Paul de Lancellotti founded de Lancellotti Family Vineyards the same year on top of Calkins Lane in the Chehalem Mountains. In 2001, the Bergström Winery was built on the de Lancellotti property. With both wineries well established, Kendall turned her attention to commercial real estate development.
Upon meeting Wyant in 2006, she realized they both shared the vision of creating a casual but elegant hotel and spa in the Willamette Valley. Their search for an appropriate site led them to a 3.5-acre property on Worden Road in the Dundee Hills, a short distance from Highway 99W, the main thoroughfare through Dundee. Together they dedicated six months to lobbying for their hotel in the state legislature in Salem, but their proposed land use was denied. Discouraged, but undaunted, they decided to convert two new commercial buildings in Dundee into Oregon Wine Country's first full-service boutique hotel. The process of retrofitting the buildings to meet their vision was challenging, but the result has been very impressive. They elected to work with contractors who primarily lived within 30 miles of Dundee and attempted to use green materials such as recycled fiber carpets whenever possible in furnishing the guest rooms.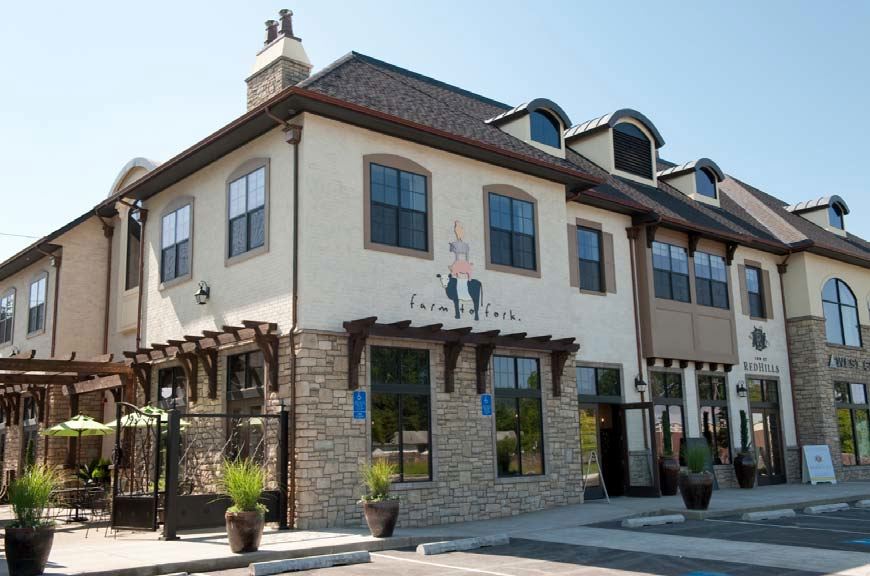 The Inn at Red Hills has 20 distinctive rooms, each with a different size, layout and view. Some rooms are located on the Highway 99W side of the building, but I did not find the traffic noise to be intrusive. The rooms are tastefully furnished with all modern amenities including 40" flat-screen televisions, comfy beds with adjustable firmness, choice of hypoallergenic pillows or down feather blend pillows, well-lit bathrooms, roomy showers, organic bath products, hi-speed internet access, and individual room-operated heaters and air conditioners. The walls are decorated with Oregon wine country photographs by renowned photographer, Andrea Johnson, whose photographs appear in the new book, Passion for Pinot, and who supplied the images for this feature. Her works are also displayed in the Inn's restaurant. Complimentary morning coffee and tea service is available daily as are bottled water, cookies, and the Oregonian and USA Today newspapers. There is ample free parking, and the Inn's restaurant, Farm to Fork, is conveniently located a few steps away from the guest rooms removing any worries about driving home after an evening of revelry and Oregon Pinot Noir.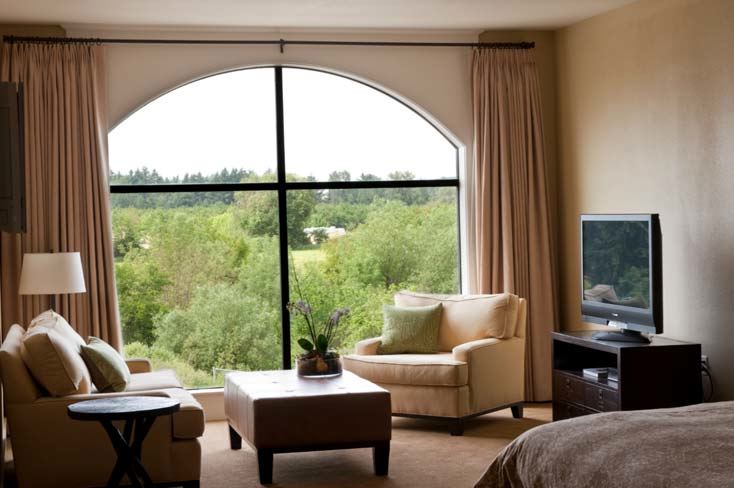 Farm to Fork is billed as a gourmet cafe and market and the description is very apropos. Attempts are made to source all products served in the restaurant from within 250 miles of Dundee, especially those that result from a serious commitment to sustainable, organic and biodynamic farming practices. This insures freshness and emphasizes seasonality as well as displaying the diverse gastronomic bounty of Oregon. The talented chef, Paul Bachand, has been cooking for thirty years in the region and knows the local fishers, foragers, ranchers and farmers. His many contacts show up on the dinner menu as locally grown baby lettuces, herbs and heirloom tomatoes, Carlton Farms pork, Draper Farms chicken, superior Farms lamb, Penn Cove mussels, and artisan Oregon cheeses. In addition, the Wyant and Bergström have a farm at Bergström Winery where they grow black cap berries, blueberries, marionberries, raspberries, vegetables and lavender, all of which are used in the restaurant and hotel. Wyant is such a passionate foodie that he grows twelve varieties of heirloom tomatoes on another plot at his home and serves them in the restaurant. Bachand roasts, smokes and seasons the restaurant's meats so they are all natural. The restaurant's deli stocks many local and international artisan cheeses and house-made charcuterie. Much of the food is available for take-out for picnics in wine country, off site catered events, or even in-room dining. Wyant remarked to me about the most impressive feature of Bachand's cooking. "He avoids fancy and complicated preparations, preferring that the flavors come through."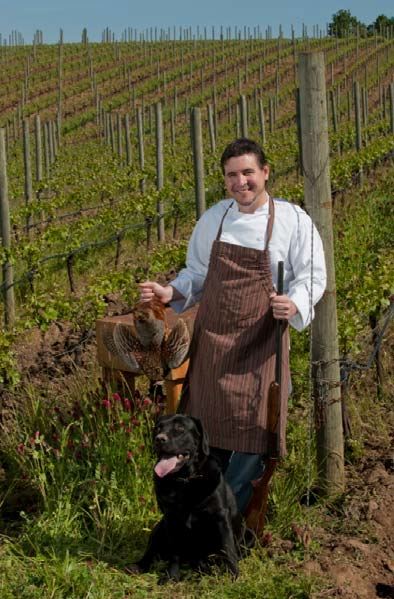 The Farm to Fork gourmet cafe and market is located next to the Inn's compact lobby and is a bright and comfortable spot to dine. Breakfast, lunch and dinner are served daily. The service is exceptionally prompt and the personnel are professionally trained. Either Wyant or Bergström are always visible in the restaurant, offering guests personal attention and administering to every detail. Outside seating is available in the stone courtyard adjacent the restaurant. Fresh-baked pastries are available each day at 6:00 AM for early risers, breakfast begins at 7:00 AM daily. I loved the hearty breakfasts which included tasty items like Alderwood Smoked Trout and Farm Egg Scramble ($11), Almond Battered Brioche French Toast ($9), and Croque Madame ($11). The dinner menu changes frequently depending on what is farm fresh and locally available but first courses include choices like Warm Truffled Goat Cheese Tart ($9) and Grilled Rabbit Sausage with Pinot Noir Stewed Cherries ($9). Entrees include Wild Coho Salmon with Pesto Basted Fingerling Potatoes ($19), Superior Farms Leg of Lamb with Hazelnut Salbitixada and Charred Sweet Onions ($18), and Roasted Draper Farms Chicken Breast with Yukon Gold Potato Puree ($16). I am beginning to salivate.

The Press Wine Bar is a focal point of the restaurant with a wall of wine bottles leading to a roomy and inviting lounging area and tasting bar. Manager Mark Bosko has assembled an impressive offering of local Oregon wines, most of which are sourced from growers and/or wineries that are sustainable, organic and biodynamic. Bosko is very knowledgeable and well-connected in the local wine community allowing him to access interesting small lots of wines including older vintages. A rough hewn wood community table that seats 8 is my favorite place to dine. Featured flights of wines change frequently, but the choices are always interesting. When I visited, the Oregon Pinot Noir Flight included the 2007 Crowley Willamette Valley Pinot Noir, the 2007 Roots Estate Yamhill-Carlton District Pinot Noir, and the 2007 Ayoub Memoirs Willamette Valley Pinot Noir. A "Pink is the New White Flight" consisted of 2008 Penner-Ash Roseo, 2007 Belle Pente Cuvee Contraire, and 2008 Antica Terra Pinot Noir Rose. If you hang out at the tasting bar, you will almost certainly run into friendly local winegrowers or winemakers.
The first night I arrived, I was exhausted after a day of traveling. It was 98ºF outside. I grabbed a bottle of cool wine from the extensive selection, ordered a salad and sandwich from the deli, and retreated to my room to eat and sip in complete relaxation. It was a simple but very memorable dinner.
The Inn at Red Hills has a large meeting space with floor-to-ceiling windows that can accommodate 85 people for a sit down dinner, a large group for a business meeting or a wedding reception. For wine enthusiasts, the concierge services offered by the staff are unmatched in the region. Wyant, Bergström and Bosko are plugged into the wine community and can arrange tastings at boutique wineries, often at short notice, that are normally closed to the public.
Personal touch is the hallmark of the Inn at Red Hills. The lodging has a B&B mentality, but offers all the amenities of a small luxury hotel. The owners continue to dream of the day when Dundee will resemble St. Helena in the Napa Valley with its walkable access to many restaurants, lodgings, and boutiques. In the meantime, they have created a welcoming retreat in the Willamette Valley wine country.
Website: www.innatredhills.com. Address: 1410 N. Highway 99W, Dundee. A 45-minute drive south of Portland (36 miles). Over 100 wineries located within a 30-minute drive. Phone: 503-538-7970. Room Rates: Seasonal but generally $150-$350.
The Allison Inn & Spa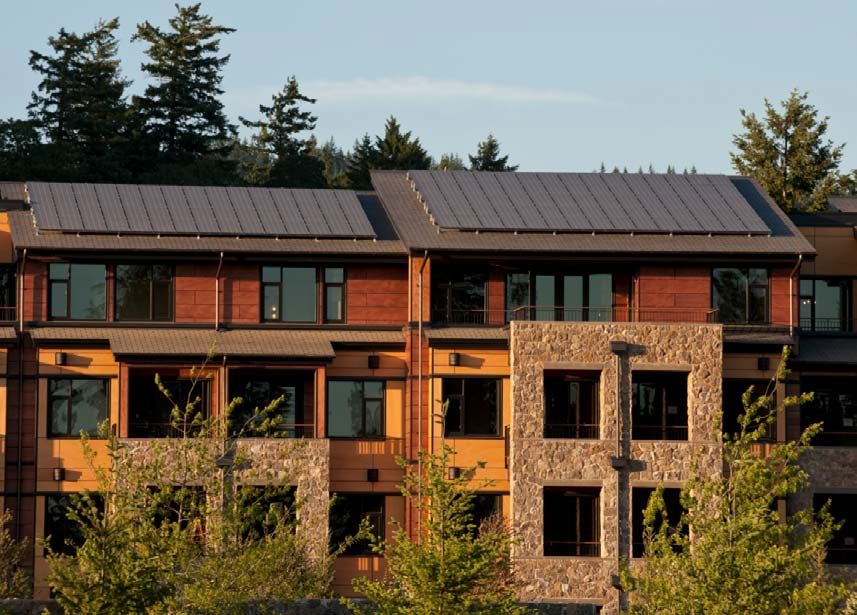 Owner Joan Austin, who along with spouse Ken founded Newberg's A-dec dental equipment company, has family roots that trace back to the 1850s Oregon Trail. These Oregon values have led her to create a property naturally complimentary to Oregon's existing way of life, as opposed to a development that imposes itself on the region. Seattle-based architectural firm GGLO was charged with designing a luxury inn that was authentic, environmentally sensitive, casual yet sophisticated, and timeless. Nestled in the foothills of the Chehalem Mountains in the town of Newberg in Yamhill County, the Allison Inn & Spa takes full advantage of the adjacent rolling hills, orchards, vineyards and agricultural farmland. Views to the east, west and south include Parrett Mountain, Chehalem Mountains, and the Dundee Hills.
The four-level hotel is situated on 35 hillside acres and features abundant flower and herb gardens, groves of deciduous and conifer trees, and five acres of Pinot Noir vineyards (managed by David Adelsheim). The look is contemporary with generous use of polished wood, copper accents, glass, steel and stone on the exterior and warm, modern furnishings, handcrafted Oregon wood and local contemporary art on the interior The focal point of the Inn is a dramatic glass-enclosed circular staircase connecting all four levels of the Inn's guest wing.
The Allison Inn & Spa is one of the few hotel properties in the world committed to obtaining LEED certification. This "green seal" of building practices and sustainable ongoing operations is revealed in features like solar hot water, photo voltaic cells generating seven percent of electricity, absence of plastic bottles on the property, and a roof on the meeting and function wing planted with sedum green eco-roofing.
A total of 85 guest rooms including 20 suites are located in the separate east guest wing. The rooms vary in size from 485 square feet (Deluxe King) to 1,575 square feet (Two-Bedroom Grand Suite). All rooms feature a private terrace or balcony, upholstered window seat, fireplace, built-in satellite television and DVD player, and custom-crafted modern furnishings. Five-fixture baths include double sinks and spa inspired soaking tubs. Window shades and climate controls are fully automated. The color scheme of ochre, pumpkin, eggplant and leaf green, is soothing to the eye. A final touch is the placement in each room of a hand made table fashioned with Oregon walnut.
The Allison Spa, encompassing 15,000 square feet, is the largest in the Northwest. Separate mens and womens lounges are complemented with outdoor, landscaped garden terraces and fire pits. A signature treatment is "Pinotherapy." Two saunas and steam rooms, an indoor swimming pool, a fitness studio, and an image center for beauty treatments complete the spa area
As I toured The Allison during construction with General Manager Pierre Zreik, he pointed out that all the Inn's facilities, except the indoor pool and gym, are available to the public. Zreik brings years of experience to his management position, having worked with the Four Seasons and Hyatt chains, and most recently as manager of Cavalla Point in Sausalito, California.
The Ballroom and Foyer, Meeting Rooms and Board Room are located in The Allison's west wing and total 12,000 square feet. The rooms have sweeping views, large outside terraces, and can accommodate gatherings of 10 to 200 people, making The Allison a perfect site for weddings and important social events.

The Allison's restaurant, Jory, named after one of the soils that is typical of the region, features Oregon's agricultural bounty, wines and microbrews. The Oregon Wine Country menu is complimented by a 8,000 bottle cellar featuring the largest selection of Oregon Pinot Noir in the state. Over 50 wines are available by the glass using a Enomatic system and wines are served appropriately in Riedel Oregon glassware. The cuisine is strongly influenced by seasonality and the bountiful local produce including vegetables and herbs grown in the chef's garden adjacent the restaurant. The restaurant seeks out organically grown produce when possible and butchers all meat in house. The Executive Chef is Nathan Lockwood (pictured below in the open kitchen), who previously was the chef at Acquerello in San Francisco and Fork in Marin County. A chef's table sits in the center of the open dining room and can accommodate 8 diners, a private dining room will seat 10-18 (photo above), and informal counter seating facing the open kitchen will accommodate 10. There is also outdoor terrace seating. In-room dining is available 24 hours.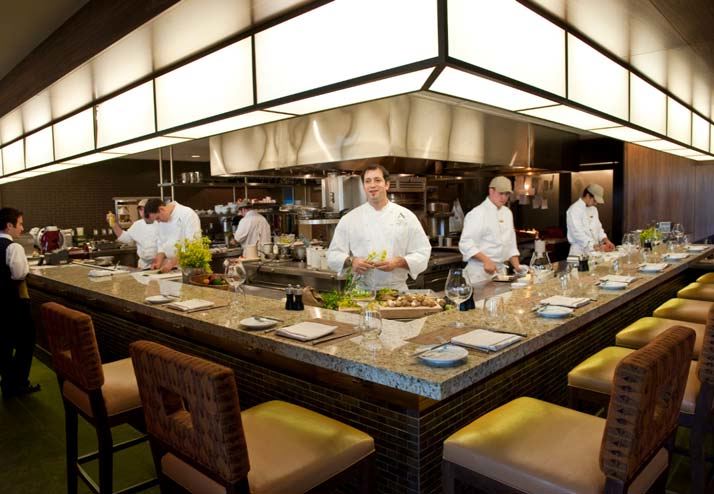 A concierge can fulfill any special interests such as golf at the new 18 hole Chehalem Glenn course in Newberg, winery touring, hot air ballooning, helicopter winery tours, equestrian and cycling winery tours, shopping and galleries, heritage sites and museums including the Evergreen Aviation & Space Musuem in nearby McMinnville. The Newberg Cultural Center is slated for opening in 2010.
This is truly an "Allison Wonderland," that finally brings the full luxury hotel and spa experience to the Willamette Valley with all of Oregon's working farms and vineyards just outside the door. The Allison is literally a paradise for Pinot lovers.
Website: www.theallison.com. Address: 2525 Allison Lane, Newberg. A 45 minute drive from Portland and less than 2 hours drive to the Oregon coast. Phone: 503-554-2525, 877-294-2525. Room Rates: $295 to $1,100 per night. Seasonal packages and specials available. Director of Sales: Laura Crugnale can assist in planning your visit and events (laura@theallison.com).