Buena Vista Carneros is Back!
Buena Vista Carneros Winery was turning out 300,000 cases annually of ho-hum wine in the last decade. The winery was certainly not on the pinotphile's radar. Their most-awarded wine was a Sauvignon Blanc made from Lake County grapes, not from their extensive vineyard holdings in Carneros. The winery was California's oldest premium winery, celebrating 150 years of winemaking in 2007, but it was living on reputation alone.
A dramatic renaissance ensued at Buena Vista, starting with the acquisition of the winery by Beam Wine Estates in 2001, and the arrival of winemaker Jeff Stewart in 2003. Stewart had been crafting notable cool climate varietals at La Crema Winery in the Russian River Valley for five vintages. Before that, he made wine at Robert Keenan, Laurier, De Loach, Mark West and Knude. A graduate of the University of California at Davis, he is a talented winemaker with a big physical presence, reminiscence of a bearded backwoodsman, with a winning smile and an unrelenting enthusiasm for his work. His mantra is balance and he says, "As with many winemakers, I believe in balance, both in the vineyard and in the wines. I like to see power and elegance working together."
Beam Wine Estates was picked up by Constellation Brands, Inc. in 2007 and they in turn sold Buena Vista Carneros to Ascentia Wine Estates, headed by former COO of Beam Wine Estates in 2008. Ascentia Wine Estates has provided the financial backing and leadership to allow Stewart to further the resurgence of this venerable winery.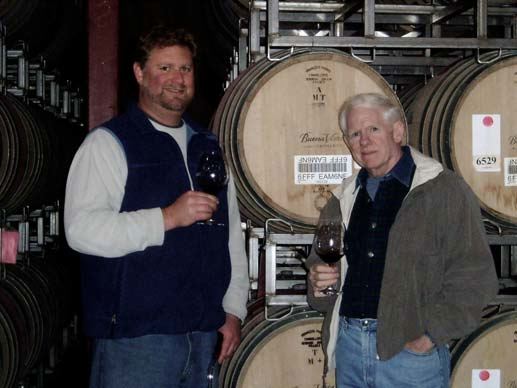 The Buena Vista winemaking facility in Carneros was built in the 1970s, one of the first wineries in the appellation. The winery has been completely modernized and now contains 62 five to ten ton open-top fermenters installed in what was the former barrel room. This gives the winery the capability of fermenting in unison all the wine from the estate.
The estate Ramal Vineyard underwent replanting led by viticulturist Craig Weaver beginning in 2003 with different rootstocks and clones matched to suitable sites on the estate property. Pommard is the Pinot Noir workhorse clone here with other clones (there are a total of 13 different clones) adding interest such as 115 (spice), 667 (structure), 777, 828, 583 (cherry), 23, Martini 13 and Swan. There are a total of 167 blocks on the property creating many different small vineyards averaging 2 acres within a single large vineyard. By 2010, 100 percent of Buena Vista's 800 acres of vineyards will have been replanted. 335 acres are devoted to Pinot Noir. Sophisticated viticulture technology is now employed including airplane-view (Vine View) infrared mapping of vine vigor which can be used to guide irrigation.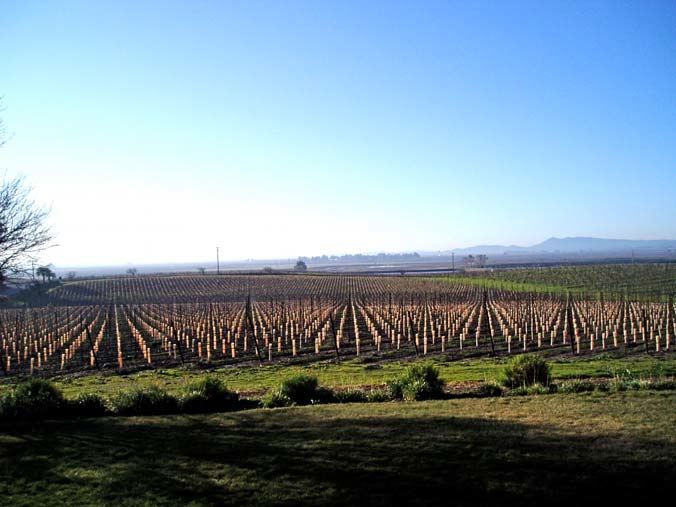 In 2004, management discontinued the previous California Classic and Grand Reserve lines of wines and reduced production to 45,000 cases. The two new lines are The Carneros Series which includes varietal bottlings of Chardonnay, Merlot, Pinot Noir and Syrah, and The Estate Vineyard Series (EVS) which are limited release wines including wines crafted from select clonal material and blocks of the property. New packaging and labeling create a modern and sophisticated tone (I am not a fan of heavy bottles but Buena Vista is trying to make a statement about quality).
Grapes are harvested at night, hand-sorted and de-stemmed, gently crushed, cold soaked for several days, and fermented with both indigenous and inoculated yeasts in open-top stainless steel tanks. A basket press is used to press the wine off of the skins. The wine is aged typically 9-10 months in typically 35% to 40% new French oak barrels. The first wines sealed with screw cap closures appeared in 2008, and the entire portfolio will be transitioned by 2009.
Stewart has a broad palate of Pinot Noir grapes to work with and the benefit of all the latest viticulture and winemaking tools. The result is the best lineup of Pinot Noirs I have ever tasted from Buena Vista Carneros and maybe even the best Pinot Noirs period from Carneros...ever.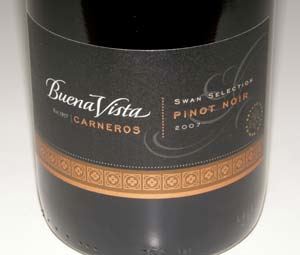 2007 Buena Vista Carneros Ramal Vineyard Estate Vineyard Series Dijon Clones Pinot Noir
14.3% alc., pH 3.66, 1,120 cases, $42, screw cap. · Charming nose featuring cherries and berries with hints of savory herbs, green garden and loamy earth. Delicious core of dark red fruits that are sparkling fresh. Velvety smooth in texture, with fine tannins, deft use of oak, and a remarkable persistence on the pleasing finish. A seamless wine of impeccable pedigree.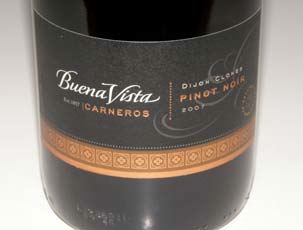 2007 Buena Vista Carneros Ramal Vineyard Estate Vineyard Series Swan Selection Pinot Noir
13.9% alc., pH 3.78, 911 cases, $42, screw cap. · Similar fruit profile to the Dijon clones bottling but darker hued with notes of pomegranate and smoke. An earthy tone pervades the luscious core of nicely spiced black cherry and black raspberry fruit. Perfectly composed with a silky, sensual texture, this wine makes for an evening of extravagant pleasure.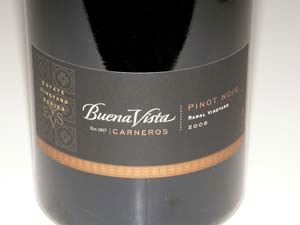 2006 Buena Vista Carneros Ramal Vineyard Estate Vineyard Series Pinot Noir
14.3% alc., pH 3.66, 4,047 cases, $38. · Moderately deep reddish-purple color in the glass. Enticing aromas of earth-kissed dark berries and cherries with hints of cola, roasted nuts and mushrooms coming and going. Juicy core of raspberry and blackberry fruit with a nod to ripeness with an undertone of root beer and currants. Nicely composed with soft-grain tannins. Very good.
Buena Vista Carneros Winery's Historic Stone Press House, located at 18000 Old Winery Road in Sonoma, is open for tasting daily. Private tastings with food and wine pairing are available. Buena Vista Carneros wines may be purchased online at www.buenavistacarneros.com. Carneros Wine Club members receive significant discounts on wine purchases. The winery is not open to the public.