Freestone Vineyards Fall Releases are Exceptional
The 2007 vintage Pinot Noirs and Chardonnays from this winery are in the upper echelon of California wines today. No expense has been spared in establishing the vineyards and winery and the resulting wines have been astonishingly good. I first wrote about Freestone Vineyards a year ago after visiting the winery, touring the vineyards and tasting the wines. The two single-vineyard 2007 Pinot Noirs were still in barrel but I was predicting a great future for them. After recently tasting these wines in bottle, I felt they were a tour de force in winemaking, a glimpse of greatness that the wines from the true Sonoma Coast have often hinted at but only occasionally delivered.
Joseph Phelps, founder of Joseph Phelps Vineyards in St. Helena, along with his son Bill, and the Phelps management team purchased a former dairy farm in the township of Freestone in 1999, ostensibly to grow Chardonnay. The popular Joseph Phelps Ovation Chardonnay had been sourced from vineyards in Carneros. The site, with its coastal fog and Goldridge soils, proved ideal for Pinot Noir as well. In 2000, additional nearby land was acquired and plantings added to include Quarter Moon Vineyard (41 acres of Pinot Noir) and Ferguson Vineyard (6 acres of Pinot Noir).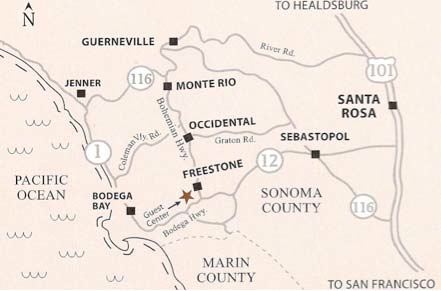 Planting began in 2000 with phased re-plantings occurring through 2007 on the Freestone Vineyard Estate which consists of three distinct vineyards: Pastorale Vineyard which surrounds the 40,000 square foot gravity flow winery that is built into a hillside on three levels, Quarter Moon Vineyard which lies a few miles to the west of the winery, and Ferguson Vineyard located on the eastern side of Bohemian Highway close to the winery. The three vineyards lie only 5 to 8 miles from the Pacific Ocean and are planted in well-drained Goldridge series and sandy loam soils. The maritime influence results in low-lying morning fog, afternoon cool breezes, and large diurnal temperature swings, prolonging the growing season. Farming is strictly biodynamic under the direction of veterans Greg Cannon and Joel Robledo who face the constant threat of weeds and gophers among other viticulture challenges.
80% of the estate is planted to Pinot Noir. Pastorale Vineyard consists of 55.5 planted acres (34.67 acres of Pinot Noir and 20.87 acres of Chardonnay). Pinot Noir clones include Dijon 115, 777, and 828, and heritage selections including Calera and Swan. The grapes are used in the Pastorale Vineyard Chardonnay and Pinot Noir. Quarter Moon Vineyard (pictured below) consists of 41 planted acres, all Pinot Noir clones 115, 777, 828 and heritage selections, primarily Calera. Ferguson Vineyard is 5.82 acres of leased Pinot Noir, clone 115 which goes into the winery's Fogdog Pinot Noir, an estate and grower blend.
The Director of Winemaking is Phelps veteran Damian Parker. The winemaker is Theresa Heredia who was mentored in 2001 at Saintsbury and in Burgundy (Domaine de Montille and Domaine Comte Armand) and has been at Joseph Phelps Vineyards since 2002. The cellarmaster is Justin Ennis, a veteran of Williams Selyem Winery in Healdsburg and Villa Maria Winery in New Zealand. Pascal Marchand, an internationally acclaimed winemaker and former manager of Domaine de la Vougeraie and the estate of Domaine Comte Armand, brings expertise as a consultant.
The winemaking for the two single-vineyard Freestone Vineyards Pinot Noirs receive special attention. The Quarter Moon Vineyard fruit was partially hand de-stemmed into a one-ton open-top oak fermenter. The tank was then treated as a whole cluster fermentation, receiving gentle punch downs. The wine was raised for 15 months in 67% new and 33% two to three-year-old French oak barrels and bottled in April 2009. The Pastorale Vineyard Pinot Noir is composed almost entirely of Calera selection grapes that were whole cluster fermented in one of the winery's oak open-top fermenters. The wine was aged 15 months in 67% new and 33% two to three-year-old French oak barrels and bottled in April 2009.
The Chardonnays are on equal footing with the Pinot Noirs. The true Sonoma Coast has not received the same recognition for Chardonnay as for Pinot Noir, but considerable potential has been shown by releases from Hirsch, Marcassin, and Sonoma Coast Vineyards. The 2007 Freestone Chardonnay was aged 15 months in 64% new and 36% seasoned French oak barrels before bottling in April 2009. The Pastorale Vineyard Chardonnay was sourced from superior blocks adjacent the winery, pressed separately, barrel fermented with battonage, and aged 15 months in a single, new DAMY 500 liter puncheon before bottling in April 2009.
The winery is not open for public visits due to environmental restrictions. A tastefully built and furnished Guest Center is located nearby at 12747 El Camino Bodega, at the corner of Bohemian Highway and Highway 12 in Freestone. Tasting at the Guest Center is available Friday through Sunday from 11:00 to 5:00 ($10 per person). The wines are primarily allocated to mailing list members and fine restaurants. Some wines are available on the website at www.freestonevineyards.com. Freestone Private Collection members receive a 20% discount and access to the more limited single-vineyard wines (sign up on the website or call Duane Harris at 888-997-9798).