Sinor-LaVallee Wines: For Hedonists Only
The husband and wife team of Mike Sinor and Cheri LaVallee Sinor founded Sinor-LaVallee Wine Company in Arroyo Grande in 1997. Mike and Cheri met as students at Cal Poly San Luis Obispo in 1993 where they had "Chemistry." They were married in 1996 in the town of Beaune, in the heart of Burgundy. Both have a colorful background in the wine industry.
Mike's history is intimately tied to the Edna Valley region of California. His first job in the wine business was at Corbett Canyon Vineyards in 1991. Many of you will remember those Corbett Canyon commercials featuring the echo of "canyon, canyon, canyon." Corbett Canyon was one of the first wineries in Edna Valley, founded in 1978, but has changed ownership several times through the years. Today, it is owned by Rob Rossi, and is a custom crush facility (SLO Winemaker's Studio) where Sinor now produces his Sinor-LaVallee wines.
Back in 1991, Mike was just trying to earn some money to pay for college, but this job quickly led to a passion for wine. After finishing his studies at Cal Poly in 1994, he took a harvest position at Byron Vineyard and Winery in Santa Maria. Soon he had a permanent cellar position, advanced to enologist, and then became assistant winemaker at Byron working under noted Central Coast vintner Ken Brown. During his time at Byron, Mike traveled to Burgundy and the Rhone Valley to study winemaking. Mike left Byron after the harvest of 2000 to become the winemaker at Domaine Alfred Winery in San Luis Obispo at the site of Chamisal Vineyard.
Chamisal Vineyard was first planted in 1972 by Norman Goss who built a small winery on the property in 1980. Alfred "Terry" Speizer, who sold Electec, his Silicon Valley semiconductor company, bought the dormant 131- acre Chamisal Vineyard property in 1994 and revived the declining vineyard and winery. The Domaine Alfred label was launched in 1998. Mike directed the vineyard operations, instituted biodynamic farming, and crafted wines that brought the winery considerable national acclaim, particularly for Pinot Noir. Domaine Alfred was sold in 2008 to Napa-based Crimson Wine Group, owners of Pine Ridge in Napa and Archery Summit in Oregon's Willamette Valley.
In 2006, Mike resigned from Domaine Alfred to focus on Sinor-LaVallee Wines. He continues to be much in demand as a winery consultant and started a second brand, Ancient Peaks Winery, where he is in charge of winemaking. Those of you who attend the annual World of Pinot Noir in Shell Beach, California, have probably seen Mike running around directing the show. He is one of the founding board members for the World of Pinot Noir and served as Board President for the 2005 event.
Cheri's introduction to wine also grew out of a need to pay for college. In the summer of 1991, she worked for a trucking company that transported wine grapes from various vineyards to E.&J. Gallo Winery. She studied Agricultural Business at Cal Poly, but wasn't really bitten by the "wine bug" until she met Mike. After graduating from Cal Poly in 1994, Cheri worked as the manager of the Corbett Canyon Vineyards tasting room. Later she became the Executive Director of the Central Coast Wine Growers' Association (CCWGA), a non profit association of growers and wineries. She left in 2001 to manage the growing Sinor household of two young children.
The inspiration for Sinor-LaVallee wines is the Burgundy model: finding specific rows of vineyards with world class terroir near where you live, contract for those rows, and make the best wine you can. Mike produces mainly Pinot Noir along with small amounts of Syrah, Pinot Gris, and Vin Gris of Pinot Noir sourced from vineyards in Edna Valley, Arroyo Grande Valley, Paso Robles and San Luis Obispo. The main vineyards, Talley-Rincon, Aubaine, Corbett, and Margarita, are all within a bicycle ride from where he lives. Total production is about 500 cases annually.
The Sinor-LaVallee label features all the thumbprints of the family members. On the front label, Mike's on the right and Cheri's on the left. Tomas and Esmée are on the back label.
The title of this feature, "For Hedonists Only," is an apropos description of the style of wines that Mike produces. They are bold expressions of Pinot Noir, packed with pure fruit pleasure, decadent and macho, yet suave. They are wines that say, "ooh la la" on the palate.
Mike likes to do something distinctive at each harvest. Sometimes it is a different hair cut (for example, a Mohawk), or a different beard. His music of choice at harvest is the Gregorian chant. The Gregorian chant is said to increase beta wave activity in the brain. Beta waves, or beta rhythm, are associated with active, busy, or anxious thinking and active concentration: very appropriate for winemaking. Whatever Mike did for the 2007 harvest, it was magical for he crafted a very impressive lineup of flamboyant Pinot Noirs that will find plenty of fans.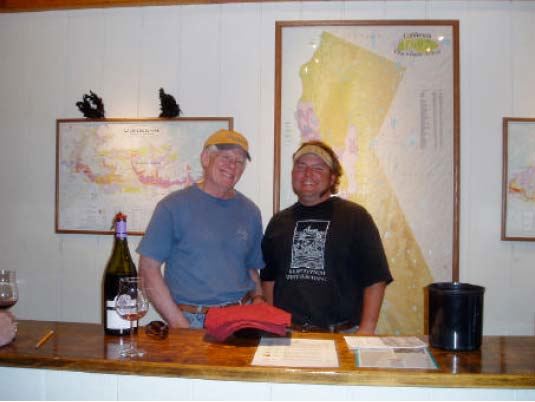 Sinor-LaVallee wines are sold primarily through a mailing list at www.sinorlavallee.com with some retail distribution. Tasting is by appointment (805-801-2502).