Hanzell: More Than 50 Vintages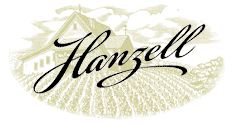 Sometimes in the rush to find the latest cult Pinot Noir, we forget the heritage wineries that have a long tradition of excellence. Hanzell Vineyards was one of California's first boutique wine estates and has continued with an unwavering vision for the expression of the Hanzell terroir through its Chardonnay and Pinot Noir.
Diplomat James D. Zellerbach and his wife, Hana, became fond of Burgundy and its wines while he served as an American Ambassador to Italy. Zellerbach was the President of Crown Zellerbach, a large forest products company of the time. The Zellerbachs were so inspired that they purchased land in the Mayacamas Mountains one mile north of the Sonoma Plaza and built a winery of redwood and local stone fashioned after Burgundy's famed Clos de Vougeot. They planted their first Chardonnay (Wente clone) and Pinot Noir (Martin Ray clone) vines in 1953. The Martin Ray cuttings were reputedly obtained in a clandestine late night raid on a Napa Valley vineyard by Hanzell's initial winemaker, Brad Webb. Over the years the vines have mutated and new vines propagated from them creating a distinct Hanzell selection. The original plantings, now known as the Ambassador's Vineyard, are the oldest continually producing vineyard of Pinot Noir and Chardonnay in the New World.
Winemaking at Hanzell was Burgundian from the start and Zellerbach was among the first in California to use French oak barrels for aging. In addition, Zellerbach designed the first temperature controlled stainless steel fermentation tanks and he was the first to use nitrogen in bottling. Small amounts of wine were sold starting in 1957, but 1965 was the first full-scale commercial vintage.
The "Hanzell style" was developed by Brad Webb and continued for nearly 30 vintages by Winemaker Emeritus Bob Sessions. He retired in 2005, replaced briefly by Michael Terrien (who continues to consult) and now Michael McNeill. Sessions has spent countless hours and days passing his knowledge to the Hanzell team to insure the house style has remained consistent. The Chardonnays have been the star at this winery and often hold up beautifully for 20 years and beyond. The Pinot Noirs have had many advocates as well.
The ownership of Hanzell Vineyards has passed from the Zellerbachs, to the Days, and to the Countess Barbara de Brye in the 1970s. Since 1991, her son, Alexander, has owned and guided the property. Today, Hanzell's vineyards have increased to 42 acres (28 acres of Chardonnay and 14 acres of Pinot Noir) which produce about 6,000 cases of 100% estate bottled wine from the estate vineyards.
Recently, President Jean Arnold Sessions has directed some changes made necessary by the economic climate. Select barrels of the Chardonnay that do not make the rigorous final selection for the Estate Chardonnay will be bottled separately. This wine is named Sebella to honor Alexander's children, Sebastian and Isabella. Also, a program has been launched to identify the truly Grand Cru enclaves in the Estate vineyards. This will allow production of even finer selection of barrels for the Estate wines, but limit production of Estate Chardonnay and Estate Pinot Noir. In the fall of 2011, these fewer cases will be allocated to long time supporters, including Ambassador's Circle members, and significant business relationships that have been trusted supporters over many years. Lastly, Hanzell is now offering a savings program on their current 2006 releases to align their pricing with the current economic reality. The pedigree and uniqueness and unwavering commitment to creating an age worthy wine more than justify the expensive prices for the Estate wines, but the more favorable pricing will allow Hanzell to compete with similar wines in California. 2006 Hanzell Vineyards Sebella Chardonnay is now $21.60 a bottle (retail $36), 2006 Hanzell Vineyards Estate Chardonnay is $42 (retail $70), and 2006 Hanzell Vineyards Estate Pinot Noir is $57 (retail $95).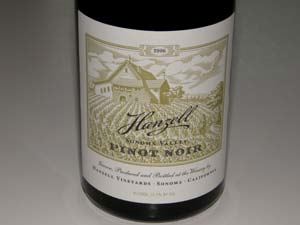 2006 Hanzell Sonoma Valley Pinot Noir
15.3% alc., $95. The 2006 Estate Pinot Noir received a week-long cold soak. The must was macerated for nearly a month creating a firm tannin backbone ideal for extended aging. Sourced from the 10-year old Sessions Vineyard and the older de Brye and Zellerbach vineyards. · Moderate garnet color with a burnished copper rim in the glass. Enticing aromas of spiced black cherries, raspberries, dusty trail, oak and a touch of barnyard. With time, scents of currants and raisin appear. Intense and juicy, with very ripe, dark red, and soil-inflected fruits showing hints of brioche, mocha, brown spice and even root beer flavors. The mouthfeel is all velvet, and the finishing cherry and berry fruits have a memorable persistence. Picks up interest with time in the glass. There is enough fruit and tannin to buttress the generous alcohol. This wine makes a case for the affirmative in the argument over whether you can make a Pinot Noir with over 15% alcohol that is balanced. A California classic that will improve beautifully with several years in the cellar. Very good (+).
As noted above, the 2006 vintage Hanzell Vineyards wines are deeply discounted and may be purchased on the website at www.hanzell.com. The Amassador's Circle wine club guarantees access to the Hanzell Vineyards Pinot Noir and Chardonnay as well as the 1953 Ambassador Vineyard releases, magnum releases, and library vintages. Guests are received by appointment only (707-996-3860).