george pinot vintage VI
george is an anomaly in the california winemaking business. a number of years ago, he escaped the confines of wall street to work at williams selyem winery in healdsburg, california after having his wine epiphany with a 1991 and 1992 williams selyem rochioli vineyard pinot noir. he interned at williams selyem from 1999 to 2002 at the foot of Burt Williams and learned his winemaking process. he also worked at the smaller brogan cellars which was more closely modeled after the type of winery he hoped to launch himself some day. With grapes from david hirsch of sonoma coast's hirsch vineyard, he released 150 cases of his inaugural pinot noirs in 2003. the wines immediately caught the attention of top sommeliers at high-profile restaurants in las vegas and new york and his pinot noir quickly became a cult wine. i have been a fan from the beginning, entranced by the elegantly styled pinot noirs that he crafts.
george levkoff is a one man show performing every step of winemaking from sorting grapes by hand to numbering his bottlings, as well as marketing and even in many cases delivering his wines. He is a regular at pinot days (see below where we grabbed him for an interview - he is the one sitting next to me behind the george football helmet) where many of you have met him and sampled his wines. many fans have urged him to craft chardonnay, rosé, and syrah and even make an inexpensive pinot noir that restaurants can pour by the glass. he staunchly refuses to take that step, preferring not to take away from his major focus of producing a hand-crafted, ultra-premium pinot noir. george prefers lower case which explains the text in this feature. he also likes casual dress, usually seen in all types of weather wearing cut offs and sandals. george is a casual and lovable guy who crafts high-collar, sophisticated pinot noir.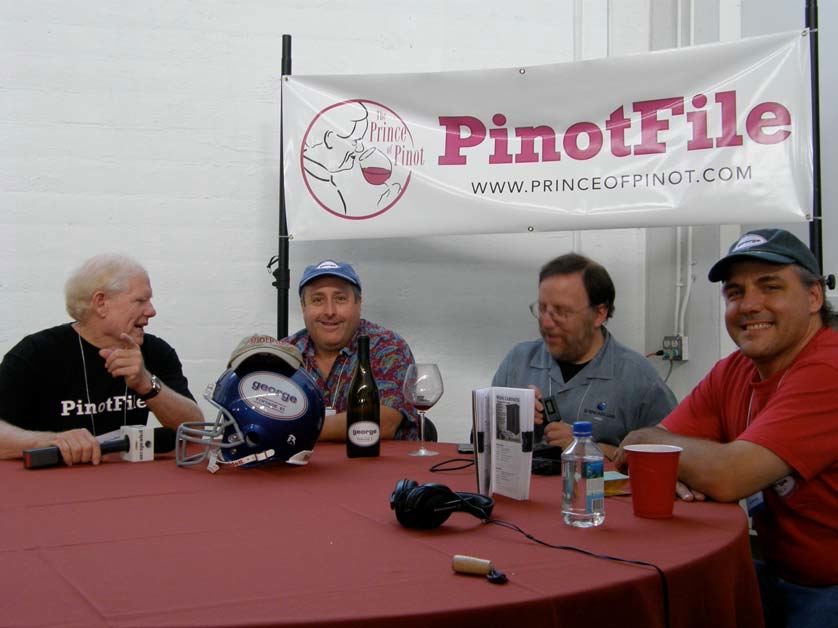 i tasted the 2008 george vintage VI pinot noirs with george recently. he told me how he makes his wines. he de-stems 100% of the grapes, cold soaks for a few days, uses williams selyem yeast for inoculation, uses only free-run juice (except in the Sonoma Coma wine), and ages his pinots in 100% new francois freres french oak barrels. forget fining and filtration. all the wines below are still lolitas and patience is advised.
george wine company Pinot is sold primarily (75%) through a mailing list at www.georgewine.com with widespread fine restaurant distribution and a small amount of retail wine seller availability. The 2008 vintage is sold out at the winery. 707-495-7783.