Early Sips of 2007 Littorai Pinot Noir
There is nothing fancy about Ted Lemon's website and you won't find him actively marketing his wines. Littorai wines are never sent to the wine press for review. The reason is that he doesn't have to: the wines speak for themselves.
Lemon was the first American ever hired as a winemaker and vineyard manager of a Burgundian estate, Domaine Guy Roulot in Meursault. In the United States his fingerprint has been on many wineries including Howell Mountain Vineyards, Reverie, Green and Red Vineyard, Keller Estate, Estancia, and Archery Summit. Since 1993, when he found Littorai with his spouse Heidi, Lemon has been producing superb examples of vineyard designated Chardonnay and Pinot Noir from western Sonoma and western Mendocino counties. His wines are the epitome of elegance, nuance and longevity and perfectly suited to the dinner table. I admire the wines for their harmony, the perfect integration of fruit, alcohol, acid and tannins.
I have written about Littorai wines on numerous occasions in the PinotFile and you will find a plethora of information about Lemon in this features. I recently sampled a few Littorai Pinot Noirs from the 2007 vintage. The wines were released in February 2009 and only recently shipped to the eager fans, including myself, on the mailing list.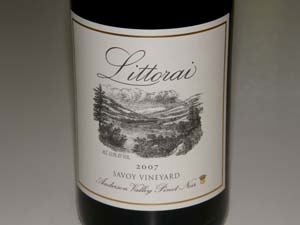 2007 Littorai Savoy Vineyard Anderson Valley Pinot Noir
13.5% alc., $60. · Takes some time to open in the glass. The redder spectrum of fruits are featured in the nose with bright cherries and strawberries, lightly spiced, with herb, oak and floral notes as well. Slightly confected cherry and strawberry flavors with an earthy underpinning and a hint of citrus. I thought I could also taste edible flowers. Moderate tannins, and a refreshing grip of acidity on the finish. Drank beautifully the next day from a previously opened re-corked bottle. This wine will reward further cellaring. Very good.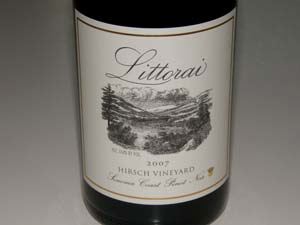 2007 Littorai Hirsch Vineyard Sonoma Coast Pinot Noir
13.8% alc., $65. · Moderately light reddish-purple color in the glass. Complex aromatic profile of black cherries, raspberries, fresh flowers, and earth (what I call muddy boots). Very tasty essence of black cherries and blackberries that really grabs your attention. Refined and delicate with moderate fine-grain tannins, perfect balancing acidity, silky texture, and pleasing aromatic persistence on the finish. Still marvelous and even better three days later from a previously opened and re-corked bottle. A love letter to keep and treasure.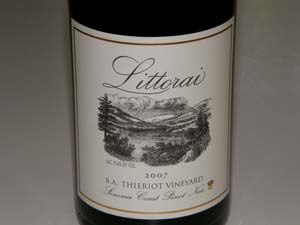 2007 Littorai B.A. Thieriot Vineyard Sonoma Coast Pinot Noir
13.6% alc., $70. Divorce between the and wife owners of Thieriot required renaming of the source and B.A. was chosen as these are her initials. Littorai continues to have a 25-year lease on sections of the vineyard which Ted farms himselves. · The deepest colored wine of the three wines reviewed here. Beautifully perfumed with purple fruits and flowers with a hint of toasted oak. Delicious core of dark cherries, berries and plums with a touch of oak spice. A seamless wine with young dry tannins and bright acidity that is only hinting at its ultimate potential. Will need time to integrate the oak and shed tannins. A debutante with a promising future. Very good.
Other Littorai 2007 Pinot Noirs include vineyard designates from Summa (Sonoma Coast), Mays Canyon (Russian River Valley), Cerise and Roman (both from Anderson Valley), and The Haven (Sonoma Coast). Some of the wines are still available by contacting Littorai by phone at 707-823-9586). Sign up for the mailing list at www.littorai.com. A new estate winery was completed in July 2008 and tours and tastings are available t by appointment. This is a special opportunity to tour a biodynamic farm and vineyard and learn the details from Lemon who is a strong advocate of this agricultural method.