Davis Family Vineyards: Reliably Good Pinot Noir
Guy Davis hand farms his 7-acre southeast hillside estate vineyard in the Russian River Valley, producing consistently excellent Pinot Noirs. Buying a bottle of Davis Family Vineyards Russian River Valley Pinot Noir is a sure thing. It's like pulling a bottle of Coke off the shelve at the market: you always know what to expect. Although I have used Pinot Noir as my example of consistency, the same could be said for all of his wines (Chardonnay, Sauvignon Blanc from New Zealand, Riesling, Cabernet Sauvignon, Syrah and Zinfandel).
Guy Davis developed an interest in wine at the tender age of 19. While working his way through college cooking in a French restaurant, he was able to taste great wines from all the famous wine regions of France, and became so knowledgeable, he soon was asked to buy all the wine for the restaurant's wine list. Although he was educated in economics and began his working career as a stockbroker, the stock market crash of 1987 made him look elsewhere for work. He picked up a job as a wine buyer in Sonoma in 1989, and soon was working in the cellars of several boutique wineries in the region. It was a stint with winemaker Lori Olds at Sky Vineyards a top Mt. Veeder that persuaded him to pursue a career in winemaking. He attended classes at Santa Rosa City College and University of California at Davis, and spent years searching for the perfectly situated site to grow Pinot Noir. In 1996 he bought his own hillside vineyard on Laguna Road in the Russian River Valley. By 1998, he was able to fully concentrate on winegrowing and producing premium wines.
A recurring theme seems to be commonplace among winemakers. They are often attracted to the combination of art and science involved in the challenge of producing fine wine. Guy has a soft spot for creative art as shown by the work of local artists displayed on his tasting room walls and the flamboyant artwork that guards the parking lot of his winery and tasting room complex. Guy says that if he wasn't a winemaker, he probably would like to be a sculptor or some kind of artisan food producer (he actually has accomplished the latter, producing a high quality artisan olive oil from trees planted in 1906 in the Sierra Foothills).
Guy Davis believes the difference between great and just good Pinot Noir is balance and complexity. He says, "Great Pinot Noir has the balance of rich, dark, masculine full-bodied aromas and flavors like black cherries, plums, chocolate, coffee, and forest floor mixed with the elegant and sensual perfume of raspberries, brown spices and sweet cherry blossoms, aligned with textures that are full and mouth coating yet silky and lasting. When harmony exists, the sensual layers seem to unfold forever!"
Davis does not literally farm his 7 acres of Pinot Noir. Rather, he farms 9,274 vines. He tries to get twelve touches for every vine during the growing season from pruning to harvest. He is obsessive, focused and fanatical about picking the right day to harvest. In the winery, his work is meticulous with constant smelling, tasting, and talking to the wines and never intervening unless absolutely necessary. He is an expert at blending, knowing what true greatness requires. As he notes, "Perfect Pinot may be elusive but when discovered and embraced, it is truly heaven."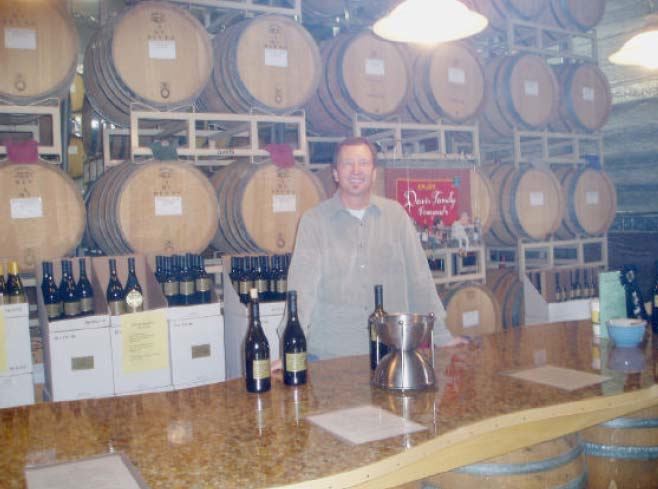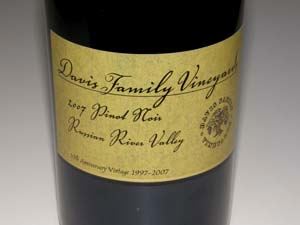 2007 Davis Family Vineyards Russian River Valley Pinot Noir
14.3% alc., $40. Tenth anniversary vintage (1997-2007). Best of Class and Gold Medal at the 2009 Sonoma County Harvest Fair. It must be gratifying to Guy Davis to have such a remarkable wine to commemorate his tenth vintage. · Bright reddish-purple color in the glass. Intense and penetrating aromas of Bing cherries, raspberries, strawberries, spice and cola. Discreetly rich, slightly confected flavors that mimic the aromas. Fresh, clean and juicy with caressing tannins, refreshing acidity and an underlying mineral edge. A perfectly harmonious wine that is quintessential Russian River Valley Pinot Noir.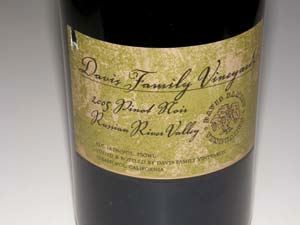 2005 Davis Family Vineyards Russian River Valley Pinot Noir
14.1% alc., $40 · Very slight yellowing of rim edge in the glass. Ripe cherries, raisin, cola and a hint of oak toast on the generous nose. Juicy cherry and strawberry fruit with hints of secondary flavors of savory dried herbs, Pinot reduction sauce and sherry. Still vibrant and silky in the mouth. Probably slightly oxidized. Very good.
2003 Davis Family Vineyards Russian River Valley Pinot Noir
13.9% alc., $35. · Lovely and heady black cherry and strawberry scents that fade quickly in the glass replaced by savory aromas of herbs and oak. Juicy and hit-pitched core of cherries, cranberries and strawberries with oak, dark chocolate and black tea in the background. Racy and a bit tart with fine-grain tannins. This wine has aged gracefully. Decent (+).
Visit the website, www.daviswines.com, to order wine, or better yet, visit the tasting room at 52 Front St. in Healdsburg and talk Pinot with Guy Davis. Just outside the winery you can picnic on the Russian River. He is a soft-spoken and cerebral winemaker who has a trove of wine information that he can offer in an understandable fashion. Discounts on wine and special events are available for Friends of the Family Wine Club. Prices for Davis Family Wines are very sensible. In 2007, there is also a Sonoma Coast Pinot Noir available. 1-866-338-9463.