2009 Pinot Noir All-Americans
An annual tradition in the PinotFile is to name the best Pinot Noir performers "All-Americans." I am proud to present the best wines out of the over 2,000 American Pinot Noirs I formally sampled over the past year. Currently there is such a high level of quality in Pinot Noir from California and Oregon that it is difficult to single out wines that stand out from the pack. It is a testimony to the cadre of passionate winegrowers and winemakers who have scoffed at the suggestion that Pinot Noir is a "heartbreak grape," and have successfully corralled the grape's temperamental nature. The 2009 All-Americans were chosen in the spirit of celebration of the copious bounty of Pinot Noir that we are now blessed with in this country. The All-Americans were selected as much for their fruity, flirty New World hedonism as for their description-defying sensuality. All the chosen wines were technically complete, but more significantly, they displayed a powerful charisma. It is a truth that I have come to realize that it is not what is written about a wine, but what is emoted that truly defines a wine's greatness. Veronique Drouhin-Boss, winemaker at Oregon's Domaine Drouhin, echoed my sentiments perfectly when she said, "There are plenty of good wines in the world that give you pleasure. A great wine gives you emotion."
The stylistic split of power versus finesse, or "New World versus "Old World" styles, is ever present, but the superiority of either style is a tired argument. Most New World winemakers admit that they are trying to craft the best wine they can from their vineyards and not trying to imitate Old World Burgundy. The growing conditions in the New World provide more upfront fruitiness, extraction and higher alcohols. The French rarely concern themselves with heat at harvest and French Burgundy is frequently lighter, less fruity, higher in acid and lower in alcohol, more see-through red lingerie than Jimi Hendrix purple. Most New World Pinot Noirs strike a balance between the two extremes. True pinotphiles can appreciate both styles and relish in the diversity of Pinot Noir. I try to steer a neutral course, separating my personal preferences from objective assessment of the wine regardless of style.
The issue of high alcohols continues to be hotly (sic) debated. Although it has been written that there is an inclination toward picking earlier to avoid high alcohols, I cannot say, with exceptions, that this is a well established trend among producers. Many wineries find their is a large group of consumers who prefer the sweetness and body that alcohol confers on wines. From a personal viewpoint, I can say that I definitely prefer wines in the 13.8% to 14.5% alcohol range since the wines are often more balanced, you can drink two or three glasses without getting sideways, and the health benefits from taking in moderate amounts of alcohol are realized.
I should reiterate the steps I take to arrive at the wines I recommend in the PinotFile during the year. I do not taste the wines blind, but strive for integrity, consistency and objectivity. "The aim of judgment," respected French wine critic Michael Bettane said, "is truth and impartiality." There are two main reasons for not tasting blind. First, I prefer to evaluate wines in the same manner that the consumer experiences them. Second, an essential part of evaluating wine is to know what you are drinking. I tend to focus on the drinkability at the time of sampling, since most consumers drink their wines young. I most appreciate wines that are at or close to their best the day I taste them. That said, credence is giving to age ability particularly in the context of balance. If a wine is balanced when I taste it young, it is almost certainly to hold up for several years. A wine that is out of balance initially will never become balanced over time.
I taste Pinot Noir daily in a consistently calm setting in my home in the late morning. The wines are sampled at cellar temperature (55º to 65º) initially and are tasted over a couple of hours in a relaxed atmosphere. I give the wines adequate time to open up and make several passes as I taste each wine. Occasionally I decant a wine if this will benefit the evaluation. I use either Riedel Vinum Burgundy or Riedel Oregon Pinot Noir glasses.
Often, I will taste wines later the same day or the next day from an opened and re-corked bottle. This helps to predict longevity. Frequently, the wines are re-tasted with food at lunch or dinner to replicate the consumer's drinking experience.
I have no monetary arrangement with any grower, winery, retailer or wholesaler and accept no advertising. I do accept wines for review, but at least half of the wines I sample are bought directly from the winery or through customary retail channels. There are many Pinot Noirs I sample casually at wineries, social dinners, Pinot Noir festivals, and wine dinners, but I do not include these in the All-American selection process, preferring to only incorporate bottled wines that are formally tasted in controlled circumstances and thereby comparable.
I do not award scores to wines, preferring to give an unpretentious and concise description of the style and quality of the wine that the reader can appreciate and use. I attempt to convey that special sensuality exhibited by Pinot Noir that is so easy to covet, yet so difficult to describe. I am convinced that an apropos description is not only more challenging to arrive at, but is the fairest way to evaluate a wine. The Pinot Geek icon (left) is used to designate wines of exceptional merit and the Value icon is used to indicate wines of good quality that are value priced (usually less than $30).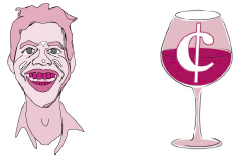 I want to emphasize that I do not take my reviews or myself too seriously. I always keep under my wing the tenant written by noted New Zealand winemaker Neil McCallum, namely, "The difficult art of wine tasting requires a considerable measure of humility." I preach to the reader to use my tasting notes as a guide, but trust his or her own palate. Focus more on the producer than any one specific wine. I do want to emphasize my spouse's occasional tasting contributions. I think this is valuable, as women have incredibly good palates, and my wife, Patti, does not give a hoot about the label or the producer, only how the Pinot Noir tastes.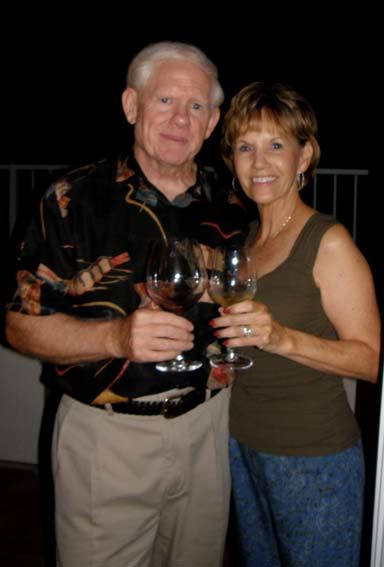 Beyond the emotions that a wine can incite and weigh heavily on its enjoyment, there are certain technical aspects to wine that must be addressed to arrive at a judgment of quality. A quality wine is spoken reverently as a "complete" wine. All the components of a complete wine are joined harmoniously. A complete wine is an accolade that is awarded to wines with the following attributes. All the All-American wines, particularly the First Team, are complete wines.
Color: The color of a wine is evaluated according to hue, intensity and clarity. Pinot Noir is found in practically all shades of red and its color is due in large part initially to anthocyanin in the wine in association with acidity. Higher acidity gives a lively red color to a new wine while lower acidity produces a less brilliant and more purple hue. As wine ages in the bottle, tannins become an important determinant of color, combining with anthocyanin to bestow a brick or brown shade to the red color. The intensity of color of Pinot Noir is not related to quality in the sense that darker-colored wines do not necessarily provide more drinking enjoyment. Most small production Pinot Noirs are unfined and unfiltered to retain all the aromatic and flavor components of the wine. Some sediment may result, but this is not a flaw in the wine.
Smell: A complete wine will have more than one family of aromas (fruity, floral, forest floor, spice, and more) present. The olfactory system enables the brain to perceive not only odors inhaled through the nostrils, but also the aromatic qualities of a wine conveyed to it from the palate by way of the nasal passage at the back of the mouth. Primary aromas are odors intrinsic to the grape. Secondary aromas are derived from alcohol fermentation and maturing in wood. Tertiary aromas are known as "bottle bouquet," and develop from aging through recombination of esters and alcohols after alcoholic and malolactic fermentation are complete. A young wine may be slightly reductive when first opened and smell of burnt electrical cord or eraser. This is often a sign that a wine will age.
Taste: A complete wine will have more than one family of flavors and all the flavors will be complementary. Tastes are sensed on the tongue and each flavor remains evident for a time that determines persistence. The "attack" is the first sensation you experience as the wine enters your mouth. When tasting a wine, you have in order, the attack, the so-called "mid-palate," the finish, and then the aftertaste, if any.
Texture: This is the tactile sense of wine in the mouth, on the tongue and in the throat. Often referred to as mouth feel, unctuousness or roundness (the French use the word moelleux), this is the fabric of a wine. Quality wines are often described as smooth, silky, velvety, well-knit, glossy, or polished, while lesser ones are deemed flabby, loose-knit, granular or coarse. Silky textures are unique to Pinot Noir and give the wine its sexiness.
Finish: This is the final aromatic and taste sensations of wine on the palate. The aromatic finish refers to the persistence of the wine (that is, how long the aromas last on the palate once you spit out or swallow the wine, measured in seconds). A quality wine is described as having "length" when the clean, balanced and full aromas linger on the finish. The gustative finish refers to which of the tastes (fruit, acid, tannin, alcohol, or roundness) leaves the most lasting impression on your palate. A complete wine will have both a long aromatic finish lasting several seconds and an appealing taste (fruit, acidity, astringency) at the end.
Aftertaste: This term is often incorrectly used synonymously with finish. For clarity's sake, aftertaste is always a defect in wine and a complete wine has no aftertaste. Flaws in wine may be perceived in the aftertaste that otherwise might have been overlooked. The most common complaint is a bitter or astringent aftertaste, heightened by the fact that bitterness, sensed mainly at the back of the tongue, also has the longest flavor persistence. Aftertaste is the final indicator of a wine's overall quality, confirming not only if it is balanced and complete, but whether it rates such adjectives as elegance, breeding and finesse.
Balance: This term is used synonymously with harmony and refers to the relative levels of fruit, acidity, alcohol, tannin and roundness that are experienced in the mouth. A well-balanced wine has all of these elements in equal amounts with no element predominating. Aromas have nothing to do with balance. A complete wine will have impeccable balance.
The All-American awards are unique in that the winners include trophy and cult Pinot Noirs that are infrequently, if ever, submitted for review to tasting panels of major wine publications. The PinotFile All- Americans encompass every Pinot Noir produced in California and Oregon and include wines enjoyed in 2009 from the 2006, 2007 and 2008 vintages. In 2009, All-Americans turned up in all the major Pinot Noir producing regions of California and Oregon.
The All-Americans are judged on merit, independent of price, style, and region of origin. I drink a fair amount of red Burgundy, but leave the critical evaluation of these wines to others who are more dedicated to that region. You cannot live on red wine alone (debatable), so I also taste and indulge in Chardonnay, Pinot Noir's cool climate brethren. I have included the 2009 Chardonnay All-Americans in this issue for the first time.
The awarded wines are listed in alphabetical order. Most of the wines are still available from the winery or through retail distribution. A few of the wines are highly allocated, sold out, and only available on the secondary market. A search using the following websites will often turn up sources for the wines: www.wine-searcher.com, www.vinquire.com, www.winezap.com, and www.wineaccess.com. Good auction sites for Pinot Noir are www.winecommune.com and www.vinfolio.com both of which have no fee to the buyer. If there is a Pinot Noir you can't find and just have to have, contact me and I will try to track it down for you through my connections. Keep in mind that there will always be another vintage and stellar producers make quality wine consistently in each vintage. It will not be the same song, but it will be the same composer. Winery mailing lists and winery wine clubs are a good way to insure that you obtain highly coveted Pinot Noirs from a popular producer.
Current prices of North American Pinot Noir run the gamut from $8 to well over $100, but generally life begins at $30. The average price for all the First Team, Second Team and Honorable Mention All-Americans in 2009 was $53 for California (range of $33 to $150) and $56 for Oregon (range of $25 to $82). Collecting and drinking Pinot Noir can be a rich man's game if only trophy or "deep pocket Pinots" are sought after. Fortunately, there are many perfectly fine Pinot Noirs on the market that are priced less than $30, and the increasing number of these so-called value-priced Pinot Noirs make good Pinot Noir more available now than ever. The 2009 Value Pinot Noir All-Americans represent the best $35 or under North American Pinot Noirs I have sampled this past year. Value Pinot Noirs do not match up in quality of fruit, aroma, and flavor nuances compared to the more expensive prestige bottlings. You get what you pay for. However, the value-priced Pinot Noirs do offer a perfectly fine everyday drinking experience. Think of them as Pinot Noir unplugged.
I have not kept exact counts, but the number of corked wines seems to be about 5% of wines sampled. Another 3% of wines are just "dumb," that is, not corked (at least I cannot detect TCA), but just not right. Fortunately, for samples at least, I usually have two bottles and only review the stellar bottle. My experience would seem to indicate that about one bottle out of every case will be either corked or not up to snuff. I have not met with any problems with screw cap closures other than some reduction upon opening that dissipates rather quickly. Today the number of truly flawed commercial wines is quite low.
For those Pinot Noirs that were left out of the awards this year, the words of Mark Twain ring true, "It is better to deserve honors and not have them, than to have them and not deserve them." Some incredible wines, like the lineup of 2007 Rhys Vineyards Pinot Noirs, were not tasted formally out of bottle and so are regrettably not included among the All-Americans.