Wine Books of Interest
The Ponzi Vineyards Cookbook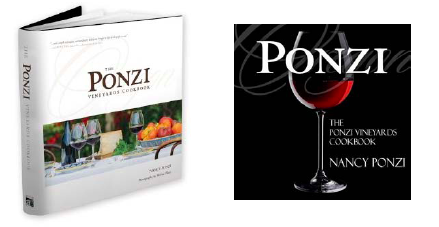 Nancy Ponzi has had a remarkable career in wine, but it may be her zeal for cooking that determines her legacy. As the subheading of the Preface of this book proclaims, "It takes a lot of food to make great wine." Nancy should know, for forty years ago she and her husband, Dick, left successful careers in California to start a new life in wine in the Willamette Valley of Oregon. They were part of the hippie generation, idealists determined to return to the land for their sustenance. Interestingly enough, it was a trip to visit Dick's brother in Iceland, of all places, where they experienced homemade celery wine, that would plant the seed of enthusiasm for crafting their own wine. In 1970, the Ponzis become one of the pioneering wine families in Oregon, planting a Pinot Noir vineyard just outside of Portland in a farming community known as Beaverton and launching Ponzi Vineyards.
What Nancy was quick to discover is that a large crew had to be fed with each harvest. As the winery grew in notoriety, wine and food professionals descended on the winery frequently and had to be entertained. Consumers too, were infatuated with the wine grape culture, and clamored to attend dinners at the winery. Nancy realized that her main contribution to the winery would be food so she set out to become an accomplished cook. She cultivated an organic garden, made cheese, read cooking books voraciously, attended and eventually taught cooking classes, and even owned and operated two successful restaurants.
This book is a personal collection of over 80 recipes that exemplify the winery kitchen. The cookbook evolved primarily from the Ponzi Amici Cellar Club in which Nancy's recipes were paired with selected Ponzi wines as a unique feature that consumers enjoyed. Each recipe is intertwined with the history of Oregon wine and Ponzi Vineyards, the many trips abroad that form the basis for a number of the recipes, and the contributions of friends and family. The recipes travel the globe ranging from Italian classics like spaghetti and meatballs to French staples like Coquilles St. Jacques. Many recipes are grounded in the Northwest such as Northwest Choucroute and Chanterelle Soup. Whatever the origins, the emphasis is on fresh ingredients, simple preparation, and basic home cooking tools and techniques. Each recipe is accompanied by the stunning photography of Michael Shay, teasing the appetite of the reader to enter the kitchen.
The "Do" and "Don't" general tips for entertaining in the Introduction are invaluable. The ideas are very straightforward, but often overlooked by the host or hostess amid the anxiety over hosting a meal. Perhaps the best bit of advice is the last one. "Never apologize. Your apology will only diminish you culinary standing, your guests' comfort zone (then they have to fib that it is really so, so delicious), and open the door to any previously politely silent 'expert.' Anyway, your next dish will probably be fine......it's just food."
Practical, endearing, and highly personal, this is a cookbook to treasure. If you are a Pinot lover like myself, you will be particularly charmed, since many of the recipes pair beautifully with this grape. Anyone for wild mushroom risotto and Ponzi Reserve Pinot Noir?
The Ponzi Vineyards Cookbook, by Nancy Ponzi, Arnica Publishing, hard bound, 184 pages, 2009, $24.95.
Living with Wine

Passionate Collectors, Sophisticated Cellars, and Other Rooms for
Entertaining, Enjoying, and Imbibing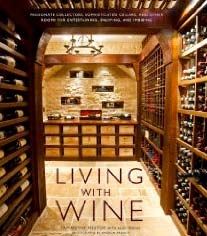 This book offers the wine lover a voyeuristic peek into thirty of the most extravagant and spectacular wine cellars in the United States. One cannot help but marvel at the grandeur of some of these rooms and the impressive wine collections contained therein. The stories behind the passionate wine collectors and their distinctive cellars is told by James Beard Award-winning wine writer, Alice Feiring, in conjunction with noted interior design and architecture writer, Samantha Nestor. The color photography of Andrew French is stunning and amplified by the large size of this volume.
The book is divided into five parts: the Entertaining Pair's Lair, the Gentlemen's Haven, the Sybarite's Sanctuary, the Modernist Refuge, and Urban Retreats and Inspiring Spaces. The size of most of these cellars indicates the zeal with which wine connoisseurs will pursue their collection. While most of the featured cellars royally display 2,000 to 3,000 bottles, more than enough wine for most imbibers, one mind-boggling cellar houses 60,000 bottles of fine wine.
Most readers can only dream about having such lavish cellars for their beloved wine collections. The book does not give any estimates of the cost of designing and building these eye-popping wine cellars, but clearly these architectural marvels came at a considerable expense, in some cases exceeding the value of the wines resting inside.
This work is a coffee table book at heart that will please those who delight in marveling at what extremes collectors will go to in displaying their beloved wines. It will be particularly appealing to those who find admiration in the creative designs that the owners and artisans display in these distinctive wine cellars. The volume may even stimulate readers to embark on their own wine cellar project.
Living with Wine, by Samantha Nestor with Alice Feiring, photographs by Andrew French, Clarkson Potter Publishers, New York, hard bound, 256 pages, 2009, $75.
Desert Island Wine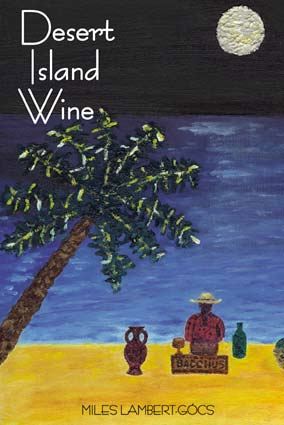 You will need to brush up on your knowledge of Greek mythology, in particular Dionysus, the classic Greek philosophers such as Socrates and Aristotle, as well as America's first eonophile, Thomas Jefferson, to fully grasp the humor in this book. The author, Miles Lambert-Gócs, has a remarkable grasp of both wine and history, and through a series of assorted cunning essays, brings historical and mythical figures into wine discussions that are based on up to date wine knowledge and controversial issues. The parodies take straight aim at the pretentiousness of the wine world. The book leads off with "Live from Olympus," a colorful CNN interview with Dionysus. Dionysus, of course was the son of Zeus and the god of wine. He is asked in the interview, "Would you ever consider, say, dealcoholized wine? His answer, "I'll shave my beard before I have it." A subtle jab at Robert Parker, Jr., is included. Dionysus remarks, "I don't take kindly to impersonators, and Parker pretends to speak with my authority." While reading this piece, my wife had to come in and check on me I was laughing so loud.
My favorite essay is "Field Guide," detailing the origins, range, habitat, food, senses, breeding and enemies of Anthropos oenopotis or Winebiber Man. Not surprisingly, the reader discovers that Anthropos oenopotis is a cave dweller with furnishings of Limousin or Nevers oak, tends to crave high-fat foods because of an intuitive faith in The French Paradox, mating is along rhinal lines with the greatest accolades among the species awarded to those individuals who are able to determine the geographical, varietal and vintage origins just by the sense of smell, without ever actually having to taste the wine!
The title of the book, Desert Island Wine, refers to Chapter 28, "One on One - reflections on a stint of drinking the same wine daily." The author relates his personal experience as a "devoted monogamist" drinking the same white wine a day. We are never privy to the name of the actual wine, but that is not the point. He finds, "A lack of variety could actually call forth a greater effort to exercise my inclination for perception." No wine subject is sacrosanct in this book including filtration, acidity in wine, terroir, wine-food matching, quirky winemakers and so forth. This is definitely not a read for wine drinkers who relish in haughtiness. If you are a wine enthusiast with slicked back hair and gold jewelry and like to brag about how expensive the wine you are drinking is, this book is not for you.
As you read through this book, you will find yourself challenged to grasp all the subtle humor and some essays will need to be reread to fully appreciate the author's intent. It is a highly intellectually challenging volume that will be best enjoyed with an appropriate glass of fine wine that forces one to think.
Desert Island Wine, by Miles Lambert-Gócs, published by Ambeli Press of Willamsburg, Virginia in cooperation with the Wine Appreciation Guild of South San Francisco, soft bound, 190 pages, 2007, $14.95. Signed and inscribed copies are available postpaid for $16 from the author: write him at 1008 Settlement Dr., Williamsburg, Virginia 23188.