Pinot Briefs —Newsletter 8.9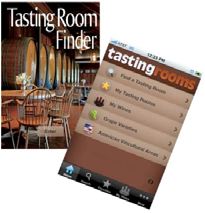 iPhone Tasting Room Finder A new application for the iPhone allows you to locate a tasting room from 3,180 locations in the United States with a few clicks. You can easily display a pop-up menu of the name, address and click-able phone numbers for each tasting room, show the user's map position in relation to the tasting room, and generate driving directions to each tasting room selected. You can organize favorite wines you taste and even file a photograph of the label you adored. A guide to American Viticultural Areas is included. Check the iTunes App Store.
Winery Numbers Continue to Increase Wine American reports that despite the recession, the number of wineries in the United States increased to 5,600 in 2008, from more than 4,700 in 2007. Many of these wineries are founded by the new wave of bankers, engineers, executives and others who are starting wineries.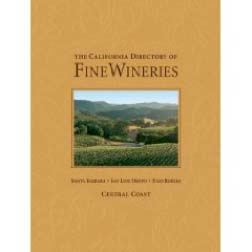 Wine Books Worth a Look The California Directory of Fine Wineries: Central Coast: Santa Barbara, San Luis Obispo, and Paso Robles written by K. Reta Badger and Cheryl Crabtree, profiles 58 wineries from Santa Barbara and San Luis Obispo Counties along with photographs of each destination. The coverage includes local attractions of interest, tasting charges, and winery events. A related volume, The California Directory of Fine Wineries: Napa, Sonoma, Mendocino, covers major wine regions north of San Francisco. Both books include beautiful photography by noted photographer, Robert Holmes, whose work is also displayed in the book, Passion for Pinot. Both books were published in 2009. Oregon wine country is covered in Wine Trails of Oregon: A guide for uncorking your memorable wine tour. Author Steve Roberts covers 200 wineries and 24 wine trails. This is the most up-to-date (published in 2009) guide to Oregon wine country and includes detailed maps and directions. All of these books are priced less than $20 at www.amazon.com.
Standards for Sustainability The California Sustainable Winegrowing Alliance is a voluntary self assessment program with 68 percent of the state's wineries and vineyards participating in the program. This month, the program took an additional step by setting minimum standards for wineries and vineyards that want to publicize their sustainable efforts to consumers. Members who achieve certification would be able to use the designation on their marketing materials and websites, but not yet on their wine labels. The certification program is sponsored by the Wine Institute and the California Assocation of Winegrape Growers. The aim is to provide the consumer with verification of "green" claims by wineries.
Smokin' Barrels A San Luis Obispo company is producing wine soaked wood chips for the barbecue. Several varieties are offered, including wood chips soaked in Pinot Noir. The chips are made from recycled French oak wine barrels that have been used in wine production for several years. For information and to location sources, visit www.smokin-barrels.com.
More Low-end Wines Being Sold Consumers and restaurants are still buying plenty of wine, but most sales are in the $10 to $25 range. Sales of wines above $25 have been poor causing an oversupply and even driving down prices. Prices of grapes on the spot market have plunged as well with Pinot Noir reportedly down 43% in 2009 compared with the year prior. The beneficiaries of this trend are the large wine brands. According to Wine Spectator, the 28 brands that sold at least 2 million cases each in the United States grew by a combined 1.1 percent in sales volume, the fastest of any segment. These large brands were priced 35 percent below the industry average.
AmericanWinery.comThis website claims to have the largest selection of American wine on the internet. The WineFinder allows you to select and purchase from more than 2,500 wines and the WineFinder draws on real-time data, meaning the wines listed for sale are immediately accessible. The orders are filled directly from the wineries. The variety of Pinot Noir offered is impressive with top wineries like De Ponte Cellars, Fulcrum Wines, Tudor, Roessler Cellars, Lucienne Vineyards, Foursight Wines and more, listed in descending order from most expensive to least expensive. Check it out at www.americanwinery.com.
WineWeb Online Winery Tour Planning WineWeb.com has launched an online winery tour planning tool allowing visitors to plan a trip to any wine region in the world. The planning tool integrates with the winery tour appointment scheduling system and includes interactive maps and driving directions. Over 35,000 wineries are in the directory. Of course, for many boutique Pinot Noir produces you will still need to use the Prince's Travel Directory and contact the wineries directly for an appointment, but the WineWeb tool can be a useful adjunct for larger wineries. Visit www.wineweb.com.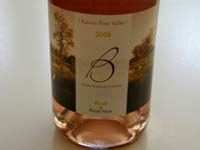 B (Bybee) Vineyards & Habitat For Sale This ultra premium producer of outstanding Green Valley Pinot Noir is for sale through Sotheby's. The main 82-acre parcel with Demeter certified vineyards and large lake is listed for $4.99M. Two other smaller parcels with vines and a winery and tasting room site is available with the purchase of the main estate. Contact Gerald Bybee for more information at gerald@bpinot.com.
First Rate Biking and Walking Tours in Wine Country Butterfield & Robinson are leaders in active luxury travel. Bike or walk at your pace (different activity levels) with every detail attended to. Eat, drink and speak with locals. Trips in Burgundy, Loire, Provence, Tuscany, and New Zealand. The company has been at it for 44 years! Consult your travel professional or visit www.butterfield.com.
Raptor Ridge Builds New Winery Raptor Ridge Winery has begun work on a 10,000 case winery on their estate property outside of Scholls. The winery will also incorporate outside clients such as Atticus and Le Cadeau. Owners Scott and Annie Shulls currently craft their wines in downtown Carlton. Visit the website, www.raptorridge.com, for updates.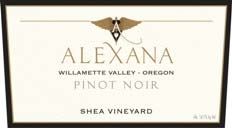 Alexana Opens Tasting Room in Carlton Alexana Winery is owned by Dr. Madaiah Revana, who also produces a highly touted Cabernet Sauvignon at his Napa winery, Revana Family Vineyard. The Alexana Winery is named after Revana's daughter, Alexandra Revana. After enlisting the winemaking assistance of accomplished veteran Lynn Penner-Ash, Revana acquired an 80-acre property in the Dundee Hills that was planted to 16 acres of Pinot Noir and Pinot Gris. Additional Pinot Noir was planted to several clones. The first two wines, a Pinot Noir and a Pinot Gris, were released from the 2006 vintage. A new tasting room has been opened at 116 W. Main St. in Carlton. A 2007 Estate Pinot Noir ($38) and 2006 Shea Vineyard Pinot Noir ($75) are available on the website at www.alexanawinery.com.
Oregon Wine Press Survey The top Oregon winey by total production (estimated figures) in 2009 was King Estate Winery (179,000 cases), followed by A to Z Wineworks/Rex Hill (135,000 cases), Willamette Valley Vineyards (129,000 cases), and Dobbes Family Estate/Wine by Joe (127,000 cases, high percentage of Wine by Joe for clients). Noted Pinot Noir producers with over 40,000 case production were Erath Vineyards, Argyle Winery, Elk Cove Vineyards, Adelsheim Vineyard, and Ponzi Vineyards.

Toast-Its A fun alternative to traditional wine bags, boxes and greeting cards. Toast-Its are greeting cards that wrap around wine bottles and include an area for a personalized greeting that stays with the bottle after the rest of the wrap is removed. Priced at $3.99 with free shipping. Many styles are offered at www.toast-its.com.
DIAM Research Study DIAM is the leading technical cork closure with sales of $82M in 2008, enjoying an 8.5% increase in U.S. market share in 2008. A panel of fourteen leaders from across the wine industry met with representatives of DIAM in December 2009 to structure a major research study that will provide the first quantitative data on the level of bottle variation among the best selling wines in the United States. For more information, visit www.diam-cork.com.