Cobb Wines: A Revelation
The Cobb Wines website says that they "produce exceptional and classic Pinot Noir wines reflecting the climate and soils of our coastal Sonoma County vineyards in North California." I could not have said it better! I met David Cobb and his winemaker son Ross at the International Pinot Noir Celebration in 2008 and their wines that were poured then impressed me. Somehow I never got around to revisiting them and after recently tasting through several 2006 and 2007 Cobb Pinot Noirs, I realized I had been missing out on remarkably good Sonoma Coast wines brilliantly crafted in a graceful style. These wines are very close in style and character to the Williams Selyem Pinot Noirs of the early 1990s and deserve a place in every Pinot lover's cellar.
Cobb Wines is a Pinot Noir specialist focusing on single-vineyard wines that was established in 2001 by Stephen and Ross Cobb and their parents David and Diane Cobb. David Cobb owns and farms the 15-acre Coastlands Vineyard and oversees all the vineyards from which the winery sources grapes. David began growing Pinot Noir at the sustainably farmed Coastlands Vineyard back in 1989 at a time when the only vineyard neighbor in the extreme westerly location four miles from the Pacific Ocean was Summa Vineyard. He was a marine ecologist by trade, but studied soils and climatology for years before finding a suitable site on the ridge tops of the Sonoma Coast. The fruit from Coastlands Vineyard was sold to Williams Selyem until 2001. Ross Cobb, who studied soil science and sustainable agriculture in college, spent time at Ferraro- Carano Vineyards and Winery and Bonny Doon before he was hired by Burt Williams at Williams Selyem. He took a serious liking to Pinot Noir and eventually became the winemaker at Flowers from 2004 to 2008. Today, he is the accomplished winemaker for Cobb Wines. Ross and his father started out make a little wine of non commercial Pinot Noir from Coastlands Vineyard. The first vintage of commercial Coastlands Vineyard Pinot Noir in 2001 yielded 130 cases.
Besides Coastlands Vineyard and the special block within known as Coastlands Vineyard Diane Cobb, the Cobbs source grapes from four other independently owned vineyards located in the western Sonoma Coast appellation and primarily in the Freestone-Occidental region that has become an epicenter for exceptional Pinot Noir. Each of the vineyards offers distinct soil types, different microclimates, and a diverse combination of clones and rootstocks resulting in unique expressions of Sonoma Coast terroirs. These vineyards include Rice-Spivak Vineyard, Joy Road Vineyard, Jack Hill Vineyard, and Emmaline Vineyard.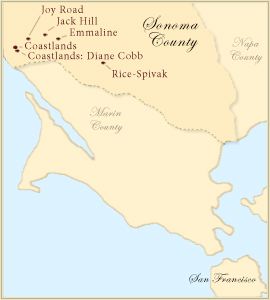 This was the first winery in California I have ever reviewed in which each wine in the tasting lineup deserved my highest accolades. Extraordinary consistency to say the least! Every wine had the whole package: charming aromatics, seamless and smooth textures, moderate alcohols, alluring elegance, and impeccable balance. I can't emphasize the stunning aromatics enough. It is evident David and his son, Ross, are tuned into Pinot Noir. They nurture Pinot Noir properly in the vineyards, and pick the grapes when they are just nudging ripeness. The moderate alcohols and flavors reflect this approach. The wines are not inexpensive, but completely justified in my mind as they are in the very top echelon of premium California Pinot Noir.
Cobb Wines are allocated through a mailing list and are available online at www.cobbwines.com. The wines reviewed above are still available. Production in 2007 was just under 1,400 cases of Pinot Noir.