Pey-Marin: Carrying the Flag for Marin County
There isn't much Pinot Noir planted in Marin County (less than 150 acres), but the wines made from this region are distinctive and worth searching out. Marin County borders Sonoma County to the North and the climate is similar to the Sonoma Coast. Influenced by two bodies of water: the Pacific Ocean along Marin's western coast and San Pablo Bay along the eastern border, Marin winegrower Jonathan Pey points out that Marin's winters are warmer than neighboring Napa and Sonoma because of extremely high winter precipitation. This leads to accelerated bud break, but Marin's persistently cool weather in the spring and summer and complete lack of heat spikes push flowering, set, and harvest many weeks beyond other cool climate regions. The hang times are among the longest in California.
Because of the long growing season, wines from western Marin, (Pinot Noir and Riesling are the focus), have superb natural acidity and generally lower alcohol levels. When nature cooperates, western Marin County can produce very small Pinot Noir berries with high skin to juice ratios that yield wild and concentrated flavors. Growing Pinot Noir in Marin County is not for the faint of heart. The few vineyards hold considerable potential when the weather cooperates, but small, even minuscule yields, are often the rule. Jonathan calls the yields, "Stupid - pick a low number!" The soils are decomposed marine sediment and drain beautifully.
Jonathan and Susan Pey are winegrowers and residents of Marin County who have a shared passion for wine. Jonathan has had a distinguished career in the ultra-premium wine industry at Domaine Louis Jadot, Penfolds, and Robert Mondavi Vineyards. Susan is a wine buyer for a large prestigious restaurant group in the Bay Area. Together they launched their own line of wines in 1999, producing superb Pinot Noirs and Rieslings under the Pey-Marin label.
The Peys lease and farm part of three vineyards in Marin County: Pey-Marin block at Corda Vineyard, a block at Stubbs Vineyard, and a block at Kendric Vineyard. The three sites are quite diverse with differing slopes, orientation, clones, rootstocks, age, and harvest dates. Pey-Marin block is nearly 20 years old, and Stubbs and Kendric are over 10 years old. Jonathan crafts a single Pinot Noir from these sources labeled "Trois Filles," as a loving gesture to the Pey's three daughters. I have been a fan of these wines since 2002 and recently tasted through several vintages as reported here.
Because of the limited grape sources in Marin County, recently the Peys launched additional labels, Pey-Lucia, "Frisquet" Pinot Noir from the Santa Lucia Highlands and The Forager Pinot Noir sourced from three diverse regions (Santa Lucia Highlands, Marin County, and Sonoma Coast - $25). The umbrella company for the Pey's winemaking ventures is Scenic Root Winegrowers.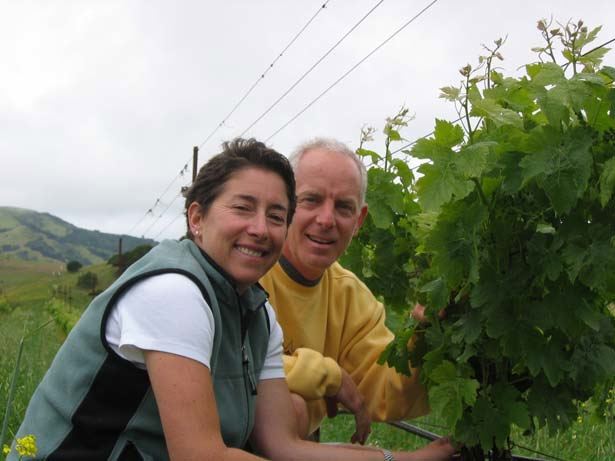 Jonathan strives for a classic style of Pinot Noir with bright acidity, complimentary oak (35% or less), and spicy nuances. Grapes are de-stemmed, fermentations are driven by native yeasts initially and then by inoculated Burgundian yeast. The wines typically spend 14 months in three-year, air-dried French oak barriques. Gentle handling is the rule with no racking or fining.
Pay particular attention to the 2007 vintage wines. Jonathan said, "The 2007 vintage made life pretty easy in the vineyards, and the fruit arrived in really nice shape. Yields, well.......there is always next year!" He went on to say, "The vintage is ripe and bright and the wines should evolve nicely over time."
Pey-Marin wines can be ordered through the online store on the informative and well-designed website (www.marinwines.com). Sign up for the mailing list to receive early notice of releases. Look for the Peys pouring at many of the Pinot Noir Festivals. The Pey-Marin "The Shell Mound" Riesling is easily one of the best California Rieslings I have ever drank. Try this wine with fresh Hog Island oysters and you will be on your knees. A tasting room is located in the historic Olema Inn at 10000 Sir Francis Drake Blvd. in Olema. Open daily from 12:00 to 4:00.
A good bottle of Pey-Marin Pinot leaves me very content: