Dutton-Goldfield: Upper Echelon
This winery is a partnership between veteran winemaker Dan Goldfield and viticulturist Steve Dutton. Dan is an energetic, high-spirited and talkative winemaker who as a young man intended to enter medical school. At a wine tasting in 1983 with noted winemaker, Larry Brooks (Acacia, Campion), Dan had an epiphany and decided to become a winemaker himself. He received a master's degree in enology from University of California at Davis and honed his skills at Robert Mondavi Vineyards, Schramsberg, La Crema and Hartford Court. Steve is the son of noted Russian River Valley farmer, Warren Dutton, and now heads up the Dutton Ranch with his brother Joe. It was Warren that suggested Steve and Dan form a partnership in 1998. The partnership was consummated at a Sebastopol pizza parlor with a handshake, and the winery has become a member of the top echelon of California producers of Pinot Noir. Dutton-Goldfield's Chardonnay, Syrah and Zinfandel are also top notch. Small amounts of Pinot Blanc and Gewürztraminer are produced as well and are insider favorites.
Pinot Noir grapes are sourced from several Dutton Ranch properties in the Russian River Valley and Green Valley viticultural areas with additional vineyard sources in the Sonoma Coast and Marin County appellations. The winery owns 80 acres, but 95% of the annual 7,000 case production comes from Steve Dutton's Dutton Ranch vineyards.
The Dutton-Goldfield tasting room has been shared with Balleto at 5700 Occidental Road in Santa Rosa, but a new facility is scheduled to open in March 2010 at the western corner of Gravenstein Highway and Occidental Road in Sebastopol.
The 2007 lineup of Dutton-Goldfield Pinot Noirs is very impressive and highly recommended. For reviews of the winery's Freestone Hill and Sanchietti Vineyard bottlings, refer to the feature on Green Valley in this issue. Winemaking is straightforward with de-stemmed grapes placed into small open top fermenters, cold-soaked for 5 days, and aged 17 months in 45% to 60% new French oak barrels.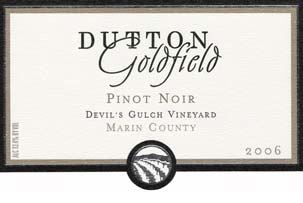 2006 Dutton-Goldfield Devil's Gulch Vineyard Marin County Pinot Noir
13.6% alc., pH 3.65, 331 cases, $58. Sourced from Mark Pasternak's vineyard that combines steep terraces, shallow soil, harsh climate, and well-chosen Dijon clones to produce small crops of unique fruit. · Very pleasant scents of wild berries, cardamon spice and oak. Nice mix of wild berry, plum, and toasty oak flavors that are juicy and vibrant sparked by a good vein of acidity. The middle attack is impressive, followed by a gentle dance on the palate, leading to a lingering, silky, fruity finish.
The heart and sole of Marin County viticulture lives in the jeans and cowboy hat of one man: Mark Pasternak. A majority of the vineyards in Marin County were either planted by Mark or are currently managed by him. Mark obtained his 65-acre property in 1971, at the tender age of 19, and several years later he became interested in wine. Spurred on by classes in viticulture he attended at Santa Rosa Junior College, and Michael Michaud, a winemaker acquaintance from Chalone, he planted 3 acres of Pinot Noir and 4 acres of Chardonnay on the terraces of his Devil's Gulch Ranch property. It was not a certainty that this site would ripen grapes for still wine, so Mark initially intended to sell the grapes for sparkling wine.
Early on, Mark sold his grapes to Kalin Cellars and Schramsberg. By 1990, the grapes were deemed suitable for still Pinot Noir production, and Mark shopped the grapes to many high-end Pinot Noir producers. None showed any interest except Dan Goldfield, who was the winemaker at Hartford Court Winery. Dan was a believer in the potential of cool vineyard sites and by 1997, he was able to release a Hartford Court Marin County Pinot Noir composed entirely of Devil's Gulch Ranch grapes. These stellar wines put to rest any doubts about the potential of Marin County grapes to produce high quality Pinot Noir. Since that time, Mark has received inquires from the wineries that weren't interested in 1990, but his small production is now reserved only for Dutton-Goldfield and Sean Thackrey (see review below). The Devil's Gulch Ranch Pinot Noirs have developed quite a devoted cult following over time, rivaling the reputation of Marin's beloved Grateful Dead.

2007 Dutton-Goldfield Devil's Gulch Vineyard Marin County Pinot Noir
13.5% alc., pH 3.63, 325 cases, $58. · Deeper colored than the 2006 vintage. Initially subdued, the nose explodes with time in the glass offering intense scents of wild berries and fresh cherries, spice and toasted bread. Hard to turn your nose away from this perfume. Delicious red and black fruit core with ripe soft tannins and a subtle citrus underpinning. Appealing finesse and impeccable balance. Fresher and richer than the excellent 2006 vintage. Still great two days later from a previously opened and re-corked bottle. Choose any superlative you want.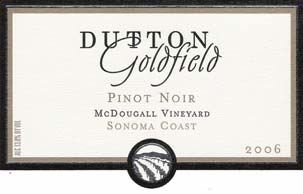 2007 Dutton-Goldfield McDougall Vineyard Sonoma Coast Pinot Noir
13.5% alc., pH 3.66, 198 cases, $58. From a wind-swept 9-acre vineyard on a ridge top at 1,100 feet near Hirsch and Martinelli vineyards on the true Sonoma Coast. Two Dijon clones. Farmed by Barbara and Rich McDougall. · A dark, savory, loamy wine that speaks of the earth. Aromas and flavors of intensely concentrated red and purple fruits, impressive for their freshness. Hints of pine pitch and brioche add interest. The ripe tannins have been reigned in, the wine is strikingly soft and smooth in the mouth and quite approachable now. I really like this wine for its seamlessness.
Dutton-Goldfield wines are largely sold through a mailing list and to wine club members at www.duttongoldfield.com. They are also available through the online store with discounts for case purchases. A very informative e-newsletter is published frequently.
The Devil's Gulch Vineyard Pinot Noir bottlings from Sean Thackrey are more quirky, displaying a riper, unique style. I have reviewed several vintages previously and I include the 2007 vintage here.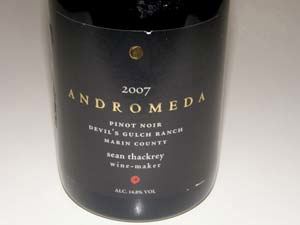 2007 Andromeda Devil's Gulch Ranch Marin County Pinot Noir
14.8% alc., $45. · Unusual aromatics featuring floral, particularly roseate, musk and sage scents. The pedigree of the fruit shows through on the palate with the fruitiness offset with notes of spice and edible flowers. Smoothly textured with soft tannins and respectable finesse. Failed to noticeably improve after two days from a previously opened and re-corked bottle, so I am not sure cellaring will significantly alter the wine. Very good (-).