Cambria Julia's Vineyard
This wine has become a standard bearer for Central Coast Pinot Noir since it is produced in large enough quantity that it is widely available on the retail market. In addition, a number of Central Coast producers also craft Julia's Vineyard designated Pinot Noirs as part of the Julia's Vineyard Artisan Program. These wines have received considerable praise from the wine press. I am partial to the Julia's Vineyard bottling from Lane Tanner, but the wines from Byron, The Hitching Post and Foxen are quite good. Most of the grapes from Julia's Vineyard (90%) are devoted to Cambria's bottling. At the end of 2009, Wine Enthusiast awarded the 2006 Cambria Julia's Vineyard Pinot Noir the distinction of "#1 Wine of the Year." According to Steve Heimoff, writing in the December 31, 2009 issue of the Wine Enthusiast, "This is the best Pinot Noir at this price on the market." Hard to argue with this claim.
Cambia Estate Vineyards and Winery is located along the Santa Maria Valley Wine Trail and covers 1,405 acres of benchlands 17 miles inland from the Pacific Ocean. Barbara Banke and spouse Jess Jackson established Cambria in 1986 after acquiring what was originally known as the Tepusquet Vineyard. Two prime vineyard plots were developed and named after Barbara's two daughters: Katherine's Vineyard planted to Chardonnay, and Julia's Vineyard, devoted to Pinot Noir. All the Cambria wines are crafted by winemaker Denis Shurtleff and are grown, produced and bottled on the estate. Individual clonal Pinot Noirs are also offered including Clone 23, 2A, Pommard 4, and Dijon 115 and 667, all priced at $48. If you have the interest and the pocketbook, tasting these five Pinot Noirs side by side would be a wonderful education in clonal differences since the wines are vinified in the same manner.
Cambria Julia's Vineyard Pinot Noir is widely distributed, and often sold at a discount to its retail price of $25. I have seen the 2006 vintage which is still available for $16 and the 2007 vintage for $19). The wines are also available from the online store at www.cambriawine.com. The winery's tasting room is open daily from 10:00 to 5:00 at 5475 Chardonnay Lane in Santa Maria.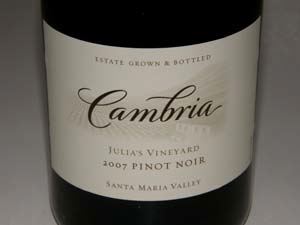 2007 Cambria Julia's Vineyard Santa Maria Valley Pinot Noir
14.5% alc., $25. · More deeply colored than the 2006 vintage. Bright scents of cherries, strawberries, and oak toast and spice. A little riper and richer than the 2006 version with dark red cherry, berry and plum flavors augmented by a subtle loamy underpinning and a refreshing lift of acidity on the finish. Plenty of structure and intensity to satisfy and the soft tannins make for easy sipping. Very good (-).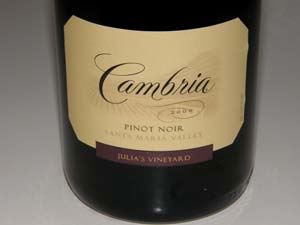 2006 Cambria Julia's Vineyard Santa Maria Valley Pinot Noir
13.8% alc., $25. · Lovely Pinot perfume of cherries, strawberries, brown spice and cinnamon which loses some intensity in the glass over time. Tasty cherry and strawberry fruit offered in a moderately light style with supple tannins, bright acidity and a lingering red cherry and lemon toned finish. Highly drinkable and a perfect daily drinker. Very good (-).